By RNZ Pacific
New Caledonia has a healthy lead on the Pacific Games medals table after the first week of the competition.
The French Territory has won 42 gold medals after the first six days of competition and more than 50 silver and bronze, with host nation Samoa the nearest challenger with 26 gold medals while Tahiti have 21.
Another six first place finishes on the final night of swimming action brought New Caledonia's total haul in the pool to 25 gold, 11 silver and 13 bronze medals.
READ MORE: Athletics headline Week 2 at the Pacific Games
Swimming Team Manager Cyril Huet said it's an even bigger haul than they managed in Port Moresby four years ago.
"We are very happy and the team is very unique," he said. "We win the games because it's an objective we want to win the games, but behind you you have the team of Fiji it's a very good team too and finished No.2 (in swimming) and is very good. To have competition with Fiji, Samoa, Tahiti, Cooks, it's very good competition."
"All the team is high level. The girls win 12 gold medals, the boys win 11 gold medals. It's a group, it's a unique group. Not one swimmer is better – it's all the group, I think. We want all the time to work all together," he said.
Elsewhere in Apia, Dgeniva Matauli won the women's singles title in badminton and teamed up with Johanna Kou to take the doubles crown, while the French Territory proved unbeatable on the golf course, winning the men's and women's team events, with Dylan Benoit and Emilie Ricaud winning individual gold.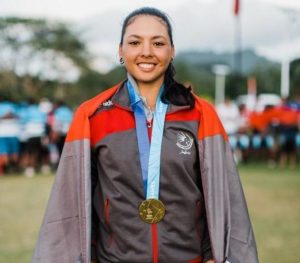 Meanwhile sailor Juliette Bone won gold in the women's laser radial – Samoa won the team event – and Avelino Monteiro won gold in the men's para table tennis.
Samoan weightlifters wow home crowd
Sanele Mao set five Oceania and Commonwealth records in front of a raucous home crowd as Samoa's weightlifters finished with an impressive haul of 16 Pacific Games gold medals.
Competing in the men's 109kg division, the 32 year-old Mao snatched 160kg before clean and jerking 206kg to finish with a monster total of 366kg. That was enough to win three Pacific Games gold medals, while he broke the Oceania senior record in all three disciplines and set a new Commonwealth best in the clean and jerk and total.
Petunu Opeloge won gold in the men's 102kg snatch, Iuniarra Sipaia won gold in the women's +89kg clean and jerk, while Lauititi Lui rounded off Samoa's golden haul with victory in the men's +109kg snatch.
Papua New Guinea's Steven Kari won two gold medals in the men's 96kg division, with Israel Kaikilekofe from Wallis and Futuna taking out the snatch title.
Meanwhile there was also success for New Zealand and Tongan lifters on Saturday afternoon, as Laurel Hubbard upstaged Samoan flag-bearer Feagaiga Stowers to win gold in the women's +87kg snatch and total and silver in the clean and jerk.
It was the 41 year-old's first major medals since the 2017 World Championships and comes 15 months after she injured herself competing at the Commonwealth Games.
Hubbard was unavailable for comment but the high performance director for Olympic Weightlifting New Zealand, Simon Kent, was delighted with her performance in Apia.
"She performed particularly well today. A full house, full home crowd cheering on all their lifters but she really put in a performance she can be proud of," he said. "It's good healthy competition and I think it was Laurel's third snatch there on 125kg that just about set up that victory today."
"She's been training hard, she's been based in Noumea for the last couple of weeks training with the (Oceania Weightlifting) Institute lifters. She certainly came here with a lot of confidence. She's been very much part of our team and I think she will be delighted with her performance today."
New Zealand's Commonwealth Games champion David Liti could only manage a silver medal in the men's +109kg snatch and failed to complete a lift in the clean and jerk, with Tonga's Aisake Tuitupou winning the Kingdom's first two gold medals of these Pacific Games in the clean and jerk and total.
Around the grounds
Tahiti won the final two V6 marathon races at Mulifanua to finish with 10 gold medals from 12 events in Va'a.
Swimmer Rahiti De Vos won gold in the men's 400m, Heiava Lamaud prevailed in the women's para table tennis, while Remi Rossi was involved in three badminton gold medals, winning the men's singles before teaming up to also claim victory in the men's and mixed doubles events.
Vanuatu reigned supreme in table tennis, winning the men's and women's titles in singles and doubles, to triple their overall gold medal haul to six.
History repeated as the Samoa women's cricket team defeated Papua New Guinea by four wickets to win the gold medal, with the winning runs struck just moments before rain began to bucket down at the faleata cricket field.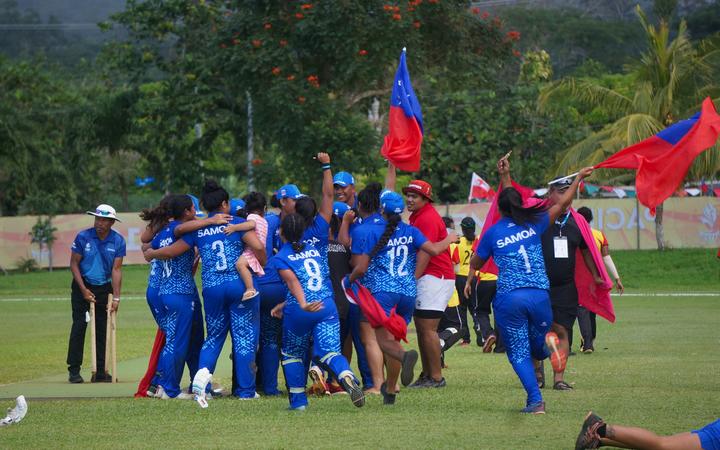 The host restricted PNG to 72 for 7 from their 20 overs and finally reached their target with nine balls remaining.
Captain Regina Lili'i said it was even more special to win in front of a home crowd.
"It puts all the hard work that we have done as a group, as a collective leading up to this tournament," she said. "All that hard work is worthwhile when you come out with this result, with a gold medal," she said.
"To have the support of our home crowd here – noisy all throughout the match – I don't really have any words for it but as you could see with our girls they were all crying at the end and it just meant so much for us in front of our family and friends here."
Defeat avenged
It wasn't all bad for Papua New Guinea as the Barramundis defeated defending champions Vanuatu by 32 runs in the men's final to avenge their defeat in Port Moresby four years ago.
Meanwhile Fiji defended both rugby sevens titles, with the Fijiana women beating Australia 14-7 and the men holding off hosts Samoa 7-5, despite conceding two yellow cards.
Men's coach Gareth Baber said they didn't have a lot of ball but the players worked hard and defended well, even when they had less players than the opposition.
"Two sin bins but I think Samoa could have got two sin bins as well, I think it was that type of game," he said.
"We know when we play against Samoa there's going to be that and it's going to get to that level but it's who can control that at the end of it and I thought that when we went down to the sin bins we worked extremely hard to make sure that the six did the job for the seven."
The Pacific Games resumed on Monday for the second week with the start of athletics at Apia Park among the highlights.
This article is published under the Pacific Media Centre's content partnership with Radio New Zealand.