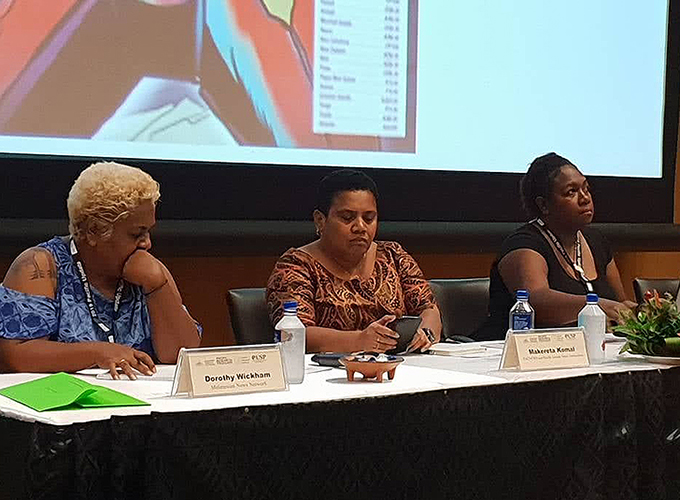 Pacific Media Watch Newsdesk
Journalists have gathered for a three-day event at the University of the South Pacific in Suva to discuss the rise of social media and fake news in the Pacific, reports FBC News.
The annual Pacific Update brings together policymakers, academics and development partners to present and discuss research relating to economic and social issues throughout the region.
Founder of the Melanesia News Network, Solomon Islands-based Dorothy Wickham said social media is a challenge that they are learning to work with, in particular calling out fake news when it arises.
READ MORE: Media celebrated as 'backbone of democracy' in Pacific
"As people in our country and people in our region learn to use social media responsibly and also to understand that when you post up something, it's not only among your friends that can be seen, it's shared, it can be screenshot and it can be sent on as a message without you even knowing whatever you sent and put up is past on.
"It just goes global without you realising and this is the challenge we face back home is the lack of understanding of the internet."
General manager of the Pacnews region Pacific news agency Makereta Komai said the rise of social media was already cutting into profits of media organisations.
She said one national paper had already begun charging the public to read its online content.
"The impact of social media is already more visible now and a lot of our media organisations are already feeling the impact on their profitability and on their bottom line."
Former ABC journalist and now journalism trainer Jemima Garrett spoke about the possibility of joining forces and getting the social media giants to do more in the region.
"Ask Facebook to have a Pacific office," she said.
"Facebook offers fact checking, you know they talk a lot of their ability to identify fake news, to change the algorithms to downgrade it, but they need people who speak the language, tok pisin, speak Fijian, speak Tongan, speak Samoan to do this, there's none of that in the Pacific."
"So at the moment, Facebook which everyone knows is huge has got everything to gain from the Pacific and is contributing nothing."
The Pacific Update is being held at USP's Laucala campus and will conclude Friday, June 5.
Other focus areas will include Pacific climate risk, gender empowerment, labor mobility, health, and foreign aid.