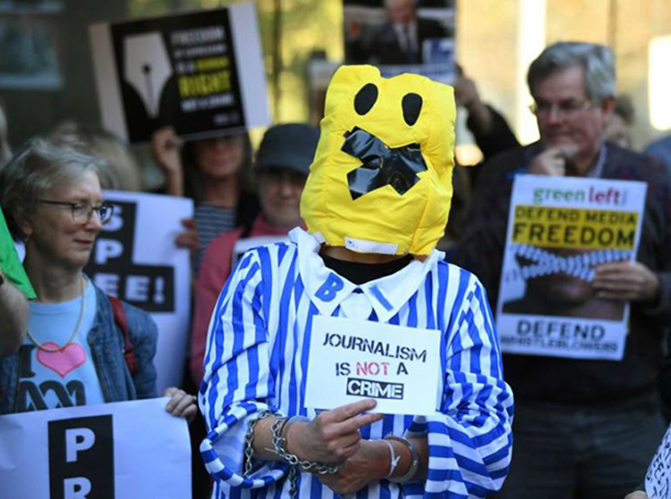 OPEN LETTER: By Keith Jackson
I joined the Australian Journalists Association (now the MEAA – Media Alliance) in, I think, 1971, when I still lived and worked in Papua New Guinea.
When I formally retired from paid work a few years back, I was given honorary membership but, to bolster the journalism profession and its union, I recently asked to return as a paying member – which was accepted.
Given that I still scribble the PNG Attitude blog, book reviews for The Australian, a column in Noosa Style and other bits and pieces, that seemed appropriate.
READ MORE: Journalists call for legislation to protect press freedom and the public's right to know
It may seem implausible, but freedom of the press is under attack in our country. The actions of federal authorities have been nibbling at that freedom for some time, and most recently the federal police took a large bite at it.
I'm concerned. That's why I'm sharing this letter:
A GRAVE THREAT TO MEDIA FREEDOM
Dear Llew O'Brien, MP,
cc Prime Minister Scott Morrison,
Opposition Leader Anthony Albanese

I support in full the following letter from the MEAA calling upon the Australian Parliament to act to guarantee the freedom of the press in Australia.

Recent events have shown that this implied right of Australians is under threat. Legislative and constitutional changes are required:
The Australian Federal Police raids on the home of News Corp Australia journalist Annika Smethurst and on the offices of the Australian Broadcasting Corporation (ABC) represent a grave threat to press freedom in Australia.
We welcome the Prime Minister's stated commitment to freedom of the press and openness to discuss the concerns that have been raised.
A healthy democracy cannot function without its media being free to bring to light uncomfortable truths, to scrutinise the powerful and inform our communities. Investigative journalism cannot survive without the courage of whistleblowers, motivated by concern for their fellow citizens, who seek to bring to light instances of wrongdoing, illegal activities, fraud, corruption and threats to public health and safety.
These are issues of public interest, of the public's right to know. Whistleblowers and the journalists who work with them are entitled to protection, not prosecution. Truth-telling is being punished.
The raids, a raft of recent national security laws, and the prosecutions of whistleblowers Richard Boyle, David McBride and Witness K all demonstrate the public's right to know is being harmed. Truth-telling is being punished.
It is also clear from the global response to the recent raids that Australia's proud reputation around the world as a free and open society is under threat.
We urge Parliament to legislate changes to the law to recognise and enshrine a positive public interest protection for whistleblowers and for journalists. Without these protections Australians will be denied important information it is their right as citizens to have.
We urge you to take prompt action to protect our democracy for all Australians.
Yours sincerely,
Keith Jackson AM