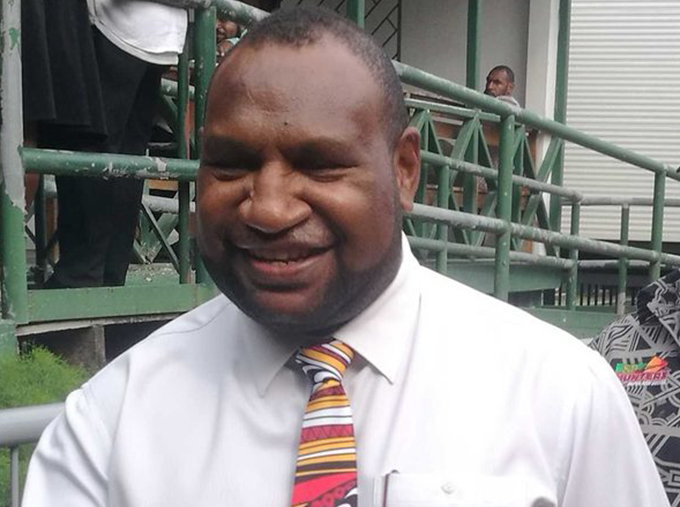 By Johnny Blades of RNZ Pacific
Papua New Guinea's opposition says it is withdrawing its motion of no confidence against Prime Minister Peter O'Neill, but is likely to lodge a new one soon.
Also, former Finance Minister James Marape is withdrawing as the opposition's choice for alternative Prime Minister, paving the way for a new nomination for the role.
Marape and other opposition MPs announced the withdrawal of the motion at a press conference today in Port Moresby.
READ MORE: Marape accuses PNG government of 'sabotage ploy' to delay vote
The motion, which was lodged with Parliament's Speaker two weeks ago, had earlier been expected to progress to a confidence vote against O'Neill early next month.
The brief sitting of Parliament two weeks ago saw the opposition's numbers recently bolstered by the defection of Marape and 23 MPs from the coalition government.
However with 50 MPs, the opposition was still six MPs short of a majority in the 111-seat Parliament.
Back to drawing board
The grouping has opted to go back to the drawing board, with an eye to submitting a new motion of no confidence within coming weeks.
The offer of an alternative Prime Minister is on the table, according to Marape and other MPs.
Sinasina-Yonganugl MP Kerenga Kua said Marape took the initiative to withdraw his name with consensus of the two dozen MPs who left government with him, and the other 26 already in opposition.
"James Marape himself asked the opposition caucus to withdraw his nomination as alternative candidiate and put the position back on the table again, in the hope that any other contenders from the government side who want to put their name up can consider coming across with their number," Kua explained.
In his response to the withdrawal, the Prime Minister issued a scathing statement, accusing Marape of grandstanding and making misleading claims amid "crumbling support".
"This is a desperate and last-ditch attempt, in the public arena, that is aimed at trying to convince leaders to support his ambitions," O'Neill said.
However, after the recent exodus from his People's National Congress (PNC) party, the Prime Minister is facing the biggest threat to his leadership in seven years.
Bad governance
MPs who have resigned since last month have accused O'Neill of exerting too much control on state departments, overriding the authority of ministers, and of allowing bad governance to fester.
Kerenga Kua said the opposition appealed to MPs in the government to join their group for discussions over a new look government.
This was echoed by Marape who cited his original reason for resigning as Finance Minister last month and leaving O'Neill's ruling party.
"So I resigned as minister not to be Prime Minister but to be part of a new government that can chart a new future for our country with honesty and giving our people new sense of purpose and direction away from the path O'Neill has been leading us," Marape said in a statement.
"I encourage those many Prime Ministerial candidates and good free thinking leaders presently with O'Neill to detach and join us.
"The offer of alternate Prime Ministership is on the table."
While Marape did not give any direct reasons for standing down as the nominee, being implicated together with O'Neill in a recent Ombudsman report on a controversial state loan did not help his cause.
According to O'Neill, his former close ally was making a confused attempt to lure support for his personal ambitions to change the government.
"His suggestion of looking for candidates for possible nomination as an alternative Prime Minister is unnecessary, and not good for the country," O'Neill said.
"Leadership nominations are not something to be passed around like a football to leaders who have no vision for the country or any policy agenda."
Mood for change
However, Kua said there was a mood for change throughout country, and that MPs were increasingly taking note. According to him, nomination as alternative Prime Minister was not being directly offered to leaders still in the government coalition.
"The system that we have agreed to is for the leadership to be decided by consensus. It's back on the table," he said.
"Those people who want to participate in the selection process have to come in and participate in it."
He said that the opposition grouping would ultimately hold an exhaustive secret ballot, to democratically select the nomination for alternative Prime Minister.
From there, a new motion of no confidence against O'Neill could be lodged, which the opposition would likely look to do in the coming sitting of parliament which starts in a week's time.
This article is published under the Pacific Media Centre's content partnership with Radio New Zealand.