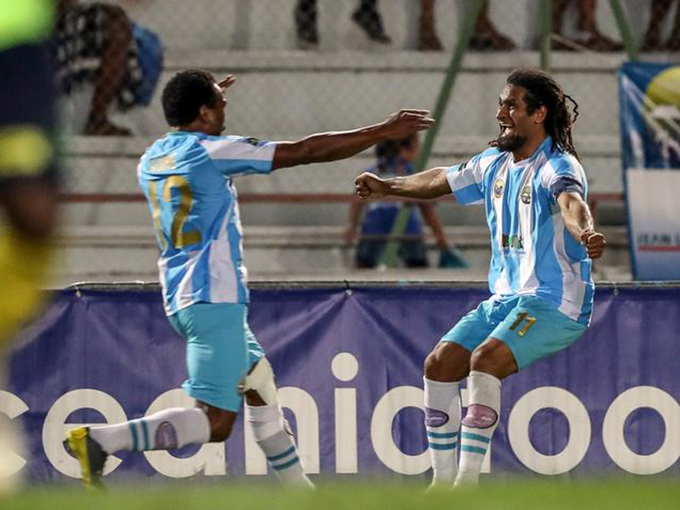 By RNZ Pacific
Hienghéne Sport won their maiden OFC Champions League football title after a sensational 60 metre strike by substitute Amy Antoine Roine earned a 1-0 victory over AS Magenta in an all New Caledonian final in Noumea.
With the match still scoreless approaching the halfway point of the second half at Stade Numa Daly, Roine won the ball from a clearance and took two touches to bring the ball under control before spotting the Magenta goalkeeper off his line.
Just six minutes after being sent onto the pitch by head coach Felix Tagawa, Roine let fly with an audacious long-range lob from inside his own half which sailed over Steeve Ioxee's head and into the goal, in what proved to be the decisive moment of the match.
"Any player, whether on the field or not, is important and we were clear that they couldn't just be spectators. He showed that he listened, he scored a great goal and we had an impressive goalkeeper too. It was a great final." said Tagawa.
A stunned Magenta went in search of the equaliser and it should have come in the 71st minute, but Hienghéne keeper Rocky Nyiekene saved Wilsen Poameno's effort from point-blank range as the New Caledonia domestic champions held on to clinch their first regional title.
"It's a huge moment for the club, and for the country too. I hope that it will continue, we know we've won, what we've done in winning this match," said Felix Tagawa. "It's been a long journey, today we were patient, we know how to bounce back."
Rocky Nyiekene capped off a standout performance by winning the OFC Champions League Golden Glove award.
"Of course I'm really touched to be elected the best goalkeeper. You have to be prepared for matches like this and I was. For now, no, I don't think it's sunk in that we've qualified for the Club World Cup. Maybe later, but right now, no," reflected Nyiekene.
Hienghéne captain Bertrand Kai was awarded the Golden Ball for best overall player while Team Wellington striker Ross Allen collected the Golden Boot after finding the net 11 times during the season, while Auckland City received the Fair Play Award.
This article is published under the Pacific Media Centre's content partnership with Radio New Zealand.