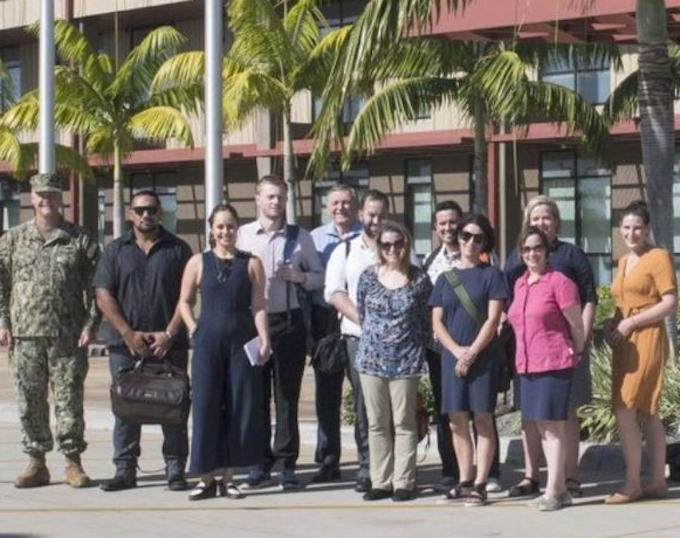 By Jeremy Rose of RNZ Mediawatch
Seven senior New Zealand journalists spent a week in Hawai'i late last year and produced just one story between them. It didn't cost their organisations a cent – the tab was picked up by the US State Department.
And the bill wouldn't even be a rounding error when it comes to the sums being spent by governments in an ongoing soft power war for the hearts and minds of the world's citizens.
Last year Foreign Policy magazine reported that China was spending US$6 billion consolidating its three international media outlets into one – Voice of China.
LISTEN MORE: RNZ Mediawatch podcast
A sum that dwarfs the next biggest spender: the US which, according to Al Jazeera, spends $685 million on Voice of America and its affiliates .
Al Jazeera itself is funded by Qatar and is available in New Zealand on Freeview and Sky and the Russian funded RT is on Sky.
The voices of China and America – despite their mammoth budgets – are only available locally in New Zealand via the internet or shortwave radio.
But that doesn't mean the US State Department – and other governments – aren't helping shape what audiences see and hear. The State Department's Bureau of Public Affairs – has said part of its aim is to: "[T]ap the power of the foreign press to inform, engage, and influence perceptions of US foreign policy."
Courting world's media
And a couple of weeks back Stuff's Tracy Watkins wrote a piece that shed some light on how it goes about it. In an article titled: Washington is courting the world's media on North Korea – she wrote:
Late last year, I joined a group of journalists in Korea and Washington for a series of meetings with US and South Korean officials.

The Americans pulled out all the stops. There were 12 journalists from countries including Vietnam, Thailand, Mongolia, Burma, China, Singapore, Japan, Indonesia (and New Zealand).

Flights were booked and paid for by the US and we got a generous daily per diem to cover all our other costs, like food and accommodation.
Tracy Watkins said journalists were surprised to be told that background briefings were to be strictly confidential with any quotes having to be attributed to "anonymous sources".
After lobbying from the journalists US officials agreed reporters could use some material but only if it was cleared by a military censor first. "Some tried but got most of it knocked back anyway," Watkins said. "I didn't ask. There were too many strings attached."
Fellow Stuff political reporter Stacey Kirk was one of seven Kiwi journalists to spend a week in Hawai'i courtesy of the State Department last December. And was the only one to write about it.
Speaking with US officials
"As our external spy agency the Government Communications Security Bureau (GCSB) was putting the kibosh on plans for Spark to allow Chinese telco Huawei to build a 5G mobile network in New Zealand, I spent the past week speaking with defence officials at US Indo-Pacific Command," she wrote.
None of those defence officials were quoted by name but Kirk said:
"[A]s one US Defence official put it: there is 'no way' a network built by a company that has that many ties to the Chinese Government, is not a security threat."
It's no surprise that a US Defence official would say that but he or she must have been delighted to see their point of view seemingly endorsed by a New Zealand journalist – without any reference to the many informed commentators who have questioned the spying claims.
The Samoa Observer's Mata'afa Keni Lesa also attended the five day long event. He reported:
"In Honolulu this week, the 'conversations', which are mostly held under Chatham House rules, were designed to give journalists an in-depth understanding of the US contribution to security, US perspectives on issues surrounding security and what the US is doing to promote peace and stability in the Pacific region."
Newsroom's political editor Sam Sachdeva, one of the seven Kiwi journalists on the Hawai'i trip, told Mediawatch:
'Educational in nature'
"The way the trip was designed and sold to us was that it was educational in nature. So, it's not that reporting was barred but it wasn't a precondition of going on the trip.
"Ideally, I would have liked to produce a few stories out of it but the way it was structured in terms of the conversations we had – the briefings – I felt I couldn't really report on it in a way that wouldn't be lopsided."
Sachdeva said journalists were told they couldn't refer to people by name or rank and only quote them as: "US Defence official" or a "US official."
He said the trip gave him a better understanding of the American view. "Not to say that I suddenly find myself agreeing with them on everything but just to understand a little bit more where they're coming from and to get that, I guess, candour which is the flip-side of that background briefing."
If other countries were to offer him similar trips, he said, he would consider it on a case-by-case basis. One definite no-no would be any copy vetting conditions. "If I had confidence that China, North Korea or Russia would allow me to report freely, then I would in principle be happy to consider it."
So if Sachdeva heard that seven senior New Zealand journalists had been shouted a trip to Russia or China to meet with military and government officials and only one reported it – would he write it up as a news story?
'It would depend …'
"I guess it would probably depend on what was said about it by anyone who was interested. If there was someone who raised a concern that I felt was valid then you'd have to look at it as a story."
Last October Sam Sachdeva wrote a series of features on South Korea following a trip funded by the Korean government.
He said the trip was a no strings attached one with the officials even lining up an interview with a prominent critic of the government.
The US embassy told Mediawatch it had funded trips by 13 New Zealand journalists last year.
One NZ journalist travelling to examine US responses to Trafficking in Persons.
One NZ journalist travelling to report on the RIMPAC multilateral military exercise in Hawai'i.
Two NZ journalists travelling to report on the US midterm elections.
One NZ journalist on a professional development/educational programme in the US.
Seven NZ journalists travelling to INDOPACOM. (Although they were free to report portions of their visit, that was not a requirement of participation. Some have, some haven't.)
One NZ journalist travelling to South Korea and to the US to examine policies and responses to DPRK.
Relevant content
Two RNZ journalists were among them: former deputy political editor Chris Bramwell, and series and podcast executive producer Tim Watkin.
RNZ spokesperson John Barr told Mediawatch: "RNZ is open to considering approaches from international sources where they have the potential to provide relevant content and/or career development for staff in line with RNZ's business plan and statutory obligations.
"Events are not to be covered solely or mainly because of the availability of subsidised travel. Under no circumstances will there be any external influence on programmes/editorial coverage resulting from any subsidised trip.
Where approved assistance is provided to help us create content, it should be acknowledged on air and online."
This article is republished under the Pacific Media Centre's content partnership with Radio New Zealand.
Links to programmes mentioned in the audio version of this story: