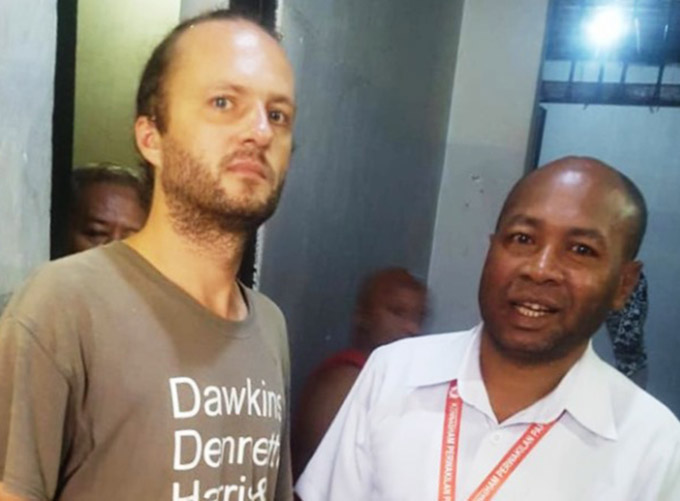 By Islami Adisubrata in Wamena, West Papua

Indonesian Regional Police in West Papua have handed over the documents of the case of a Polish tourist, Jakup Fabian Skrzypski, who was arrested recently with three Papuans and accused of "treason", to the Jayawijaya District Attorney.
Skrzypski reportedly entered Indonesia on a tourist visa but was arrested on suspicion of working as a journalist illegally and having contact with an "insurgency" group, report news agencies.
The file was handed over to the District Attorney on November 2 and he is expected to face trial in Wamena along with three co-accused.
READ MORE: Police declare papers on accused tourist ready for trial
"So, the four suspects were handed over, two arrested in Wamena, including Skrzypski, and others arrested in Yalimo," said Lintong Simanjuntak, Adjunct Police Commissionaire who is also the Chief of Violence and Crime Division of the Directorate of Crime Investigation of Papua Regional Police.
Skrzypski and three other people departed from Jayapura to Wamena and were immediately transferred to Jayawijaya District Attorney Office for re-examination.
The four now are detained by the Jayawijaya District Attorney.
Two of the defendants were sent to the House of Correction Class B Wamena, while the other two have been placed in police custody in Jayawijaya police headquarters.
Foreign Ministry help
Adjunct Commissionaire Simanjuntak, who accompanied the four defendants from Jayapura to Wamena, said that although Papua police would investigate this case of alleged treason, the trial would be conducted in Wamena – the place where the incident occurred.
Simanjuntak said that during the investigation, the police were assisted by the Foreign Ministry and had communicated with the Polish Ambassador in Jakarta, ensuring that all procedures had been completed appropriately.
The Chief of State's Defence and Public Security of the Papua District Attorney Adrianus Irham Tamana said that the trial would be conducted before 20 days of detention had lapsed.
"The trial before 20 days of detention will be handed over to the court. Currently, they are still under our custody," said Tamana.
But the public prosecutor's team objected putting the detainees in the police headquarters jail as it was already overcrowded and this could effect access to the basic rights of the detainees in that overcrowded prison, said the detainees legal adviser Latifah Anum Siregar.
"Does this transfer create a problem of over capacity? What about their access and rights? Can these be fulfilled or not?" she asked.
Cell overflowing
Siregar said that during the detention by Papua regional police, the holding cell had already been overflowing, with 50 people occupying space for 25.
Also, the detainees needed to share the toilet for bathing and washing dishes.
"Security must be compared with humanitarian purpose. Don'tt apply security as the reason to ignore humanity.
"My clients have to get access to lawyers, religious leaders and this shouldn't be restricted," Siregar said.
She also said Skrzypski had rejected all allegations against him.
Islami Adisubrata is a journalist with Tabloid Jubi and this article has been translated into English and is republished with permission under a content sharing arrangement.