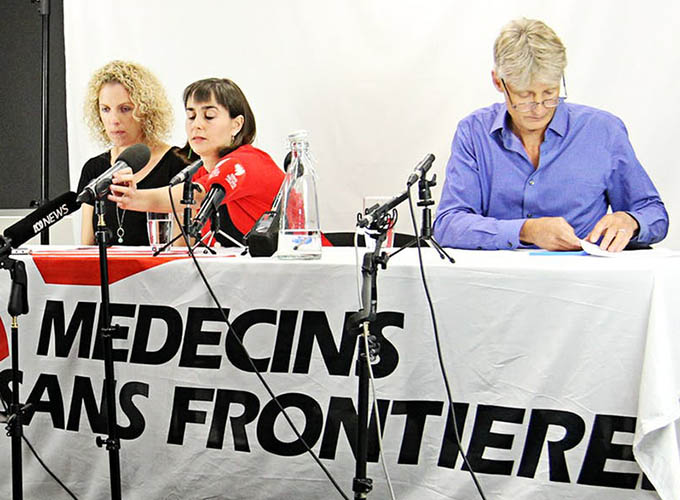 By Michelle Grattan in Canberra

The Morrison government has sent qualified signals that it might agree to some refugees from Nauru being settled in New Zealand.
It says it would be "more likely" to support the New Zealand option if the Labor agreed to pass legislation to stop these people then being able to reach Australia by the back door, via the free travel arrangements between the two countries.
The positive note comes ahead of Saturday's Wentworth byelection, in which the situation of the refugees is one of the issues.
New Zealand has for years had on the table an offer to take 150 of the refugees a year.
The legislation at issue – which has not been able to obtain Senate support – would prohibit anyone who had come by boat and was settled in another country from ever being allowed into Australia.
But Labor remains opposed to the legislation in its current form.
Opposition immigration spokesman Shayne Neumann said Labor welcomed the government's "sudden and unexplained interest" in considering a deal with New Zealand.
'Catch-all' not needed
But the "lifetime ban" legislation "is not required to secure regional resettlement arrangements," he said.
Labor argues the government should negotiate a special arrangement with New Zealand to stop people resettled there from entering Australia, rather than having the catch-all bill.
The issue of the children on Nauru – many of them with serious health issues – has escalated in recent weeks, with campaigning by doctors for a more humane approach and pressure from government backbenchers.
On Tuesday the crossbench gave notice of a bill to temporarily relocate children from Nauru for medical treatment.
Crossbencher Rebekha Sharkie asked Scott Morrison whether he would support calls to do this.
It is understood these transfers have been increased after backbenchers Russell Broadbench and Craig Laundy made representations to Morrison in a meeting last month. Victorian backbencher Julia Banks has also spoken out.
Replying to Sharkie, Morrison hinted at more movement recently, when he offered crossbenchers an update "on the issue of transfers that continue to take place on a case-by-case basis".
Number of transfers
There had been quite a number of transfers undertaken, recently and over a longer period, he said, adding that "some work has been done further over the last month on these issues".
Sources said the sick children were already off Nauru.
At the Liberal party meeting on Tuesday, NSW backbencher Trent Zimmerman asked Morrison about the children and the New Zealand option.
Shorten wrote to Morrison saying Labor would introduce legislation to ensure children received proper medical care.
Among other things this would ensure the recommendation of treating clinicians was prime when determining a temporary medical transfer for a child and ensure the minister, not the bureaucracy, was the final decision-maker on transfers.
Michelle Grattan, a leading Australian political journalist, is currently a professorial fellow at the University of Canberra. This article is republished under a Creative Commons licence.