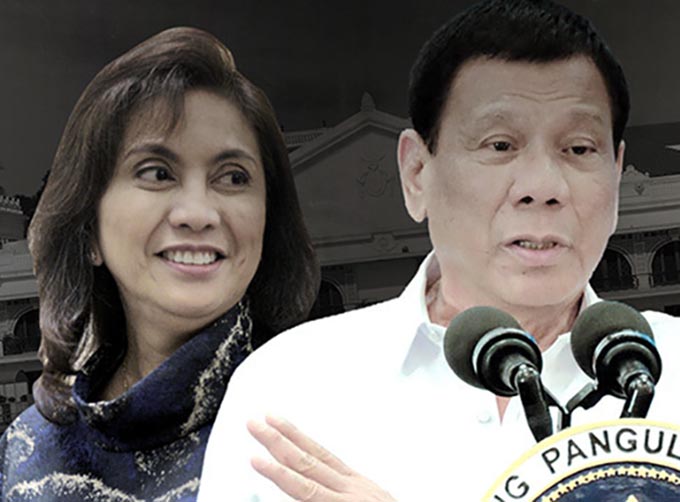 By Lian Buan in Manila
The camp of Vice President Leni Robredo is keen on pushing for the public disclosure of President Rodrigo Duterte's state of health, saying they trust what the President says about the results of his medical tests.
"We respect his declaration," Robredo's spokesperson Barry Gutierrez said yesterday.
Duterte told his Cabinet members in a meeting on Monday night that his recent medical tests came back negative for cancer.
READ  MORE: President's health – touchy subject for Duterte, public concern for constitution
Gutierrez said it was up to the President to decide when to disclose his state of health.
"The Vice-President understands that the President also took the oath, he understands the Constitution, and he should know his obligations under the Constitution with respect to disclosure on his true state of health," Gutierrez said.
Gutierrez added in Filipino: "We are happy that the President is well. The VP has said that it's clear nobody wants the President to be sick, we want him healthy, we want him working. So if he says it's like that, then I suppose we must respect it."
State of health
Duterte had revealed undergoing endoscopy or colonoscopy, where doctors found a "growth". Duterte said he would inform the public if he had cancer.
The 1987 Constitution states that the President must disclose the state of his health if he has a "serious illness".
Asked for his legal opinion, Solicitor-General Jose Calida dismissed the topic.
"That's not the business of the Solicitor-General to find out the health of anybody," Calida said yesterday, adding that "I'm not a busybody, I mind my own business."
Section 8, Article VII, of the 1987 Constitution says the vice-president shall serve as the president "in case of death, permanent disability, removal from office, or resignation" of the latter. The VP will serve only the president's unexpired term.
When Duterte revealed he had undergone colonoscopy, the President said he would not want Robredo to take over the presidency because "she is really weak". The Vice-President responded, saying the President should just get to work instead of insulting her.
Draft rejected
On Monday, it was revealed that the draft constitution authored by House Speaker Gloria Arroyo skipped the Vice-President in the line of succession during the proposed transition to a federal system.
The Senate immediately shot down the House draft.
"To introduce an amendment, they need 3/4 vote in both the House and the Senate, and I'm confident we have enough right-thinking senators who will not follow that kind of proposal," Gutierrez said.
The Robredo camp had earlier slammed the proposal and its basis as "outright ridiculous".
Lian Buan is a journalist with the independent news website Rappler.