Protesters mark the 46th anniversary of the declaration of martial law under Philippines dictator Marcos with demonstrations against President Duterte. Video: Rappler
By Paterno Esmaquel II in Manila
Protesters have staged the most widespread barrage of protests yesterday against President Rodrigo Duterte, as Filipinos marked the 46th anniversary of the declaration of martial law under dictator Ferdinand Marcos.
A running list by Rappler shows rallies scheduled across 14 regions in the Philippines, including Metro Manila, and even overseas.
The protests come in the face of growing discontent under Duterte – prices of goods have been rising, thousands have died in a drug war that has failed to eradicate drugs, and critical voices such as Senator Antonio Trillanes IV and Australian nun Sister Patricia Fox face threats of either arrest or deportation.
READ MORE: Filipinos remember martial law: 'Dictatorship is back'
Duterte's public trust and satisfaction ratings also continue to fall.
Duterte – who earlier said the dictator's daughter, Ilocos Norte Governor Imee Marcos, donated to his presidential campaign – wants the dictator's son and namesake, former senator Ferdinand Marcos Jr, to be vice-president so that Marcos can succeed him.
Marcos has a pending protest against the election victory of Vice-President Leni Robredo, leader of the opposition.
Meanwhile, Marcos on Thursday evening, September 20, launched a new campaign to revise history through a "talk show" with former Senator Juan Ponce Enrile, architect and implementer of Martial Law as the elder Marcos' defence minister.
'No abuses' claim
Marcos is selling the idea that no abuses happened under his father's regime.
Protesters yesterday refused to take this sitting down.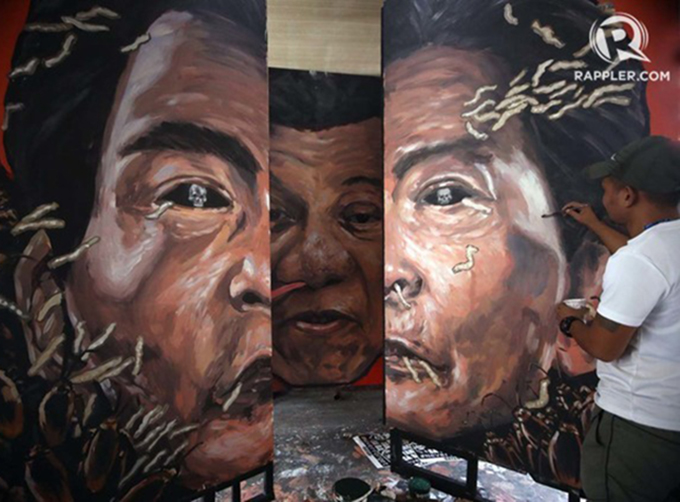 Roads lead to Luneta
In Metro Manila, all roads lead to the iconic Rizal Park, also known as Luneta, for a protest mounted by various groups. Groups marching from San Agustin Church, De La Salle University, University of Santo Tomas, Polytechnic University of the Philippines, and University of the Philippines Diliman, among other assembly points, gathered at Rizal Park to fight the return of a dictatorship.
The Catholic Church, which was instrumental in toppling Marcos in 1986, is one of the groups that helped mount the September 21 rallies.
A Mass for Dignity and Peace was held at San Agustin Church in Intramuros, Manila, yesterday afternoon, followed by a march to Luneta with other religious denominations.
Protesters march from San Agustin Church to Luneta. Video: Rappler
Those who marched to Luneta included people of different political colours, from priests and nuns to leftist groups to Duterte critics such as former chief justice Maria Lourdes Sereno.
Different though they were, protesters had a similar cry: Resist a creeping dictatorship.
Ousted chief justice Sereno speaks at anti-Martial Law rally. Video: Rappler
Sereno was one of the loudest voices in Luneta on Friday.
'Fighting for justice'
In a raised pitch and with impassioned gestures, Sereno said onstage: "Naghirap kami sa martial law, kaya't nilalabanan namin, at itinataguyod ang katarungan at katuwiran para hindi na maulit 'yan. Kaya mga mamamayan, lalong lalo na mga bata: Uulitin po ba natin? Papayagan ba natin ang martial law uli?"
(We suffered during martial law. That's why we're fighting for and upholding justice and righteousness to avoid a repeat of that. My fellow citizens, especially children, will we permit martial law to happen again?)
Sereno – who for years kept the "dignified silence" of the Supreme Court until Duterte had her ousted – found herself leading a chant before a crowd on Friday: "Never again to Martial Law!"
Below the stage where speakers like Sereno spoke, a tired Judy Taguiwalo, who marched from Mendiola to Luneta, was seated on a monobloc chair as she granted an interview.
Taguiwalo was an activist whom Duterte named social welfare secretary, only to be rejected by the Commission on Appointments in August 2017.
Taguiwalo, who suffered during the Martial Law years, also said "never again to Martial Law."
"Nakulong ako sa panahon ng batas militar. Maraming namatay, na-torture," she recalled. (I was imprisoned during the the period of military rule. Many people died and were tortured.)
Paterno Esmaquel II is a journalist with the online news website Rappler and these multimedia reports are drawn from the Rappler coverage.