Greenpeace New Zealand executive director Russel Norman and the Rainbow Warrior skipper toss a wreath in memory of Fernando Pereira into the sea at the spot where the original bombed RW was scuttled in 1986 to create a living reef. Video: David Robie/Cafe Pacific
Pacific Media Centre Newsdesk
Greenpeace's flagship Rainbow Warrior 3 was welcomed in Matauri Bay at the start of a month-long tour of New Zealand yesterday to celebrate a victory in the fight against fossil fuels and to launch filming on a documentary drawing on the links between the nuclear-free and climate change struggles.
The tour began following the laying of a wreath at sea to honour the memory of Dutch photographer Fernando Pereira who was killed by French secret service saboteurs who bombed the original Rainbow Warrior in Auckland on 10 July 1985.
Greenpeace New Zealand executive director Russel Norman gave an emotive speech about Pereira's legacy being the ultimate success of the antinuclear struggle with the end of French nuclear testing in the Pacific in 1996 and the ongoing climate change campaign.
READ MORE: Rainbow Warrior tour begins tour at site of bombed predecessor
Rainbow Warrior crew, Greenpeace stalwarts and local hapu members were treated to  seafood kai at Matauri marae.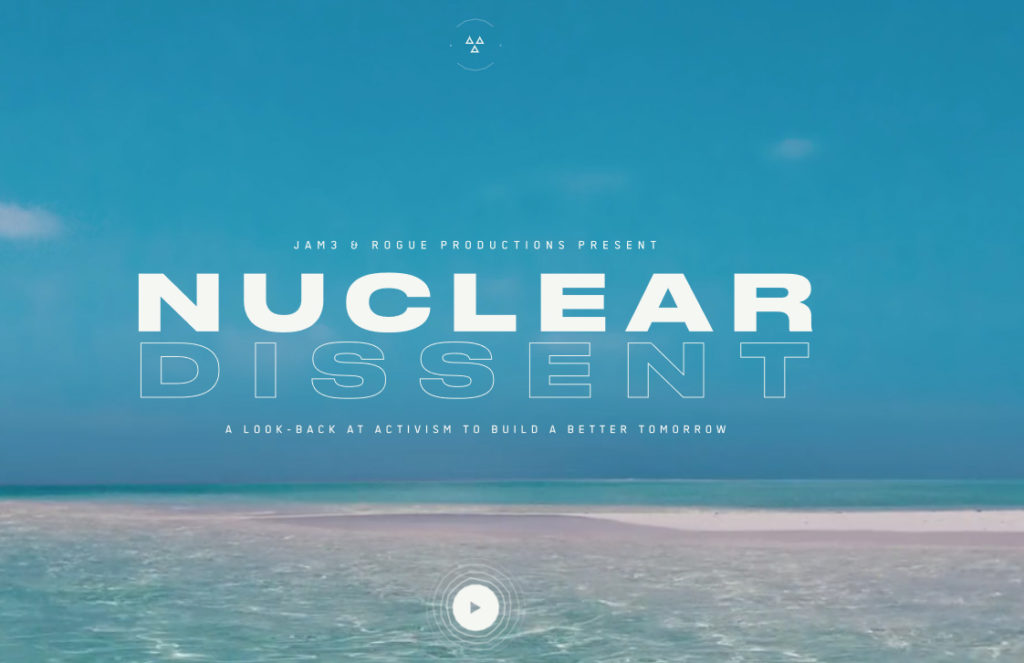 Also launched yesterday was a new interactive documentary, Nuclear Dissent, a cautionary tale about haunting nuclear destruction, told through the lens of some of the world's bravest activists and experts – the successful leaders of disarmament efforts from French Polynesia and New Zealand to Canada, the United States, and Greenpeace, who influenced outcomes and fought for change.
In five short video chapters available on desktop, mobile and webVR, the true story of the battle to end French nuclear weapons testing between 1966 and 1996 is told through dynamic 360º panoramas on land, afloat in the fallout zone, amid riots, and underwater, Greenpeace says in a statement.
The story is capped off with a raw assessment of where the world is today – the greatest global nuclear threats, risks and effects unpacked.
Extreme health and environmental damage to French Polynesia was caused by test nuclear explosions in the South Pacific, spreading cancerous plutonium across continents and into the food chain.
Activist persistence
Due to the persistence of activists braving the fallout zone and widespread protests and a growing nuclear free movement, the French government eventually shut down its testing programme.
More than a decade later, those affected have yet to receive justice for the intergenerational trauma inflicted on their land, their health and their resources by the French government, the Greenpeace statement said.
With historical accounts from protesters Anna Horne and Greenpeace's David McTaggart who sailed into the test zone, expert opinions from nuclear policy analyst and Harvard professor Matthew Bunn, Dr Ira Hefland and climatologist Alan Robcock, viewers are guided through an eye-opening journey.
Alongside each chapter's video content, 360 x-ray environments and journals filled with evidence and artifacts bring otherwise invisible details and deadly damages to light.
An interactive fallout map enabled with address entry visualises what the scope of destruction, death and injury would look like in any city, from a selection of current nuclear weapons that exist in the arsenals of the world's most dangerous superpowers.
'Making oil history'
Anna Horne joined Rainbow Warrior 3 yesterday as the ship prepared to sail from Matauri Bay to Auckland where Greenpeace will launch its "Making Oil History" tour of New Zealand".
Earlier, the Rainbow Warrior had been joined by David Robie, author of Eyes of Fire about the Rongelap voyage and the bombing of the original Rainbow Warrior, and currently director of the Pacific Media Centre.
In 2015, Professor Robie and a group of student journalists combined with Little Island Press and Greenpeace to create a microsite dedicated to Rainbow Warrior and environmental activist stories and videos, Eyes of Fire: 30 Years On, as a public good resource.
Both Horne and Dr Robie are among at least 10 activists, writers and changemakers being interviewed for the new Greenpeace documentary being directed by journalist Phil Vine.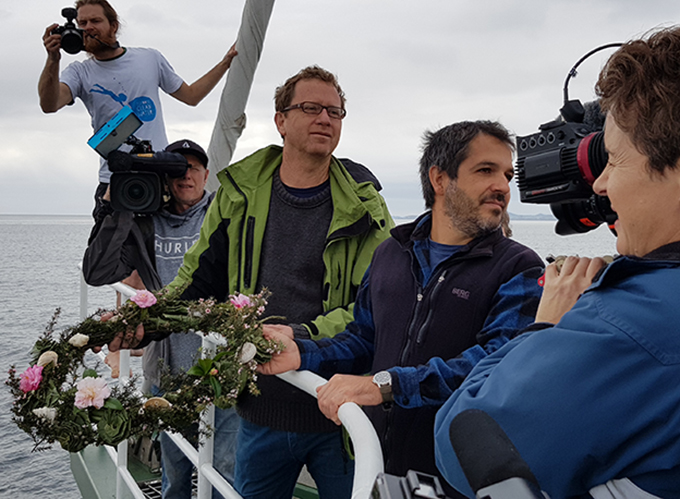 The wreath laying ceremony in memory of Fernando Pereira on board the Rainbow Warrior yesterday. Image: David Robie/PMC