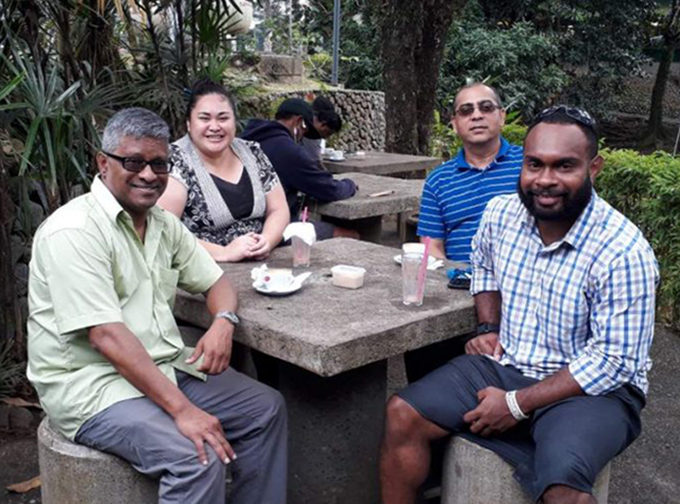 By Chris Ha'arabe of Wansolwara News
Fiji-born veteran journalist Sri Krishnamurthi has some simple advice for aspiring journalists – "Do your job without fear or favour".
And this advice could not have come at a better time as Fiji awaits the impending 2018 election.
A former journalist with The Fiji Times, Krishnamurthi left for New Zealand after the 1987 coup, returning to his homeland this year after 30 years away to conduct research and writing on an international media project to gauge the mood and issues in Fiji before elections later in the year.
Krishnamurthi is a postgraduate digital communications student from Auckland University of Technology's (AUT) Pacific Media Centre and arrived in Fiji last week for the International Journalism Project, which is a collaboration between the University of the South Pacific's Journalism Programme and AUT's Pacific Media Centre student publications Wansolwara and Asia Pacific Report.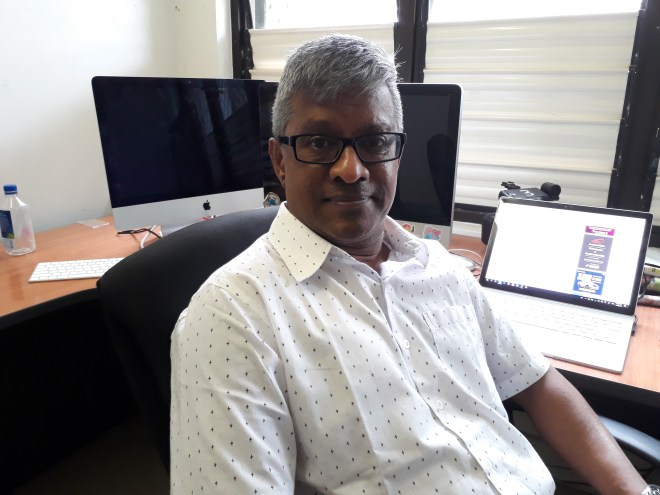 "I came back and saw a lot of changes in Fiji. I notice that students have easy access to the internet and new technologies," said the former reporter for the now-defunct New Zealand Press Association news agency.
"Students can search through websites or social media for events, entertainment and information."
Even though he has more than two decades of experience in journalism, Krishnamurthi believes he still has a lot to learn – even at age 54.
Smart students
"As far as I see, students nowadays are really smart and intellectually fit compared with my early days of learning when there was a lack of facilities to study journalism in Fiji," said Krishnamurthi, who has a New Zealand Certificate in Journalism and MBA from Massey University in Auckland.
He said USP provided a platform and opportunities for young aspiring journalists to train themselves to become professionals.
Krishnamurthi spent more than 10 years with NZPA as a seasoned sports journalist. He also had a stint with NZ's Rugby News magazine. One of the many highlights of his career was covering the 1992 Cricket World Cup in New Zealand.
More recently, he has worked for a tertiary institution (NorthTec), an Iwi organisation (Ngatiwai) as well as an economic development agency (Northland Inc) as a communications and marketing specialist.
In 2008, he was press secretary to Shane Jones, then NZ Minister for Building and Construction; Associate Minister for Trade, Treaty Negotiations, Immigration.
Krishnamurthi was also part of the crisis communications management team for the Canterbury District Health Board. He was tasked with managing external and international media interest after arriving in Christchurch within hours of the February 22, 2011 earthquake.
He lists sports, politics, movies, reading and meeting people, going to the gym and camping as some of his interests.
Long-standing partnership
The AUT's Pacific Media Centre and USP Journalism have a long-standing partnership stretching back more than 11 years.
According to PMC director Professor David Robie, the International Journalism Project has supported challenging projects such as the three-year-old Bearing Witness, where postgraduate students gain first-hand experience of the impact of climate change in Fiji and co-operate in a learning environment with Pacific environmental and journalism students.
"We had two students covering the 2014 election. A short documentary produced by two other students under the Bearing Witness project [Blessen Tom and Hele Ikimotu], featuring Rabi island, has been entered in the Nuku'alofa Film Festival," Professor Robie said.
"We thank our USP journalism colleagues for the encouragement and support to enable these unique assignments to take place."
Chris Ha'arabe of the Solomon Islands is a final-year journalism student at the University of the South Pacific.