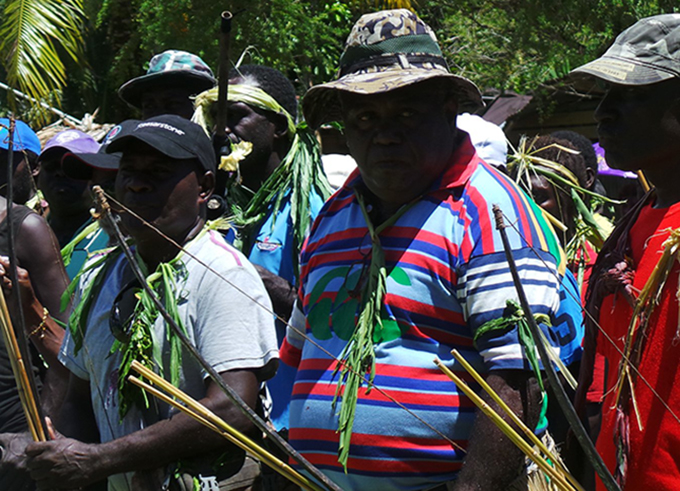 By Aloysius Laukai in Buka
The people of Haku have demonstrated their commitment to the Bougainville peace process by reconciling former fighters from the Bougainville Revolutionary Army and the Buka Liberation Front ahead of their mass reconciliation next week.
The ex-fighters and commanders broke bows and arrows in a traditional ceremony marking reconciliation before next year's referendum on independence.
At the height of the Bougainville conflict, the people of Haku formed the Buka Liberation Front (BLF), which later changed into the Bougainville Resistance Forces after many atrocities were being committed to the ordinary citizens of Bougainville.
They then went to Nissan island to get support from the PNG Defence Force soldiers who were stationed there.
The reconciliation at Luli village was attended by both the Bougainville Revolutionary Army (BRA) and BLF commanders and their soldiers.
They broke bows and arrows in front of their chiefs to show their commitment to peace and unity for Bougainville leading up to the referendum on independence next June.
BLF commander Donald Hamao said that the people of Haku were committed to the future of Bougainville and wanted to end yesterday what they had started 28 years earlier when they had formed the resistance force in 1990.
No time for war
Mathew Gales, commander of the BRA, also said there was no time for war on Bougainville. He called on the people of Haku and Bougainville to look at the "big picture ahead" and create peace in their communities.
The reconciliation included flag raising ceremony speeches and activities.
Haku will do a big reconciliation ceremony next Thursday at Eltupan village, the place were fierce fighting between the two factions took place at the height of the Bougainville conflict.
The ceremony was co-sponsored by the chairman of the Bougainville Import Export Group which operates SOLMAL in Buka town, Jason Fong.
Other sponsors included the ex-combatants member for North Bougainville, Ben Malatan,  and the national member for North Bougainville, William Nakin.
Aloysius Laukai is editor of New Dawn FM News community radio.