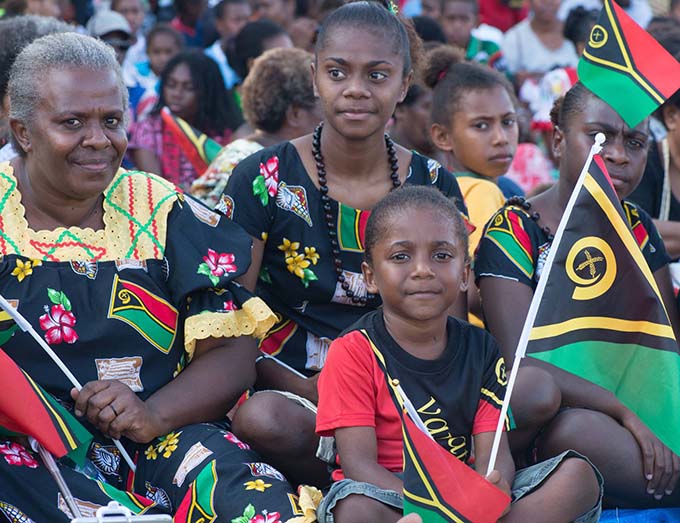 By Len Garae in Port Vila
An estimated more than 4000 strong crowd threatened to spill over into the parade grounds at Independence Park during the 38th Independence Anniversary Ceremony yesterday.
Police had to be posted to keep excited adults and children within their space.
Planeloads of celebrants from Noumea were flown in to be part of the celebrations too.
People from the islands also arrived to also share in the festivities.
Prime Minister Charlot Salwai's address was welcomed as "to the point and short" because formalities ended about 10.30am.
The Prime Minister specifically mentioned Ambae's volcanic ash eruption aas one of the challenges facing the country at present.
He thanked the government for its stability and solidarity.
Infrastructure resilience
He underlined infrastructure resilience as everyone's business and listed the following examples of positive impact:
Infrastructure resilience is an opportunity to create employment;
Infrastructure resilience boosts economic development as it opens economic opportunities, it increases productivity, it improves accessibility and services;
Infrastructure resilience is a preparedness for disasters, including cyclones, strong winds, heavy rain, earthquakes or flooding;
This means feeder roads, wharves and airports such as Norsup, Motalava, North Ambrym and extensions to existing airports and classrooms, health units, health centres, hospitals and laboratories, infrastructures of national security and justice including court houses, National and Provincial Government buildings and structures of telecommunications, which include radio and television as they connect local farms with market access and water supply and energy.
Infrastructure resilience has a strong link with sustaining the productive sector through an easy access to the market place;
Infrastructure resilience also promotes the movement of tourists to the islands.
Prime Minister Salwai named Korman Sports Facilities, Lapetasi Wharf, Port Vila Urban Road Infrastructure, Bauerfield International Airport, Pekoa International Airport, Whitegrass International Airport and road developments on Tanna and Malekula and submarine cable as classic examples of infrastructure resilience.
"We must change our traditional approach to doing things. It means we must improve our designs to allow the new buildings to withstand stress and disaster and respect the environment," he said.
Prime Minister Salwai said the government was aware of the different challenges and needs of the business communities and infant industries and medium size industries (SMEs) as the drivers of the economy and job creation and would continue to address them.
He said the financial inclusion policy he launched this year was aimed at improving access and services for the infant industries and SMEs.
Enriching livelihood
"The Vanuatu government has the duties and responsibilities to create a conducive environment for business investment and an enabling and secure environment for enriching the livelihood for all citizens," he said.
"Vanuatu must remain the better place in which to live and work and share equal benefits,"
The Prime Minister reminded the nation that celebrating independence was a unique moment to unite everyone.
"It is a special occasion for us to celebrate together as one people, one nation and one family sharing the same values of custom and Christianity. We must unite at all times to build a better Vanuatu for future generations – the children of tomorrow," he said.
"To conclude, may I remind all of us that we belong to a united and free country founded on traditional Melanesian values, faith in God and Christian principles, in line with our motto of "Long God Yumi Stanap".
Despite the current challenges, he called on the nation to have confidence that "with God nothing is impossible".
"Be proud of yourselves!", Prime Minister Salwai added.
Asia Pacific Report republishes Vanuatu Daily Post news items with permission.