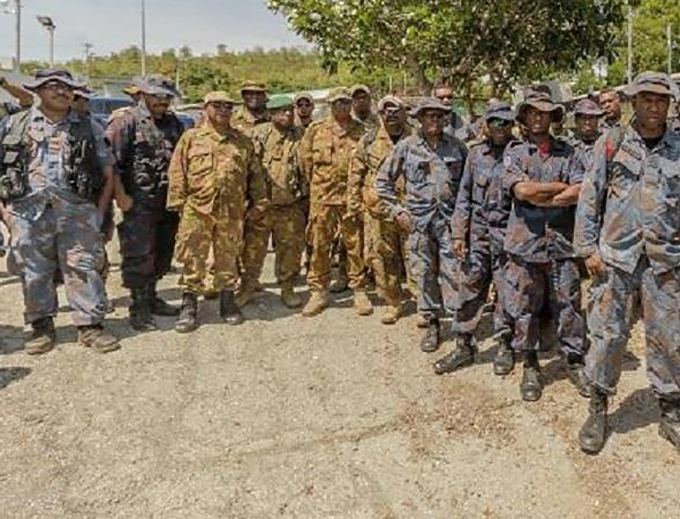 By Johnny Blades of Radio NZ Pacific
An ongoing security crisis in Papua New Guinea's Hela province is preventing many earthquake-affected communities receiving relief.
February's magnitude 7.5 quake caused widespread devastation and about 150 deaths in Hela, Southern Highlands and Western provinces.
Hela was the worst-affected but its long-running problem of tribal violence, which has surged since last year's election period, has now caused international humanitarian agencies to pull out of the province.
Hela's provincial capital Tari is the focal point of some of the worst tribal fighting, exacerbated by mass displacement of Hela communities caused by the quake.
With more than a dozen tribal killings reported in and around Tari since February, Hela police have recently received reinforcements from other provinces but have often been outnumbered and outgunned by the fighting tribes.
Not even the presence of extra Defence Force personnel in Hela has been able to "We leaders are trying to resolve the problem. But some of the men… it's too hard for the leaders to control their men."bring the tribal fighting under control.
The sergeant in charge of Tari police station, Thomas Levongo, said five people were killed in the area last week, scuppering an attempt at peace talks.
'It's too hard'
"We leaders are trying to resolve the problem," he explained. "But some of the men… it's too hard for the leaders to control their men."
The head of PNG's Emergency Disaster Restoration Team said the overall response to the disaster had been successful, in that disease outbreaks and starvation had been prevented so far.
But according to Bill Hamblin, there were areas that Papua New Guinea can improve on in responses to future disasters. Meanwhile, he said there were parts of Hela that his team cannot reach, due to civil unrest.
"Although the UN tried to go into Komo the other day; we've had the United Church people who went in there attacked; we've had the UN turned back by the security forces because of the helicopters being stoned," he said.
"So that security situation has to be addressed before you can bring in relief. No organisation's going to send in people who look like they're going to get killed."
UNICEF in Papua New Guinea said humanitarian operations had been suspended in an area where more than 40,000 earthquake affected people were in need.
The agency has called for more global attention, from the UN in New York and Geneva, on the plight of the quake-affected people of Hela.
Too unsafe
Monjur Hossain, the Acting Country Director for PNG, said UNICEF had delivered aid supplies to Tari the capital of Hela after the quakes but could no longer access the province as it was considered too unsafe.
He said the situation was extremely complex, there was very little communication with province due to ongoing unrest, leaving the health and welfare of the people seriously threatened.
"The situation is really grave in terms of the deprivation in terms of the services and the lives of the people," Hossain said.
"So we've been actually working at the regional and global level to raise this issue. We have recently had a global press conference organised in Geneva to raise the issue that we need to talk about Papua New Guinea."
Despite the suspension of humanitarian services in the area, UNICEF said it had been able to launch a measles and tetanus vaccination campaign in other quake-affected districts of neighbouring Southern Highlands (Mendi-Munihu and Nipa Kutube).
Water and sanitation are among the most pressing needs in Hela and Southern Highlands. UNICEF's latest situational report on the quake response said it had reached 10,000 people with water purification tablets and was also providing 'psychosocial' support.
The UN agency also said 55,000 people were estimated to be displaced and 65 percent of health facilities in Hela and Southern Highlands were severely damaged.
Aftershocks, landslides
The PNG government estimates more than half a million people in total were affected by the quake, its aftershocks and landslides; and 270,000 people – nearly half of whom are children – need urgent assistance.
Many schools are closed, having sustained extensive damages in the quake, although education in the region had already been badly disrupted since last year when the election-related violence spiralled out of control in pockets of both of the Highlands provinces.
Unicef said its funding requirement for the response was US$13 million, but it had a  shortfall of nearly 80 percent.
Meanwhile, the Emergency Disaster Restoration Team is clamping down on misuse of helicopter charters for medevacs.
The team is taking over the management of helicopters in relief operations from the Department of Defence.
Dr Hamblin said unnecessary charter of helicopters, at around US$7000 an hour, had been fast draining emergency funding.
He said opportunists using the choppers to reach health services for medical needs unrelated to the quake needed to be kept in check.
Tasking the helicopters
"We've got to control the tasking of those helicopters, so that's now coming in to my office," he explained.
"That's been happening, when a helicopter sees you and someone says 'oh we've got to get our three people out to Dodomona, away we go', and I'm saying 'well no way, you don't go'. We've got to look at the priority and see what should be done."
As the unrest and opportunism complicate the disaster response, the Tari MP James Marape appealed for calm among people in his electorate.
Having this week seen a court petition against his 2017 election win dismissed in PNG's capital Port Moresby, Marape said he would now turn his efforts to forging peace in Hela and focussing on helping with relief efforts in the province.
He claimed he had been prevented from doing this in the past month due to the court petition, which was based on allegations that the MP had bribed voters during 2017's troubled and violent election.
This article has been republished as part of the content sharing agreement between Radio New Zealand and the AUT Pacific Media Centre.