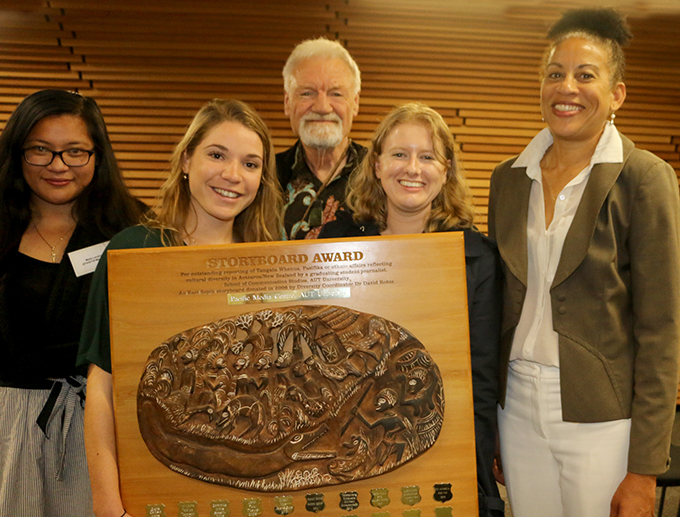 By Jean Bell in Auckland
Bearing Witness climate change project students won big last night at the annual awards ceremony for AUT's School of Communication Studies last night.
Julie Cleaver and Kendal Hutt took out the Spasifik Magazine Prize and Pacific Media Centre Storyboard Award for Diversity Reporting for their work on the Bearing Witness climate change project last year.
Hele Ikimotu was awarded the John Foy Memorial Award for broadcast journalism and will be flying to Fiji tomorrow to continue the Bearing Witness climate change project this year.
READ MORE: Bearing Witness climate project stories
'Great honour'
Cleaver and Hutt both travelled to Fiji last year where they created a multimedia feature on the Fijian village of Tukuraki, which was hit by a deadly landslide and two cyclones in the space of five years.
The project also won the Dart Asia-Pacific Prize for Journalism and Trauma at the annual Ossie Awards for Student Journalism at Newcastle, NSW, last December.
Cleaver is now editor of Debate Magazine and Hutt is a reporter with the North Shore Times.
Hutt said it was a great honour to receive this award.
"This award is not just our award, it is also Tukuraki's award for letting us come up to the community and let us tell their story. I think it had only been told in Fijian media and ABC Australia," said Hutt.
'Journalism highlight'
Cleaver said her time in Fiji was a moving experience. "It was a privilege to be a journalist and hear these people's stories. When else would you get to hear these people's personal testimonies from someone who has been through so much as well."
"The Pacific Media Centre has been so supportive to both of us throughout this process. Thanks so much to Professor David Robie and everyone else involved," said Cleaver.
"The trip was a journalism highlight. This is why I wanted to get into journalism."
"It's so awesome that Dr Robie is driving this PMC project. It needs someone passionate to keep it going and it's such a privilege to be a part of that."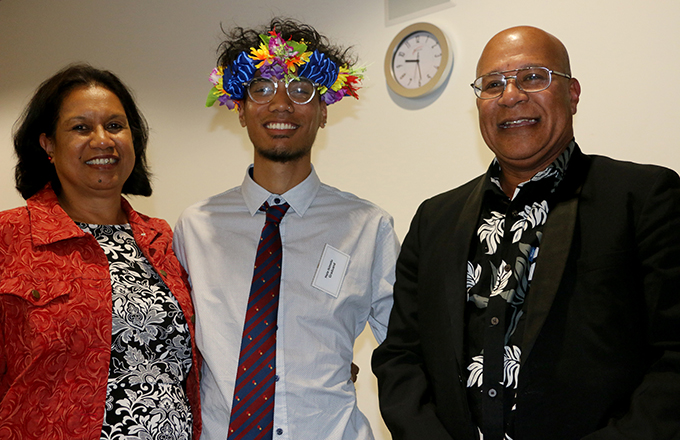 Ikimotu 'excited'
Bearing Witness climate change project participant Hele Ikimotu received the John Foy Memorial Award.
Louise Matthews, curriculum leader of AUT's journalism programme, presented the award to Ikimotu and said he "aced" his undergraduate courses and stayed on to do postgraduate study this year.
Ikimotu thanked God, the John Foy Memorial Trust sponsors and his "supportive and inspiring" journalism tutors in his acceptance speech.
"I'm so excited and nervous to go over there. I come from an ancestry of storytellers. There are times I doubted I had the ability to be a good storyteller but this award has affirmed I have what it takes, and I'm so excited to see where journalism takes me.
"I'm so excited to use it as a platform for my people and continue being a voice for the Pacific. I was born in the Islands and I know my family back home are proud that I'm doing it and representing them."
Ikimotu leaves for Fiji tomorrow with fellow participant Blessen Tom to carry on this year's version of the Bearing Witness project.
Ikimotu and Tom will be heading on a two-week climate change mission to the main island of Viti Levu where they will be interviewing local people who are directly affected by the devastating effects of climate change in the Pacific.
Ikimotu and Tom will be searching for stories, interviewing people directly affected by climate change and reporting directly for Asia Pacific Report, Wansolwara and other media.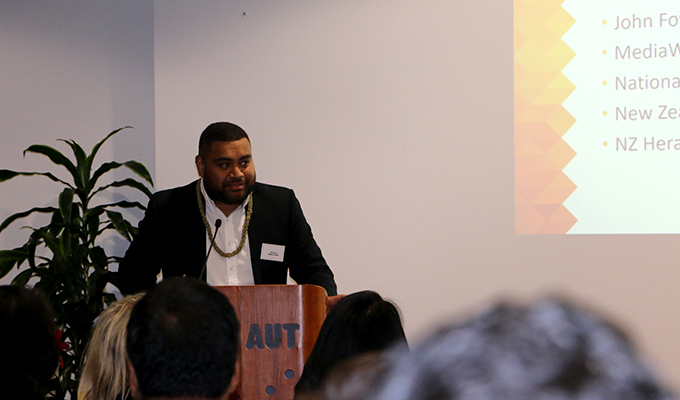 Full 2017 School of Communication Studies awards:
School of Communication Studies Award for Top Student in the Certificate in Communication Studies: Schumacher Liuvaie
School of Communication Studies Award for Top Year One Bachelor of Communication Studies: Amy Wang
School of Communication Studies Award for Top Year Two Bachelor of Communication Studies: Jamie Ensor
School of Communication Studies Award for Excellence in Communication Theory: Adam Szentes
Communication Studies Postgraduate Scholarships: India Fremaux, Yulia Khan, Malini Radkrishna, Jayakrishnan Sreekumar
Dean's Award for Best Postgraduate Diploma in Communication Studies: Elizabeth Osborne
Dean's Award for Excellence in Master of Communication Studies – Thesis: Ximena Smith
Oceania Media's Spasifik Magazine Prize and the Pacific Media Centre's Storyboard Award for Diversity Reporting: Julie Cleaver and Kendall Hutt
The Radio Bureau Award for Top of Research Project: Radio: Georgina Cain-Treleaven
The Radio Bureau Award for Top Radio Student: Maxene London
John Foy Memorial Award for Excellence in Broadcast Journalism: Hele Ikimotu
Bauer Award for Excellence in Magazine Journalism: Nicole Barratt
New Zealand Herald Award for Top Post Graduate Diploma Student in Creative Practice – Journalism: Arun Jeram
National Business Review Award for the Outstanding Graduate in the BCS Journalism Major: Nicole Barratt
New Zealand Geographic award for Excellence in Photojournalism: Adam Szentes
Public Relations Institute of New Zealand Award for the Top Year 2 Public Relations Student: Jamie Ensor
The winners of the Public Relations Institute of New Zealand Paul Dryden Tertiary Award 2017: Boyan Buha, Jodealyn Cadacio, Simon Cooper, and Georgia Ward
Highly Commended Public Relations Institute of New Zealand Paul Dryden Tertiary Award 2017: Abby Berry, Emma Hilton, Morgan MacFadyen
Public Relations Institute of New Zealand President's Award for the Top Academic Student in the Public Relations Major: Adam Szentes
The Postgraduate Public Relations Global Virtual Team Winner (2017): Alex Ubels
FCB Change Agency Award for Digital Media Excellence: Stefanee Chua
School of Communication Studies joint Award for Academic Excellence in the Creative Industries Major: Kaylah Burke and Laura Reid
QMS Awards for Advertising Creativity:
QMS Art Director of the Year – Holly Smith
QMS Account Executive of the Year – Ella Bilham
QMS Team of the Year – Will Macdonald and Adam Ramsdale
Francis Porterfield Memorial Award for Excellence in Multicamera Production: Steven Yee
MediaWorks Award for Best Producer: McKay Carroll