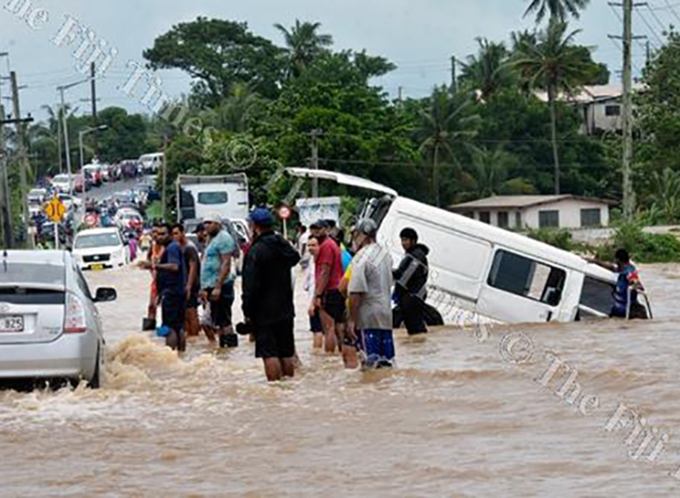 By Felix Chaudhary in Lautoka
"It was scary, we've never seen anything like it."
That's how a Natabua, Lautoka, man described the experience residents had as they fled to higher ground early yesterday after "raging floodwaters" engulfed their homes.
Tropical Cyclone Josie never made landfall but the storm dumped a lethal amount of rainfall over Easter weekend that resulted in four confirmed deaths and one missing person's report.
As life-threatening floodwaters continued to rise late yesterday in at least two towns in the Western Division, the National Disaster Management Office confirmed that 18 evacuation centres had been activated in Nadi, Lautoka and Nadroga.
Late yesterday the police also advised people living in low-lying areas and near waterways to move to higher ground.
Punishing and unrelenting overnight rain drenched the entire Western Division, flooding many homes, sweeping away cars, disrupting flights, damaging crops, and forcing the closure of many roads.
The first reported tragedy was that of Sheenal Mudliar, 25, and her father Veer Gounder, 55.
They were travelling in a vehicle that was swept off a bridge at Uciwai on the outskirts of Nadi yesterday morning.
Police recover bodies
Police managed to recover both bodies yesterday.
In Ba, Saroj Lata, 50, of Vatulaulau, reportedly lost her life while attempting to flee floodwaters that had engulfed her home. The body of a 55-year-old male was also recovered in Lautoka.
In Nadi, 21-year-old hotel worker Ilaisa Nabou went missing while attempting to cross a waterway in Sabeto.
Meanwhile, yesterday afternoon the Navua River also broke its banks.
In Lautoka, Sekiva Knight said the homes located on the corner of the Queens and Natabua roads were almost completely engulfed by floodwater.
"That place usually floods on the road and in their compounds," he said.
"This is the first time that the floodwaters covered their homes with up to almost 2m of water.
Water to ceiling
"Some of the houses had water almost up to the ceiling.
"People were awoken by the floods at about 5am and they just got up, grabbed their loved ones and ran.
"They had no time to collect any belongings or valuables, they even left their cars behind."
Knight said a Chinese family was trapped inside their home and were unable to leave because of the strength of the current.
He said military officers rescued the family about 7am.
Also in Lautoka, residents of Qaliwalu settlement were forced to flee their homes at about 4am after the Saru river burst its banks.
Ravindra Lal, a resident, helped evacuate three families and moved them to higher ground.
"This settlement always floods but this time the flood was different," he said.
"It came in so fast and the current was so strong. They have lost everything."
Resurrection services
Serafina Silaitoga reports from Labasa that hundreds of Fijians braved the rainy and cold weather condition to celebrate Christian resurrection church services in the North over Easter weekend.
Believers of the Nasea Methodist Church Sunday School programme that included primary and secondary school students organised a weekend camp aimed at enhancing their spiritual growth.
Catholics travelled from around the northern island of Vanua Levu to be part of the resurrection mass on Saturday night in Labasa, many sitting bravely in partially wet clothes during the service.
Felix Chaudhary is a senior Fiji Times journalist.