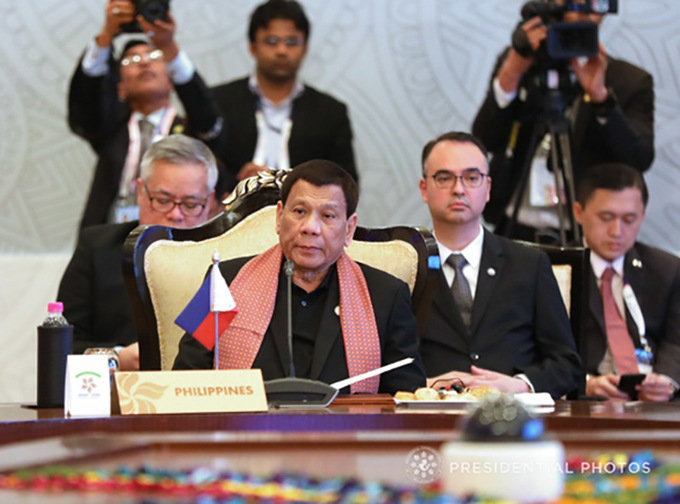 By Paterno Esmaquel II in Manila
Secretary of Foreign Affairs Alan Peter Cayetano claims the Philippines' withdrawal from the International Criminal Court is "a principled stand" as nongovernmental organisations and politicians supposedly use human rights for political ends.
"The political NGOs and the politicians have taken over human rights," Cayetano has told GMA News anchor Jessica Soho.
"Now it's being used in politics. But this is a principled stand," he added in a mix of English and Filipino.
President Rodrigo Duterte announced earlier on Wednesday that the Philippines would withdraw from the ICC "effective immediately."
READ MORE: Duterte's statement on Int'l Criminal Court withdrawal
In his interview with GMA News, Cayetano explained that withdrawing from the ICC was "not a way of evading" an ICC probe into Duterte's anti-drug campaign.
Cayetano said that even if the Philippines withdraws from the ICC, the court still had jurisdiction over the things the Philippines did when it was a member.
Additionally, he pointed out that withdrawing from the ICC "has been in informal discussions ever since," even when he was still a senator during Duterte's term.
'Internal conflict'
The Philippines' top diplomat recalled that during the time of then president Gloria Macapagal Arroyo, the military did not want the Philippines to ratify the Rome Statute of the ICC.
This was because the Philippines has an "internal conflict" that might "compromise" police and soldiers.
The Philippines ratified the Rome Statute during the time of then president Benigno Aquino III. One of those who pushed for this ratification was human rights lawyer Harry Roque, now Duterte's spokesman.
"Now the President sees that there is internal conflict, like what happened in Marawi, et cetera. And that's the same reason that the US, China, Russia did not sign or did not ratify it. The US signed but did not ratify it," Cayetano said.
Read an excerpt from Cayetano's interview below:
"The political NGOs and the politicians have taken over human rights eh. So ang problema hindi na katulad dati na prinsipyo talaga sa human rights. Sa ngayon ginagamit sa politika. But this is a principled stand. Ayaw nating maging hipokrito, na ang malalaking bansa hindi sumali dito.
"But to prove that it's not a way of evading or getting away from the consequences or the jurisdiction ng ICC or nangyari na, even if mag-withdraw tayo, covered pa rin 'yung actions natin when we were a member.
"So sa mga nagsasabi, ayaw lang ni Presidente maging liable dito, he's not doing it for himself, kasi we still have obligations during that time. It's really for the soldiers, the police, and to make a stand sa ating mundo na you know, huwag 'nyong ipolitika ang human rights."

Duterte made this declaration more than a month after the ICC opened its "preliminary examination" of the alleged extrajudicial killings in his war on drugs.
The President vowed the ICC cannot have jurisdiction over him, "not in a million years."