By Philip Cass of Kaniva News
Tonga's churches are failing to provide leadership over climate change and it is up to young people to join with church goers to take action, according to research by an Anglican priest.
Speaking at last week's Pacific Ocean Climate Change conference in Wellington, Fr Laiseni Fanon Charisma Liava'a said that while the Tongan government was desperately lobbying developed countries about Tonga being on the frontline of climate change, the issue was not a priority for the kingdom's churches.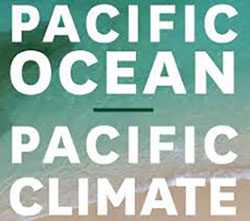 The former Tongan Navy officer said his research, conducted in Tonga in June last year, showed that climate change was still a relatively new issue at the local church level.
It was still much managed and communicated as an elite level issue while the majority of the people at the community and grassroots level were left uninformed.
He said the churches displayed a lack of care and collective responsibility about the seriousness of the issue and its threat to people's lives.
The churches failed to understand the significance of climate change and did not communicate its importance, especially to young people.
"The majority of church leaders still do not fully believe climate change is a serious issue and that it is not the responsibility of the church to combat its impact," Fr Liava'a said.
Perpetuated behaviour
Churches continued to perpetuate behaviour and practices that did not help mitigate its effects.
He said because some church leaders were employed in public and private sector boards or foreign funded projects on climate change, people thought they only pushed a climate change agenda because they were paid to do so.
Fr Liava'a worked for the Pacific Community-Focused Disaster Risk Reduction Tonga Project in 2009 and as the National Climate Change Coordinator of Tonga's Third National Communication Project from 2013 to 2014.
He said the main factors holding the churches back were lack of informed understanding, lack of moral leadership and deficiencies in Biblical and theological comprehension of climate change issues.
Fr Liava'a said people he spoke with said the churches were selective when it comes political and public issues.
"The urgency of the need for response and combat climate change demands young people and churchgoers to take action, together," Fr Liava'a said.
"It has to start with education."
Strong leadership needed
He said Tonga needed strong leaders to take action on climate change.
"Leaders need to step up and set examples. People can follow."
The exclusion of spiritual/Christian principles and values from the climate change message was also a problem.
"The people in Tonga cannot be separated from God because that is what they believe," he said.
"My research findings showed that one of the reasons why churches do not always support the government is because the government does not build on Christian principles to the climate change work."
Rev'd Liava'a said that when serving as an officer in the Tongan Navy from 1999-2002 he had seen a number of areas where people had now retreated from the sea because of climate change.
These included Makaunga to Navutoka on the eastern side, Kanokupolu and south of Ha'atafu on the western side of Tongatapu and Lifuka in the Ha'apai group.
Dr Philip Cass is a media academic and an adviser to Kaniva News. He is also a research associate of the Pacific Media Centre.