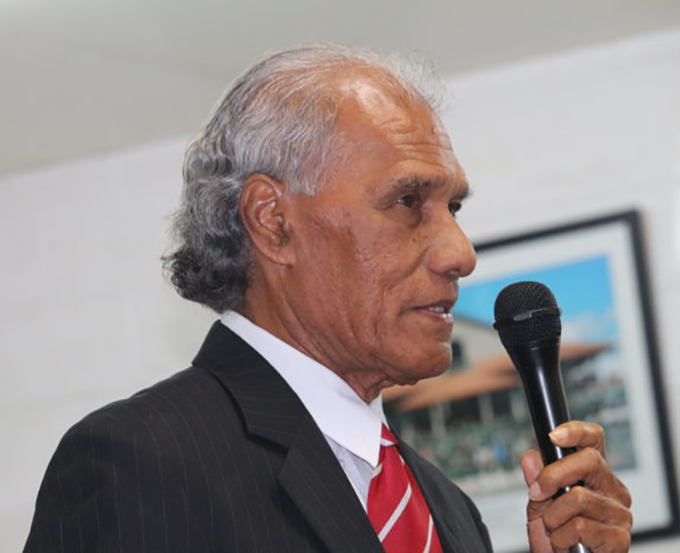 By Kalino Latu, editor of Kaniva News

'Akilisi Pōhiva, 76, has been elected by a majority of Members of Parliament to become Tonga's Prime Minister for the next four years.
A total of 14 members out of the 26 Members of Parliament voted for Pōhiva, while 12
MPs voted for the rival candidate, Siaosi Sovaleni.
Lord Fakafanua has been elected as new Speaker of Parliament.
Pōhiva, who has led the PTOA or Democratic Party since its establishment in the last
decade, told the House before the election yesterday he was grateful to the people of
Tongatapu for electing him to Parliament from 1987 to 2010 when the old electoral system enabled the whole of the mainland to elect three candidates to the House.
He also thanked the constituents of Tongatapu 1 for voting him into Parliament since 2010
after the electoral system was changed to give Tongatapu 10 candidates to be elected to Parliament.
After it was announced about 6.30pm that he had been elected as Prime Minister,  Pōhiva thanked the king and the people for putting their trust in him again.
In his speech in support of Pōhiva, Pōhiva Tu'i'onetoa, Tonga's Minister of
Finance, said the results of the snap election showed that the majority of people trusted
Prime Minister Pōhiva and his ambition to have a government which supported good governance and justice.
He described the results in Tongan with a Biblical saying ( Luke 6:43-45) "a tree is known by its own fruits".
Watching government
He said he supported Pōhiva to be Tonga's next Prime Minister after his 30 years experience as Tonga's former Auditor-General.
Tu'i'onetoa said one of his roles was to watch on government leaders to make sure they were accountable to their responsibility for people.
He then referred in his speech to some Tongan vocabularies such as "'ikai toka'one" and "fōfō'anga" to describe previous government leaders, saying they could not beat Pōhiva when it comes to principles such as justice and good governance.
Another Party member, MP Mo'ale Fīnau, said he believed previous governments upheld
justice and good government, but they did not maintain a constant level of support.
Finau believed Pōhiva stood firm in his desire to bring justice and good
governance to Tonga more than any previous Tongan government leader.
Fīnau said that in 2010 and 2014 the Democratic Party failed in its attempt to elect its
17 candidates or the majority of PTOA to Parliament. However, in the snap election they had won a majority of seats for the first time.
MP 'Akosita Lavulavu for the Party told the House that according to the snap
election results the majority of voters in the Vava'u islands, Tonga's second largest island
group, wanted Pōhiva to become Tonga's Prime Minister.
Help for Vava'u
She said God wanted Pōhiva to become Prime Minister and that was embodied in a majority of the voters who went to polls in the snap election.
She said he had promised her the government would help Vava'u in a special way in the next
four years.
Niua MP Vātau Hui said the nation had been praying for an answer to the snap election and
the results had been given that Pōhiva should lead the nation.
However, MP Sāmiu Kiuta Vaipulu, who nominated Sovaleni, said MPs needed to work
together to build the nation.
He said prices for consumer goods were high because of a levy imposed by the government.
Asia Pacific Report republishes Kaniva News articles with permission.