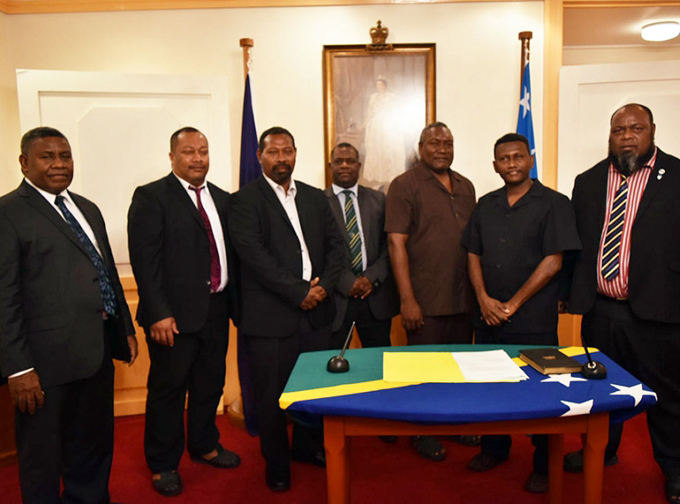 Following the resignation of nine ministers last weekend Prime Minister Manasseh Sogavare has made moves to consolidate the coalition government.
The Solomon Islands Broadcasting Corporation (SIBC) reports Sogavare has sworn in eight new ministers.
Ishmael Avui, Minister for Development, Planning and Aid Coordination; Augustine Auga, Minister for Agriculture and Livestock Development; Nestor Ghiro, Minister for Provincial Government and Institutional Strengthening; Bradley Tovosia, Minister for Forestry and Research; Moses Garu, Minister for Home Affairs; Jimson Fiau Tanagada, Minister for Police, National Security and Correctional Services; Dickson Mua, Minister for Mines, Energy and Rural Electrification; and Duddley Kopu, Minister for Agriculture and Livestock Development took their oaths Wednesday afternoon.
Sogavare's assistant press secretary, Alex Akwai, said the government is trying to maintain stability in the current political situation.
He told SIBC: "Political stability is one important thing for the government in terms of progress and development."
Among those who resigned last weekend, Garu and Mua told Solomon Star News they returned to the ranks of the Democratic Coalition for Change Government (DCCG) coalition as joining the Opposition to remove Sogavare would make no positive difference to national development.
Mua added there was no justified reason for removing Sogavare as it would only cause uncertainty and was not in the national interest.
Sogavare hits out
Sogavare has hit-out at the ministers who resigned and the motion of no confidence against him, stating the defectors were apprehensive about the country's anti-corruption bill, which is to be introduced in parliament on Monday.
"Some of these resignations come as no surprise based on the fact that some of these same Ministers were responsible for undermining the progress of the ACB and the Opposition and Independent Parliamentary Groups have inadvertently aligned themselves with this agenda," a statement from the prime minister's office said Sunday.
Sogavare said that despite the ministers provoking political instability, the DCCG remained "confident" the national interest would prevail over personal agendas.
Sogavare added the return of Garu and Mua was a testament to this.
However, former deputy prime minister Manasseh Maelanga has rejected such accusations concerning the ACB, labelling them a cheap attack strategy, SIBC reports.
Maelanga said the ministers and backbenchers resigned due to personal convictions and on individual grounds.
"When we resigned, it shows that there is no trust and confidence in the Prime Minister, and that is why we resigned," he said.
Continued ACB work
Maelanga stated both himself and those who had resigned would continue and complete the work to get the ACB through parliament, which he had initiated as acting prime minister following a petition by civil society representatives to have it brought back.
"It's a clear picture that it is not the anti-corruption bill that we resigned from."