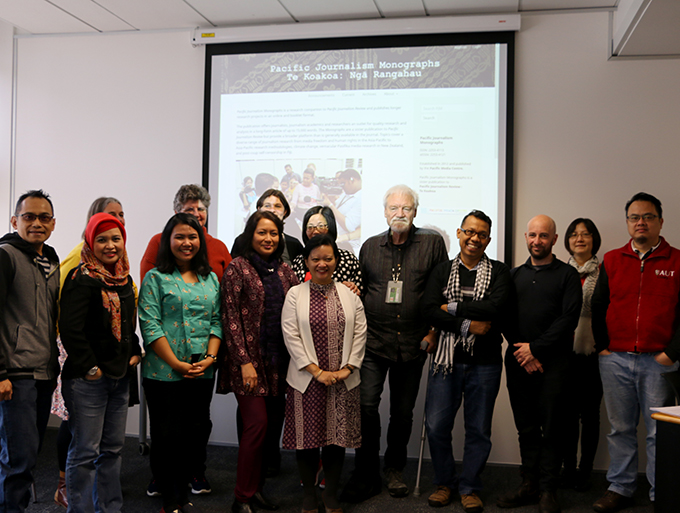 By Kendall Hutt, Pacific Media Watch contributing editor
The Pacific Media Centre's peer-reviewed research monographs have been launched on the Auckland University of Technology Library's open access publishing platform Tuwhera.

Pacific Journalism Monographs, first published in 2012, is now freely available on Tuwhera in a move described by PMC director Professor David Robie as a "tremendous step forward".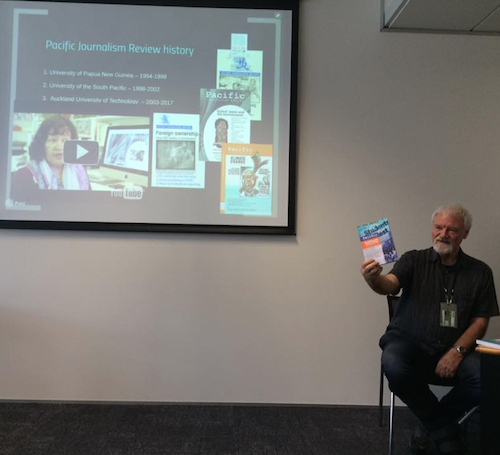 "Tuwhera is one of the most exciting initiatives in the university," he said as the platform celebrated its one-year anniversary.
Pacific Journalism Monographs serve as a research companion to Pacific Journalism Review, publishing longer research projects in an online and booklet format.
Since its launch in 2012, the monographs have covered a diverse range of journalism research, from media freedom and human rights in the Asia-Pacific region to climate change.
The latest edition was a report about self-censorship in Fiji researched and written by prominent Suva journalist Ricardo Morris.
Luqman Hayes, AUT Library's scholarly communications team leader, also spoke at the launch and reflected on the Tuwhera platform's significance.
He told visiting academics from the Universitas Gadjah Mada's Centre for Southeast Asian Social Studies (CESASS) Tuwhera meant "be open" in te reo Māori and sought to share knowledge and promote scholarship through an "indigenous set of lenses".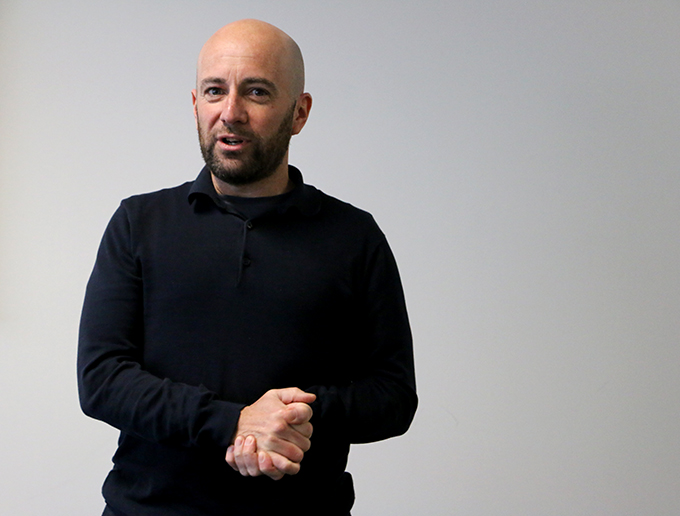 Such Māori knowledge paradigms and perspectives as mātauranga (knowledge) and whenua were central to the open access platform's principals, Hayes said.
"Tuwhera's not just a publisher, but an incubator which has seen philosophical realignment.
"It's opening up communication in isolated parts of the world," he said.
CESASS director Dr Hermin Indah Wahyuni spoke about the centre's journal IKAT and how happy she was that the research centre would be collaborating with the PMC's Pacific Journalism Review and Tuwhera on a major project involving ecological communication and maritime disasters in the Asia-Pacific region.
"We are really happy and welcome the collaboration," she said.
Although described by Dr Wahyuni as "a young journal", IKAT's first volume was published in July and two further volumes are planned for 2018. Each volume of the journal also comprises six thematic articles, she said.
It is hoped the July 2018 volume on environmental issues in Southeast Asia would align with the collaboration with the PMC, Dr Wahyuni said.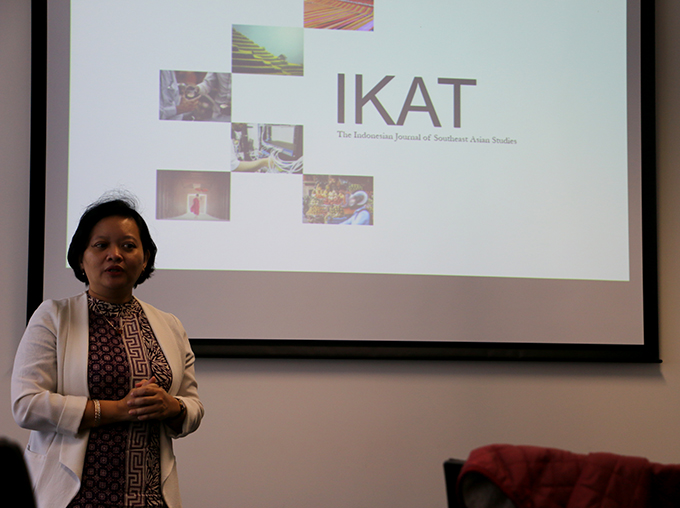 "We hope we can make this journal ready and fulfill international journal standards to become an international journal."
IKAT also has an international advisory board, which comprises several academics from the US, Japan, Germany, Australia and the Republic of Korea.
PMC director Dr Robie is also a member.
"We are also very happy we have international advisers, including David Robie," Dr Wahyuni said.
"We are here to read, discuss, write and be productive," she added.
Dr Wahyuni and her CESASS team teach up to 11 different subjects with classes of over 40 students, along with fulfilling research responsibilities and supervising community service.
This hard work and dedication, however, has earnt them the title of a centre of excellence, the only one in social sciences, by the Ministry of Higher Education.
Dr Wahyuni said the centre was "blessed".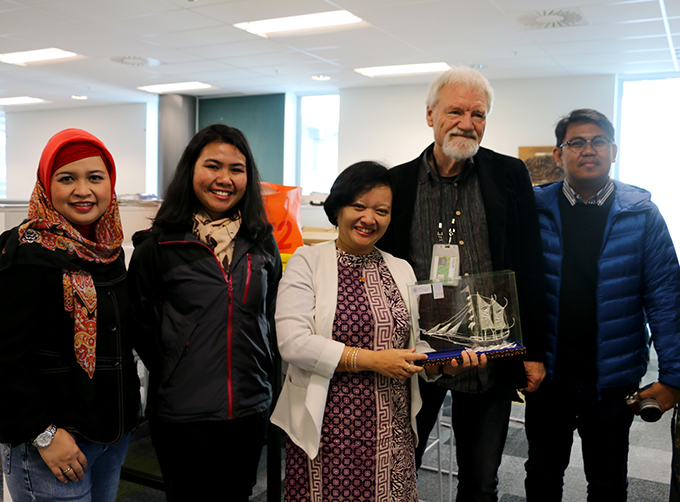 The CESASS team also gifted the PMC with several Indonesian cultural artefacts.
Proudly on display in the PMC is a handcrafted, silver phinisi model, received on behalf of the research centre by Dr Robie.
The phinisi, or pinisi, is a traditional two-masted sailing ship from South Sulawesi, originally built by the Konjo tribe.
The Gadjah Mada team are in New Zealand from October 2-13 and will be presenting research on the relationship between the media and natural disasters in Indonesia, attending workshops and professional exchanges.