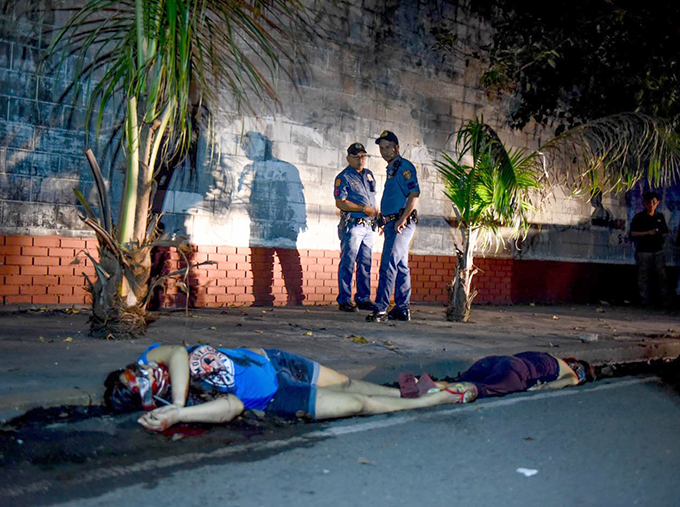 By Roy Abrahmn Narra in Manila
Drug dealers and users at a private university in the Philippines capital of Manila are confident they will survive President Rodrigo Duterte's "war on drugs".
The students say this is because Duterte is going after those who peddle methamphetamine (shabu) and party drugs such as ecstasy.
They claim their drugs – marijuana and cocaine – are currently flying under the administration's radar.
One of the students, "Bossing", from a private university in Metro Manila, therefore continues his trade of not only marijuana, but also acid and cocaine.
"Duterte's focus is on shabu and party drugs. I'm only using marijuana and cocaine."
Bossing, who has frequently used marijuana since his time in junior high school, says he is not "scared" of Duterte.
"I am not using shabu."
'Not really a target'
Another student at a private university, 'Jeremy', holds a similar view and feels Duterte condemns the use of shabu more than marijuana.
"I feel the president is lenient to marijuana. What he is looking for is shabu. With marijuana, it will be unfortunate if you get caught using it, but you the marijuana user, is not really a target.
"I am quite scared but I feel I am safe."
Jeremy's friend "Ranz", also a marijuana user since third year junior high school, is more scared of the barking K-9 units in train stations than the controversial operations of the Philippine National Police against drug users and dealers.
"I am not dealing with shabu," he says.
Ranz, who admitted voting for Duterte in the May 2016 national elections, says marijuana users like himself are "small time" and therefore do not care about accusations of extrajudicial killings.
"What the f— do we care about those things?"
Police corruption allegations
Bossing, Jeremy and Ranz admit they "feel protected' by what they claim is a culture of corruption among police.
Ranz says this is because the police force is "poor", so bribe money from suspected drug users.
Drug dealers, meanwhile, are an "escape route".
"Even if one pretends to be a rich person, the police would not care about you and it is already your advantage."
Ranz says he wants the 'war on drugs' to continue.
"Shabu is the only problematic drug that should be eliminated. Keep it up," he encouraged.
On May 31, 2017, the Commission on Higher Education (CHED) held a public consultation to determine the feasibility of requiring college students to undergo a drug test prior to enrolment.
'Actively confront' drugs
The idea had been floated the previous year by the Coordinating Council of Private Educational Associations (COCOPEA), who urged CHED on September 2, 2016, to "actively confront" drug testing "with due consideration to academic freedom of higher education institutions, the principle of reasonable regulation of educational institutions, and accessibility of quality education for all".
However, Bossing, Jeremy and Ranz are adamant mandatory drug testing will not stand in the way of their habit or stop other college students from taking drugs.
"There many ways to avoid getting caught, like borrowing someone else's urine samples."
In the past, when Jeremy and Ranz were selected for a random drug test – authorised by the Republic Act 9165 or the Comprehensive Dangerous Drugs Act of 2002 – they said they did not take marijuana for a month prior to the test.
Their results were "negative."
With the result, Ranz says he can use it to protect himself "from any harm" he may endure.
But as long as Bossing, Jeremy, and Ranz stay away from shabu, they "are going to survive the war on drugs".
Roy Abrahmn Narra is an MA in Journalism student at the University of Santo Tomas, and produced this story for his graduate class Global Journalism Practice and Studies.
Also by Roy Abrahmn Narra: