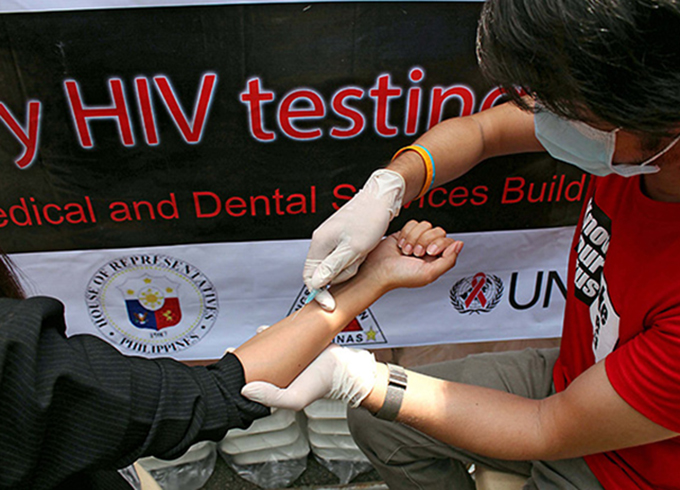 By Father Casibjorn Quia, Roy Abrahmn Narra and Jerome Villanueva in Manila
The year 2016 was a landmark year for the Philippines with HIV (human immunodeficiency virus) setting annual and monthly records that are the highest since the country started counting HIV incidence 33 years ago.
This coincides with a new development plan for the country that is targeting a reverse trend for the number of new HIV detections in a year, meaning the growth rates of new infections are declining.
The year-end dataset of the Department of Health's HIV and AIDS (acquired immunodeficiency syndrome) Registry of the Philippines (HARP) noted that there were 750 cases in December 2016 alone, a month's high.
The year 2016 tallied a total of 9,264 cases (including 1,113 full-blown AIDS cases and 439 deaths). The 33-year-total of recorded HIV cases, including deaths, is already near the 40,000 mark (39,622).
With the 9,264 total in 2016, the DOH said an average of 25.38 Filipinos have contracted HIV in a day. This contrasts with only one person a day in 2008.
Though latest 2017 figures are yet to be released, a Manila social hygiene clinic physician told Asia Pacific Report the unnamed centre had received 31 cases alone last month.
The Philippines passed a reproductive health law five years ago but it has yet to be fully implemented given court cases and strong opposition from the Catholic Church and from pro-life advocates.
Condom distribution plan
Months into the Rodrigo Duterte administration, the president had issued Executive Order 12 calling for the immediate implementation of Republic Act 10354 (Responsible Parenthood and Reproductive Health Act 2012).
Recently, health officials said recently DOH was set to distribute condoms.
Even schools are target distribution centres, say health officials, but Catholic-run schools and universities are vehemently opposing it.
Year-on-year, there were more adolescent deaths in 2016 (88 compared with 64 in 2015). HIV cases reported among Filipinos aged 15-to-24 at the time of their being reported reached 10,720 cases.
But a significant number — more than 60 percent of the 39,622 cases — contracted HIV through homosexual contact.
The Philippines is said to be a "low-prevalence" HIV country, with the 39,622 cases well below one percent of the total Philippine population. However, its annual growth rates of HIV infection rate are among the fastest in the Asia-Pacific region, says a December 2016 report by the US-based Human Rights Watch.
"The country's growing HIV epidemic has been fuelled by a legal and policy environment hostile to evidence-based policies and interventions proven to help prevent HIV transmission," HRW said.
HRW criticisms
Human Rights Watch also criticised the Philippine government for "failing to adequately target HIV prevention measures at men who have sex with men (MSM)", also citing the "woefully inadequate" HIV prevention education in schools and the "non-existent" commercial marketing of condoms to MSM populations.
In reply, Archbishop Socrates Villegas, D.D., president of the Catholic Bishops' Conference of the Philippines (CBCP), said condom distribution in schools "will stimulate immorality".
Dr Diana Mendoza, from a Manila-based social hygiene clinic, told Asia Pacific Report the Philippines could prevent an HIV epidemic especially through empowering citizens through awareness and protection.
In Tacloban City, site of supertyphoon Haiyan in 2013, a Catholic parish priest said that instead of condom distribution in schools, an "ABC method" may work: "A – abstinence from sex outside marriage; B – be faithful to one another; and C – conversion of heart to the value of love and sacredness of sex as a gift of God in marriage".
This "ABC" advice from Father Raymund Sotto of the St. Rafael the Archangel parish in Tacloban City counters the policy advice of the World Health Organisation (WHO): the proper and consistent use of condoms will be "highly effective: in preventing HIV and other sexually-transmitted infections (STIs).
The recently-released 2017-2022 Philippine Development Plan under the Duterte administration noted the "substantial increase" in newly-diagnosed HIV cases since 2010. The report added that the "the increased reported cases may be due to better surveillance and testing methods."
The Duterte government will also propose to the Philippine legislature to amend the current Philippine HIV and AIDS Prevention and Control Act 1998 (Republic Act 8504) to make the law "more responsive and relevant" to the current rise of HIV cases in the country, the PDP reported.
Jerome Villanueva and Roy Abrahmn Narra are graduate journalism students of the University of Santo Tomas, Manila. Catholic diocesan priest Father Casibjorn Qiua is taking up a graduate degree in communication from the same university.