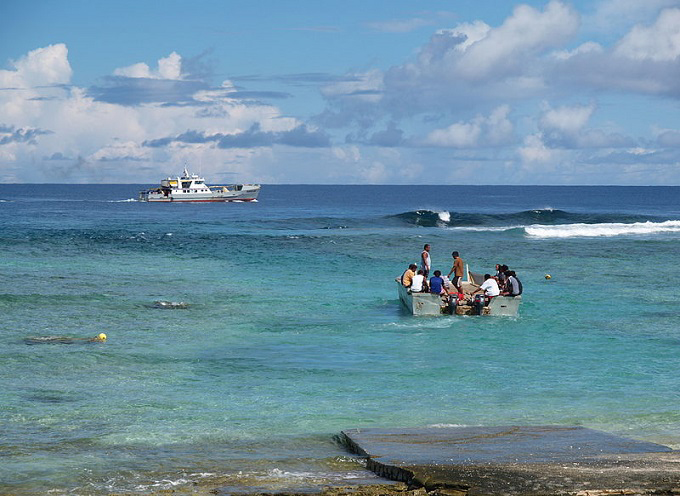 By Mackenzie Smith in Auckland
Tokelau's controversial helicopter buy was part of at least one major Samoan airline deal, along with plans for the establishment of a luxury hotel on the remote New Zealand-administered territory.
In February, then Foreign Minister Murray McCully slammed Tokelau over the purchase of two helicopters that he described as "extravagances", and later said they represented "a breakdown in Tokelau's governance".
David Nicholson, New Zealand's​ Administrator for the territory, also imposed restrictions on Tokelau's capital spending and has since carried out a review into the helicopters which found government officials behind the purchases did not have the authority to make them.
Documents obtained by Asia Pacific Report under the Official Information Act confirm earlier revelations that the helicopters, which will now be sold off, were part of an "interim air service", with the end goal of establishing runways on Tokelau.
Last October, a Tokelau "senior public servant", whose name was redacted, advised the NZ Civil Aviation Authority (NZCAA) that Tokelau was exploring a fixed-wing air service between Samoa and Tokelau.
According to the public servant, Polynesian Airlines, which is co-owned by the Samoan government, would be functioning as the service operator, made possible through a "partnership arrangement" with private Samoan tourism company, Grey Investment Group (GIG).
It is unclear whether the public servant is one of the two who were suspended pending an investigation by Tokelau's government into their role in the helicopter purchases.
Commercial deal
A document from February last year, composed by a Ministry of Foreign Affairs and Trade (MFAT) official, reveals Tokelau's bilateral team advised MFAT of a proposal made by a hotelier, whose name was redacted, for a commercial deal involving "operating a helicopter service from Apia to Tokelau".
Its purpose would be to deliver tourists "to a proposed high end hotel in Tokelau".
The chairman of GIG is Alan Grey, son of famous proprietor Aggie Grey and who holds several senior government and corporate positions in Samoa, including a directorship of Polynesian Airlines.
GIG has an extensive portfolio of investments, including several high end hotels and resorts across the Pacific, and Alan Grey is also chairman of the Samoa Hotel Association.
Polynesian Airlines and GIG have not responded to requests for comment.
The arrangement with Polynesian Airlines was mentioned as early as September in email correspondence between NZCAA and MFAT officials.
It was also described in a January meeting between David Nicholson, several MFAT and NZCAA officials, and Tokelau's Chief Technical Helicopter Adviser and Financial Adviser.  
'Logistical support'
Polynesian Airlines was "providing logistical support" to Tokelau, "including hangar space and access to fuelling facilities", according to notes from the meeting.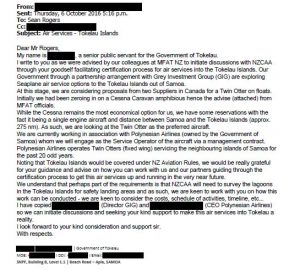 However, earlier documents reveal Polynesian Airlines was not the only Samoan company that expressed interest in a fixed-wing air service to Tokelau.
In a November email, which had its recipients redacted but includes a "minister", then High Commissioner to Tuvalu Linda Te Puni said she had "heard about a number of proposals for helicopter services and a seaplane service involving Talofa airways with possibly a Japanese company".
In another email later that month and this time addressed to multiple NZCAA officials, Te Puni confirmed Tokelau was in discussions with Talofa Airways.
In October, a representative for the airline advised NZCAA of the logistics of future flights to and landings on Tokelau, after NZCAA requested the information so that it could determine the relevant rules for aircraft operation in Tokelau.
Following earlier statements from Ulu-o-Tokelau Siopili Perez and former Foreign Minister Murray McCully that the helicopters would be sold off, a chain of emails starting from late February show those plans are now under way.
A number of discussions between CAA and MFAT officials detailed the logistics of selling or contracting out the two helicopters to recover their initial cost.
March correspondence between NZCAA and MFAT officials revealed Administrator David Nicholson had "been approached" by Hawker Pacific, an Auckland-based aviation provider, with the intention of it acting as a sales agent for the helicopters.