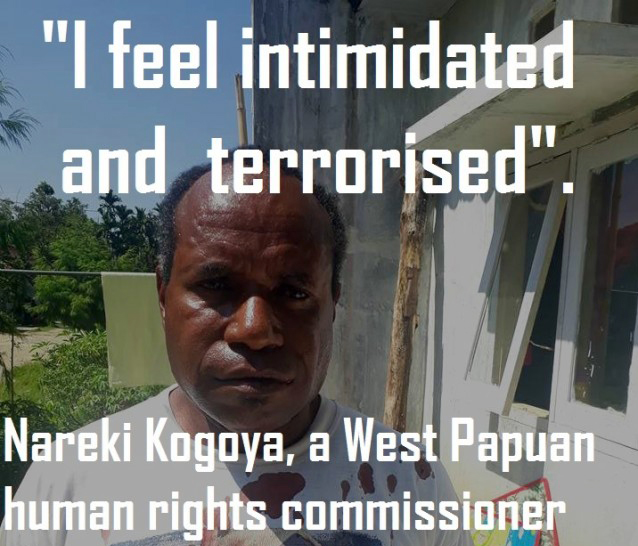 Pacific Media Watch News Desk
Police in Indonesia are facing allegations of torture from West Papuan independence leaders after a prominent human rights commissioner was beaten by police.
A statement by the Office of Benny Wenda, co-founder of the Free West Papua Campaign, detailed how Nareki Kogoya, of the National Human Rights Commission (KOMNAS HAM), was tortured until he was "covered in blood".
It is alleged Indonesian police tortured Kogoya following a search of his home on May 18, 2017 in Jayapura.
Kogoya was then driven to the police station where he was interrogated, Wenda stated.
If Kogoya repeated his "ordeal" he would be charged, police allegedly threatened.
Tabloid Jubi also reported the alleged torture, stating it had been carried out after Kogoya attempted to defend several "kids" accused of murdering a local lecturer.
"I said, I'll help them, I'm guarding them, and I don't want them to get hit," Kogoya said.
'Intimidated and terrorised'
Tabloid Jubi reports Kogoya's lip was wounded in a beating which took place in a police car.
"I feel intimidated and terrorised," Kogoya has said of his ordeal.
"It brings more heartache, tears and sadness for the people of West Papua to learn that another innocent West Papuan person has been brutally tortured by the Indonesian police," Wenda said.
"This horrible torture of a very well-known human rights figure in West Papua shows that the Indonesian police and military have no respect for West Papuan human rights whatsoever."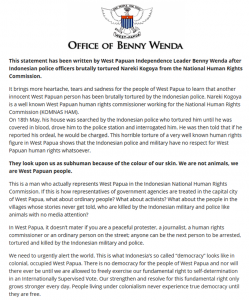 Wenda claimed the Indonesian military and police treated West Papuans as "subhuman" and "animals" because of the colour of their skin.
Wenda has since questioned what Kogoya's treatment – who represents West Papua in the Indonesian Human Rights Commission – means for his fellow Papuans.
"If this is how representatives of government agencies are treated in the capital city of West Papua, what about ordinary people? What about activists? What about the people in the villages whose stories never get told, who are killed by the Indonesian military and police like animals with no media attention?"
Tortured for days
Wenda said Kogoya's alleged torture further demonstrates that Indonesia is not complying with the United Nations Declaration of Human Rights.
"There is no freedom of expression, freedom of press or freedom of assembly; there is NO freedom in occupied West Papua."
Ursula Florence of Rappler reports a pre-trial involving three Tangerang City residents, who admitted to being tortured by police investigators, failed to proceed on May 29, 2017.  The victims, referred only to as Herianto, Aris and Bihin, were allegedly "subjected to torture for days" after being accused of multiple thefts.
Rappler reported the victims were beaten and their genitals mutilated.