The two Jakarta suicide bomber suspects have been identified by police. Video: Star Online
Pacific Media Centre News Desk
The Indonesian double suicide bombing near a Transjakarta bus station in Kampung Melayu, East Jakarta, on Wednesday night that killed three police officers was an act of retaliation against the police, says a conflict analyst.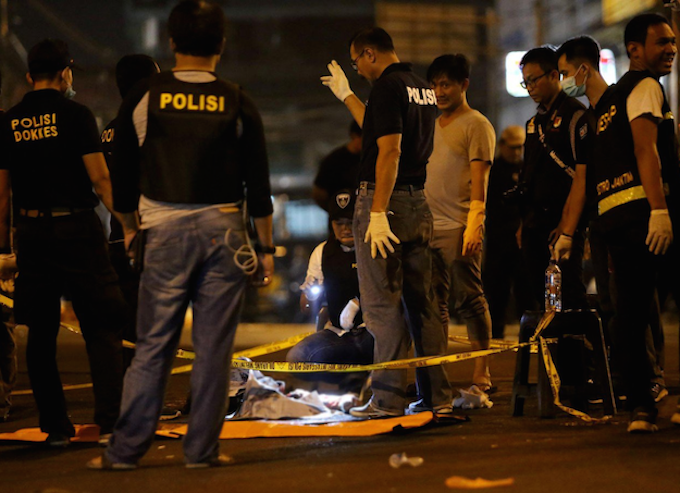 The director of the Jakarta-based Institute for Policy Analysis of Conflict (IPAC), Sidney Jones, said yesterday that the police had been seen as protectors of a thogut state that rejects application of Islamic law, The Jakarta Post reports.
In Islamic theology, thogut refers to those who worship anything other than Allah.
"The police are the ones who arrest mujahidin [one who engages in jihad] and sometimes kill them in operations […]," she said.
Jones said the purpose of the attack was also to show their presence following numerous police actions in past years that had weakened terrorist groups in the country.
Torch parade
Three police officers died in the Kampung Melayu bomb blast while escorting a pawai obor (torch parade) to welcome the fasting month of Ramadhan, which begins tomorrow.
Police have identified the two suicide bomber suspects who died instantly.
They have ties to militants in Poso, Central Sulawesi, a police source told Star Online.
The source confirmed that the suspects had been identified as Solihin and Ichwan Nurul Salam.
The twin bomb attack struck the Kampung Melayu Transjakarta bus terminal on Wednesday night just hours before Jakarta people looked forward to enjoying the Ascension of Jesus Christ public holiday.
At least five policemen were escorting the traditional parade to welcome the Islamic fasting month of Ramadhan when the attack happened. At least five civilians were also wounded.
READ MORE: Chaos erupts after suspected bomb blasts strike Kampung Melayu bus terminal
The terrorist attack took place while the world was still mourning the victims of the suicide bombing of the concert by US pop star Ariana Grande in Manchester in the United Kingdom on Monday night.
The busy Transjakarta bus rapid transit hub in East Jakarta and the surrounding area descended into chaos after the explosions. The terminal is located in a densely populated area.
National Police spokesman Inspector General Setyo Wasisto previously said the police had detected possible attacks in Jakarta, but were not able to identify when or where they might happen.
"No country in the world can prevent terrorist attacks. Look at the United Kingdom, which has one of the most sophisticated intelligence operations in the world," analyst Jones said.
Terror attacks have also come this week in Marawi City in the southern Philippines island of Mindanao and martial law has been declared there.