Highlighting the effects of climate change on small island states remains the central focus of upcoming climate negotiations co-chaired by Germany and Fiji.
United Nations Conference of Parties 23 (COP 23) climate change talks take place in Bonn, Germany, in November, but this will not prevent Fiji from bringing the plight of the Pacific to the world stage.
Elenoa Turagaiviu of FBC TV reports Germany's assistance ahead of the talks "has been great" and is further "enhanced" following a series of meetings in Fiji.
The assistance means COP23 will also have a Pacific flavour.
"The German government has said that it wants this to be a Fijian COP and has offered to pay for the branding of the event, the Fijian performers and the cultural items and artefacts that we will take to Bonn to infuse COP23 with the 'Bula Spirit'," said Prime Minister Voreqe Bainimarama in Suva this week.
German State Secretary for the Environment Jochen Flasbarth said Germany would continue to support Fiji as it prepared to chair the climate change talks.
"The German Prime Minister will always stand by those affected by climate change as a partner and we are really delighted to be cooperating with Fiji on the upcoming COP23. We can already see now that Fiji will be a very strong leader for the world."
Germany and Fiji's investment in raising awareness of climate change in the Pacific also takes on a symbolic representation.
The Fiji Times' Nasik Swami reports part of Flasbarth and Bainimarama's talks included the launch of the COP23 logo.
The logo, selected following a competition in February, was designed by former Filipino national and now Fijian citizen Maria Sekiguchi of Suva's Greenhouse Studios. It features a partly-submerged island with a huge wave bearing down on it.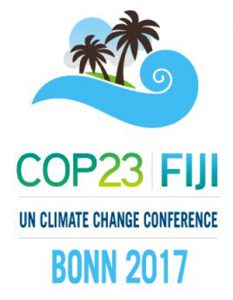 Bainimarama said the wave represented a cyclone with an eye in the middle, symbolising the wrath of Tropical Cyclone Winston and the devastation it caused throughout Fiji in early 2016.
Sekiguchi said the widespread damage caused by Winston was the inspiration that led her to design the winning logo.
The logo also captured the vulnerability to climate change of small island developing states such as Fiji, Bainimarama said.
Set to be seen by billions of people around the world in November, Bainimarama added that the logo was something every Fijian should be proud of.