Russel Norman swimming in front of the deep sea oil exploration ship Amazon Warrior. Video: Greenpeace NZ
Greenpeace NZ executive director Russel Norman has been charged under New Zealand's Crown Minerals Act along with two others for their peaceful protest at sea against the Amazon Warrior, which is searching for deep sea oil on behalf of Chevron and Statoil.
Russel Norman, Greenpeace NZ executive director and a former co-leader of the Green Party, Sara Howell a 25-year-old Greenpeace volunteer from Wales, and Gavin Mulvay, a kite maker from Ashburton, have been charged with interfering with the oil exploration ship Amazon Warrior under the Section 101B(1)(c) of the Crown Minerals Act, known as the Anadarko Amendment.
They were arrested just after they got off the protest boat Taitu in Napier.
In response, Norman made the following statement:
Charged by the 'Ministry of Oil'
"Three of us who got in the water yesterday in front of a climate-destroying oil ship have been charged.
"We have been charged, not by the police, but by 'The Ministry of Oil' (the petroleum division of MBIE [Ministry of Business, Innovation and Employment]) – the government's ministry responsible for supporting, subsidising and propping up the oil industry here in New Zealand, using public money.
"The science of climate change is unequivocal. It tells us that if we are to avoid catastrophic climate change we cannot burn even known fossil fuel reserves, let alone new oil – which is exactly what the Amazon Warrior is looking for.
"The oil industry is the most powerful industry in the history of humanity and they have huge influence on governments.
"Ours is no different.
"Our government are backing that industry's greed over the collective interests of its own people and all humanity.
"For the first time in New Zealand history, we are being charged under the 'Anadarko Amendment' – part of the Crown Minerals Act for interfering with a mining ship.
"This piece of legislation was specifically written and passed to stop peaceful protest at sea after Greenpeace protests against Petrobras in 2011.
"It was put in place by the government to protect the interests of big oil and to stifle dissent.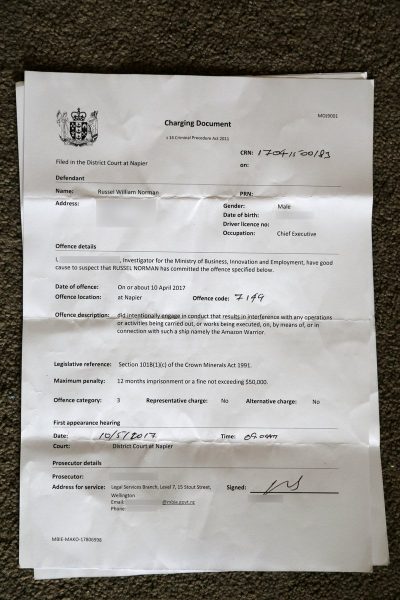 "It is an anti-democratic law designed to silence the voice of reason – a collective voice that demands we stop this insane trajectory toward self-destruction on that is drilling and burning oil which drives climate change.
"Because of our government's complicity with the oil industry, and its failure to protect us from dangerous climate change, we had no choice but to take action yesterday to secure our common future.
"We will continue to resist the oil industry by every peaceful means available – until our action, and the collective action of millions of people here and across the planet, eject this industry from New Zealand and from the rest of the world.
"If all of us are to have a future. The oil industry can have no future.
"We are the generation that ends the age of oil."