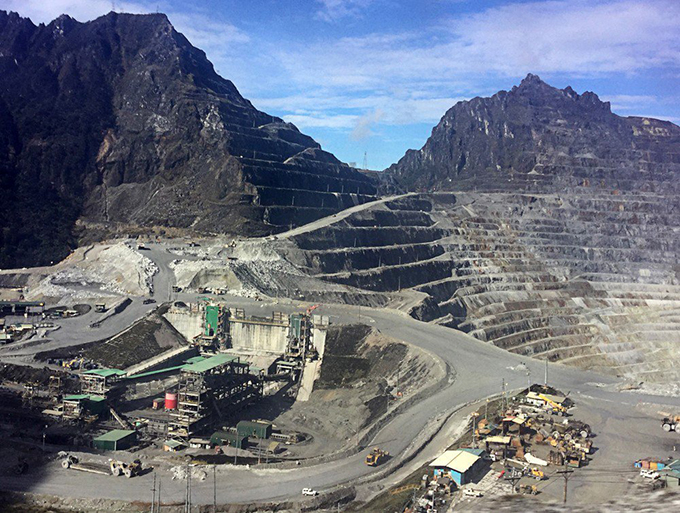 By Fedina S. Sundaryani in Jakarta
Copper and gold miner PT Freeport Indonesia is getting the red-carpet treatment once again, as the government is allowing the company to resume exports despite the company's mounting responsibilities.
Several protests took place in different parts of Indonesia on Friday, calling on the government to close Freeport.
The export activities are made possible with the issuance of a temporary special mining permit (IUPK) by the Energy and Mineral Resources Ministry that is backdated to February 10 and valid for eight months.
With the temporary IUPK in place, Freeport will be able to use the ministry's recommendation it obtained in February to export 1.11 million wet metric tons (wmt) of copper concentrate for a year.
The company, the operator of the world's largest gold mine and second-largest copper mine, is now waiting for an export permit to be issued by the Trade Ministry.
Despite the short export period, Freeport is seen as having dodged the bullet again, because it was previously required to convert its contract of work (CoW) to a permanent IUPK, divest 51 percent of its shares and build a smelter within five years before being able to export, as stipulated by Government Regulation (PP) No. 1/2017.
Requirements rejected
Freeport — backed by its parent company, United States-based mining giant Freeport-McMoran Inc. — had consistently rejected the requirements and argued that they violated the investment certainty provided by the present CoW, dating back to 1991.
The disagreement had led to a standstill and Freeport warned that it could take the Indonesian government to international arbitration.
The miner had been unable to sell its copper concentrate overseas, creating a large pileup at its compound in Papua. However, earlier this month, Freeport resumed production at 40 percent of its normal rate after securing an export permit for anode slime, a byproduct of copper processing.
The temporary IUPK decision came just before US Vice President Mike Pence's visit to Indonesia this month. Freeport-McMoran is known to be politically connected, as US billionaire Carl Icahn, special adviser on regulatory reform to US President Donald Trump, is a major shareholder in the company.
The government has defended its decision, even though there is no legal basis that backs the temporary IUPK issuance and no concrete agreement has been made regarding the divestment and smelter issues.
The Energy and Mineral Resources Ministry's secretary-general, Teguh Pamudji, said in a press conference last week that it was working to ensure a smooth transition from the CoW to the IUPK.
Business 'guidance'
"In any public policy, including in regulations surrounding the energy and mineral resources sector, there will always be an opportunity for the government to guide [businesses]," he said, insisting that such guidance applied to all firms wanting to convert their CoWs to IUPKs.
The government claims that during the next six months, it will continue negotiating with the company over the terms for a full conversion of the miner's CoW, including the issues of investment stability, divestment and smelter construction.
It will also conduct a semiyearly evaluation on Freeport's smelter commitment. The firm previously promised to construct a smelter in Gresik, East Java.
Teguh said if the government and Freeport Indonesia failed to see eye-to-eye in the next six months, the miner would be allowed to return to its CoW, but would be barred from exporting its copper concentrates again.
The 2009 Mining Law stipulates that the holder of a CoW cannot export its production without processing it domestically first.
Freeport spokesman Riza Pratama said the firm would be willing to fully convert its CoW to an IUPK as long as the latter granted investment stability, which entails legal and fiscal certainties that are equal to the ones outlined in the current CoW.
"We are in the process of obtaining an export permit," he said.
BMI Research, a unit of Fitch Group, predicts in a recent report that Freeport will likely continue to negotiate with the government to maintain its operations in the country, as copper and gold prices are expected to rise to US$5,800 per ton and $1,525 per ounce, respectively, by 2021.
Fedina S. Sundaryani is a journalist writing for The Jakarta Post.