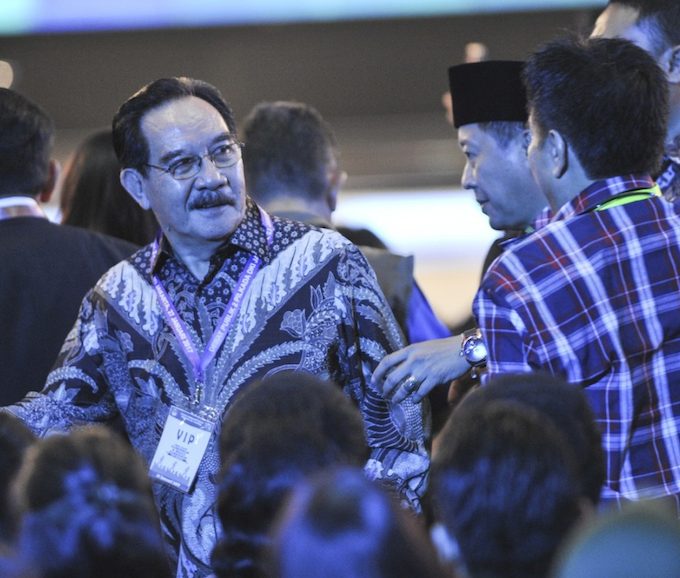 By Ainur Rohmah in Jakarta
Police will investigate the allegations made by a former head of an Indonesian anti-corruption body who has accused an ex-president of being involved in the murder of a businessman in 2009, police have announced.
Police spokesman Martinus Sitompul said authorities would investigate whether there were any criminal grounds in the claims.
In 2010, Corruption Eradication Commission Chairman Antasari Azhar was convicted and sentenced to 18 years in prison for killing a businessman in 2009.
However, Azhar was released from prison last year after he received a pardon from President Joko Widodo.
Following his release, Azhar accused former President Susilo Bambang Yudhoyono of being the mastermind behind the killing.
The murder took place when authorities were investigating alleged corruption of Yudhoyono's in-laws.
Speaking at a press conference in the capital Jakarta, Azhar said: "I beg him [Yudhoyono] to explain what he did, if he ordered anyone to do anything, I beg Susilo Bambang Yudhoyono to be honest and be open to the public," according to local media metrotvnews.com.
Question more people
Azhar urged police to question more people in the case and clear his name.
"To clear my name, I ask the police to seriously deal with this. I ask everyone involved to be held responsible," he said.
Yudhoyono has denied all allegations, saying he was going to take legal action to defend himself.
"Antasari's accusation that seemed to me as the initiator of the case, is clearly not true. I would definitely take legal action against Antasari," the former president tweeted via his account @SBYudhoyono.
He also said the allegations were an attempt to destroy the credibility of his son Agus Harimurti Yudhoyono, who was running for in the elections for Jakarta's governorship.
Azhar claimed that Yudhoyono had instructed tycoon Hary Tanoesoedibjo to visit him a few weeks before his arrest to ask him not to detain former Bank Indonesia deputy governor Aulia Pohan, who had been implemented in corruption, reports The Jakarta Post.
At the press conference at the National Police Criminal Investigation Department in Jakarta, Antasari added that Yudhoyono and Aulia Pohan were related through the marriage of their children.
Azhar spoke up after President Joko "Jokowi" Widodo granted clemency to him, saying there were irregularities in the case.
Azhar was released on parole after serving eight years of his sentence. The President granted him clemency not long after.