The cast of Vanuatu film, Tanna, travelled to Hollywood this month to attend the movies official release in Los Angeles as well as New York City.
EyeWitness news interviewed the cast members when they visited ABC7 broadcasting studio in LA.
Cast member Lingai Kowia told the EyeWitness reporter that he is glad "my world has been shown to you in the film, so you can learn what is good from my world."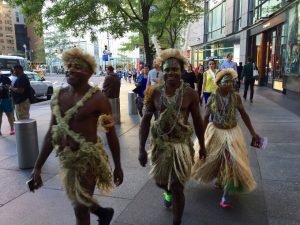 Global success
As the first movie to ever be filmed in Vanuatu, Tanna, has continued to receive global success.
It has been picked by Screen Australia as its official entry for best foreign language film at the 2017 Oscars and was voted best direction and best feature film at the Australian Directors Guild Awards.
In August the film was dubbed a "hit" when it was screened at the Venice Film Festival where it was also voted best film and best cinematographer.
The movie will be released in Canada in October at the Vancouver International Film Festival and Edmonton International Film Festival.
The plot follows a young girl, Wawa, who falls in love with the chief's grandson but is unknowingly betrothed to another as part of a peace deal between two tribes.
It based on a true story in 1984 that led to custom changes on arranged marriage.