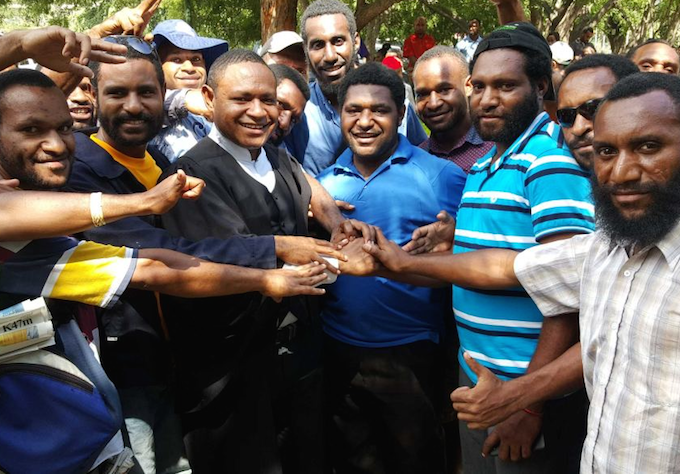 By Peter Kinjap in Port Moresby
The University of Papua New Guinea has served a contempt charge against the Students Representative Council lawyer Laken Lepatu Aigilo over the recent two months of protests demanding the resignation of Prime Minister Peter O'Neill.
The young lawyer was served with a contempt of court proceedings notice by UPNG's registrar Jenifer Popat for allegedly "encouraging" the students to go on strike after the court had restrained the UPNG SRC from doing so.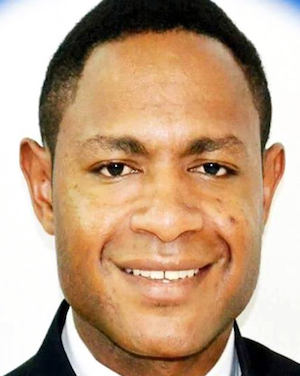 The university has also blamed Aigilo for the UPNG property damages when a building was set ablaze days after after police had opened fire on a peaceful student protest on June 8, wounding more than 20 people.
The contempt application will be made in the National Court tomorrow by the lawyer representing UPNG, Daryl Kamen.
In response to the notice, lawyer Aigilo welcomed the proceedings.
"I welcome the proceedings and if the law finds me guilty, let me serve the prison term," Aigilo said.
"The UPNG students took bullets for PNG; I can take a prison term or pay a fine for PNG if found guilty," he added.
Restraining police
Aigilo represented the students in June to seek a court order to restrain police from arresting and harassing student leaders.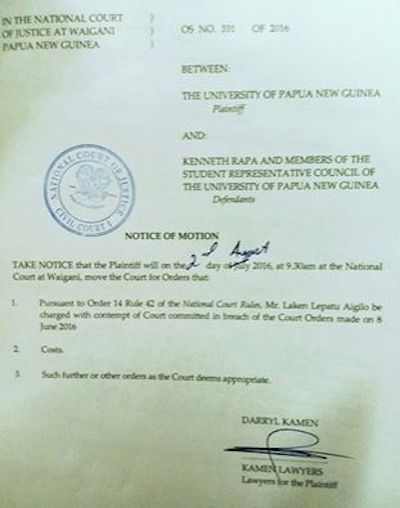 He also sought a court order to summon Police Commissioner Gari Baki, NCD/Central Commander Sylvester Kalaut and NCD Metropolitan Superintendent Ben Turi to come to court and explain why they ordered the shooting of students on June 8.
All these orders sought by the students were refused by the court on the June 15.
Justice Derek Hartshorn ruled that police could not be prevented from performing their constitutional function or be stopped by the court from conducting investigations.
Justice Hartshorn also found the balance of convenience did not favour the students, adding they could still sue for damages from the police.
He said the students had rights under the constitution but the interim injunction they were seeking was an interference of the constitutional function of the police force.