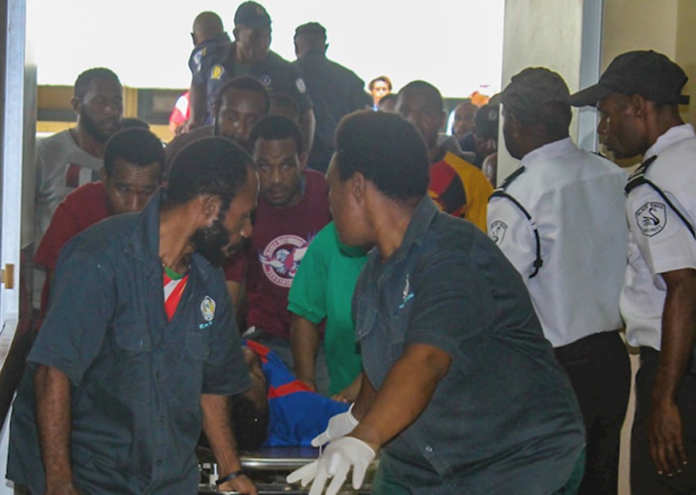 The shooting of students peacefully protesting in Port Moresby yesterday is a disgraceful attack on the rights to freedom of peaceful assembly and expression, says Amnesty International.
The organisation has received information that there are 38 people injured, including four in critical condition. Three people are still being assessed in emergency.
"The shooting of students peacefully protesting is reminiscent of the worst excesses of repressive regimes in the region," said Rafendi Djamin, Amnesty International's director for South East Asia and the Pacific.
"Papua New Guinea's authorities must establish a prompt, impartial and independent investigation to determine who is responsible for the unnecessary and excessive use of force."
The Papua New Guinea police opened fire yesterday on a group of students at the University of Papua New Guinea (UPNG) who were peacefully protesting against the alleged corruption of Prime Minister Peter O'Neill.
Several eye-witnesses have come forward to say they saw students beaten and shot at, including one case where a student was shot in the head.
In a statement, Prime Minister O'Neill blamed the violence on the students who had set out from their university for a peaceful protest at Parliament.
'Warning shots'
Before any investigation has taken place, he has denied that the police targeted the students, claiming that their only response was the use of tear-gas and "warning shots".
"Prime Minister O'Neill's reaction has been completely inadequate. He should ensure an investigation worthy of its name takes place into reports of excessive use of force. Instead, he has prejudged the outcome, blamed the students for what happened to them, and sought to evade accountability," said Rafendi Djamin.
Prime Minister O'Neill told Parliament that an investigation into the shootings at UPNG would take place. It is not clear who will carry out the investigation, when it happen, or whether it will be independent of any government or police interference.
"It is not good enough for the authorities to investigate themselves," said Rafendi Djamin. "The Papua New Guinea government is trying to absolve the police of all responsibility for the unlawful use of force."
Claims by the Papua New Guinea authorities directly contradict several first-hand accounts reported of the violence.
Outside Port Moresby General Hospital, families and friends of students who were attacked were peacefully protesting the shootings. Hospital officials have said that they had heard shooting outside the hospital.
"The police must exercise restraint and respect the right to peaceful protest. Firearms must only be used when strictly unavoidable in order to protect life," said Rafendi Djamin.
Background
Since May, Prime Minister O'Neill's government has been the focus of sustained student protests over allegations of corruption.
O'Neill is accused by PNG's Taskforce Sweep of allegedly authorising payments for fraudulent legal bills amounting to A$30 million.
The students have used peaceful methods, including protests and a boycott of classes.
Prime Minister O'Neill has lashed out at the students for taking part in the peaceful protests, deriding them as poor performing students and warning that they will have to "face the consequences" in terms of their academic prospects.