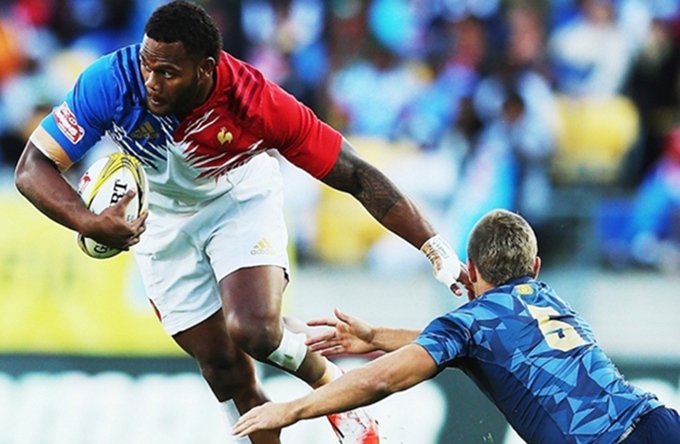 France coaches Frédéric Pomarel and David Courteix have unveiled the men's and women's squads for rugby sevens' debut at the Rio 2016 Olympic Games.
There are no real surprises in either squad with the names who have shone on the men's and women's HSBC World Rugby Sevens Series in 2015-16 featuring, with Terry Bouhraoua and Fanny Horta continuing as captains.
The men's team, coached by Pomarel, features the veteran Julien Candelon alongside teenager Sacha Valleau, who played in all 10 rounds of the series in 2015-16 and will be hoping to add an Olympic medal to the gold medal he won with France at the Youth Olympic Games in Nanjing, China, in 2014.
Fijian-born Virimi Vakatawa, a star for France in both sevens and 15s in 2016, will be a player to watch as Les Bleus take on series runners-up South Africa, Australia and repechage winners Spain in Pool B at the Deodoro Stadium from August 9-11.
"The announcement of a squad is never easy because there are always some disappointed guys," admitted Bouhraoua.
"But what the selection definitely does is draw a line in the sand. Now, more than ever, we must show solidarity, determination and be as precise as we can in everything we do so we make the most of this privilege, this historical position of being the very first to represent France in rugby sevens in the Olympic Games.
"We went through really hard times together because the preparation always provides difficult times, but when things get tough, during the competition, we will remember this to deal with it and fight until the end."
Pomarel added: "We have been preparing for the Games for six years. It's been six years that we think of the Games every day, sometimes several times a day, and we have never been so close. I look forward to the start."
Women's team
The women's event, which runs from August 6-8 at the same venue, will see Les Bleues tackle series runners-up New Zealand, repechage winners Spain and Kenya in Pool B with captain Horta, Marjorie Mayans, Shannon Izar and Caroline Ladagnous key to their hopes.
Camille Grassineau was France's top scorer in the series with 16 tries and twice featured in dream teams in 2015-16, in the final two rounds in Langford, Canada, and on home soil in Clermont-Ferrand.
"This is a very special moment," admitted Horta. "Now, we need to look forward, digest as fast as possible these emotions and continue our work, not move away from our objective for all those who are going to stay. It is now that we must think about the group more than of the rest (who missed out). These moments force us to get to know each other even more and can only make us grow."
Courteix added: "We have been following the same unifying thread for the last four or five seasons with a relatively stable group and a homogeneity in their level. We have built around a hard nucleus. The challenge was to find a balance between the players and in taking our opponents into account as well as the requirements of the final phases. We hesitated a lot but in the end it is necessary to make a final choice."
Men's squad: Jérémy Aicardi, Steeve Barry, Terry Bouhraoua (captain), Julien Candelon, Damien Cler, Manoël Dall Igna, Vincent Inigo, Pierre-Gilles Lakafia, Jonathan Laugel, Stephen Parez, Virimi Vakatawa, Sacha Valleau.
Reserves: Jean-Baptiste Mazoue, Sofiane Guitoune
Women's squad: Audrey Amiel, Pauline Biscarat, Camille Grassineau, Lina Guérin, Elodie Guiglion, Fanny Horta (captain), Shannon Izar, Caroline Ladagnous, Jade le Pesq, Marjorie Mayans, Rose Thomas, Jennifer Troncy.
Reserves: Jessy Tremouliere, Christelle le Duff.