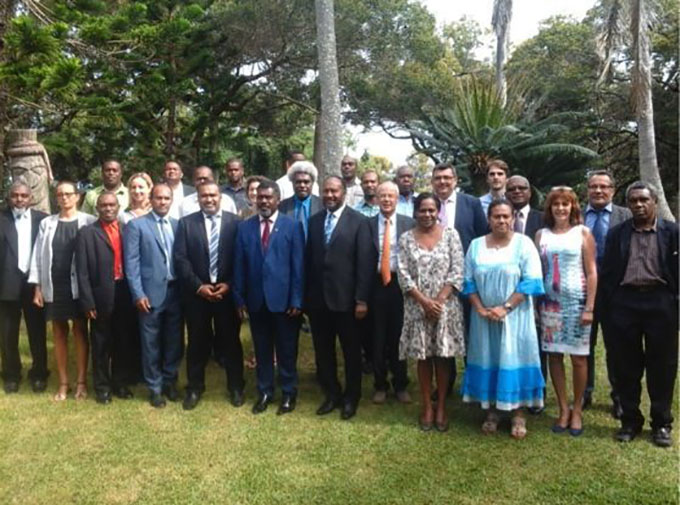 Prime Minister Charlot Salwai, Foreign Affairs Minister Bruno Leingkone and Education Minister Jean-Pierre Nirua have visited Noumea within the framework of the regional cooperation agreement aiming to strengthen links between New Caledonia and Vanuatu.
Alain du Boispean, the French Ambassador to Vanuatu, Vincent Bouvier, the High Commissioner of the French Republic in New Caledonia, and Philippe Germain, the President of the government of New Caledonia attended the joint committee meeting, which is the decision-making body set up under the regional cooperation agreement.
For the first time in its 14 years of existence, French was the working language of the committee.
A call for projects this year was launched from February 29 to April 8  and a total of 51 projects were received and reviewed during the technical committee meeting in Noumea on May 18.
This year the Prime Minister of Vanuatu is giving priority to education, francophone relations and training.
Nine projects were retained during the joint committee on May 20 with a total budget of 36.5 million vatu.
This programme is financed by the government of New Caledonia and by France under the Pacific Funds.
Chosen projects
The chosen projects are being distributed as below:
• 40 percent of credits will go to scholarships for students in AES Bachelor's degree and Master's degree
• 25 percent to university and scientific projects
• 18 percent to cultural exchanges and francophone activities
• 17 percent to teachers' training and to the improvement of digital technology in education
The joint committee provided an opportunity for both New Caledonia and Vanuatu to consider an ambitious strategy for closer relation and further cooperation, with the aim to engage in a comprehensive partnership.