The University of Papua New Guinea has called in police to "secure the safety of staff and students" in the ongoing anti-government unrest at the nation's universities.
According to a circular sent to everybody on campus yesterday, the Vice-Chancellor, Professor Albert Mellam, has accused some protesting students of activities "bordering on criminality" in the past two weeks.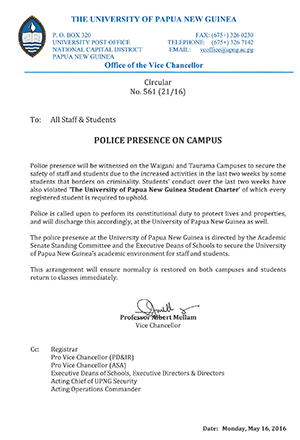 "Police [have been] called upon to perform its constitutional duty to protect lives and properties, and will discharge this accordingly at the University of Papua New Guinea as well," he said.
Professor Mellam said the police presence on the campus – a highly unusual step by authorities – was directed by the academic senate standing committee and executive deans.
He said this would "ensure normalcy".
The National reported that protesting students had been given a last chance to attend classes yesterday.
However, road blocks and student protest gatherings were very much in evidence, say campus sources.
"Teaching was still off and students were still in their regional groups," said one source.
Road blocks
Campus road blocks that had been taken down on Sunday were put back yesterday.
Acting chancellor of UPNG, Dr Banare Bunn, was reported to have said the constitutional issues "students are aggrieved about" were before the courts and the university council could do nothing about this.
The students have been demanding that Prime Minister Peter O'Neill stand down and face an investigation of corruption allegations.
Dr Bunn said that if students continued to stay away from classes, the university senate would reassess the situation to see if the semester was "viable".
"Is semester one viable or not? That is the big issue," Dr Bunn said.
He said the senate had met last week and given the students a time-frame.
"The academic calendar that the university council has approved, they have followed. And if there is any lapse in the academic programme, then the senate will decide how it will address that," he said.
Academic responsibility
"The council's responsibility is the academic pursuit of the students while studying at UPNG.
"The council has monitored and provided an environment for the safety of the public and students themselves, university staff and property."
Dr Bunn said the issues raised by the students were not related to the university but were national issues being addressed by the courts.
"The matters are before the court the council has taken a very serious stand on that," Dr Bunn said.
"We are not qualified to discuss anything that's before the courts. Students have been told that on many of the discussions we've had."
He said UPNG could not issue a threat, that was not the best way to handle the situation.