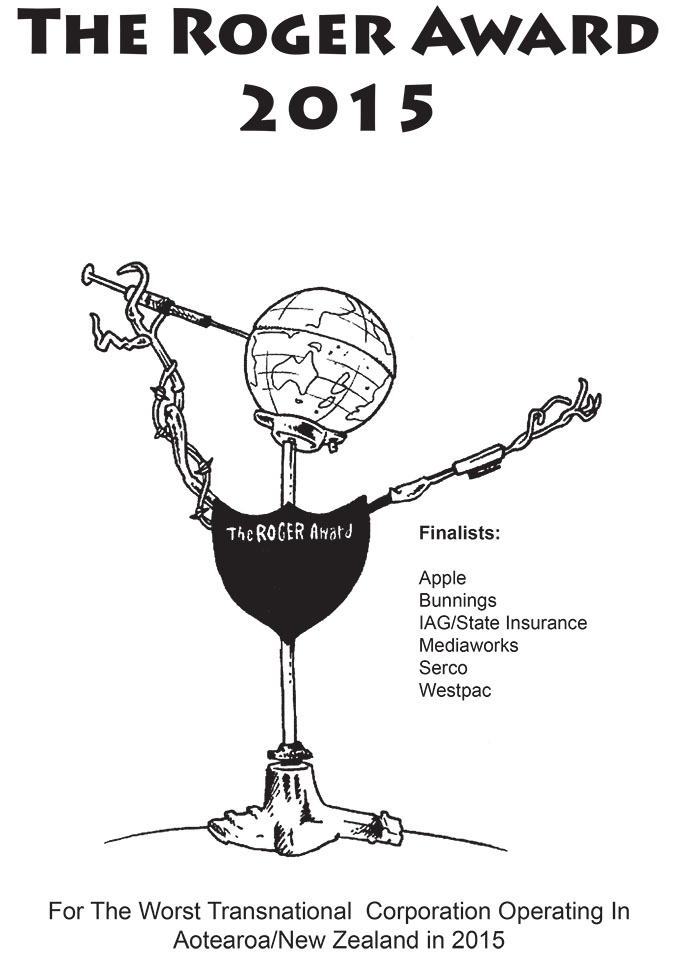 The 2015 Roger Award for the "worst transnational corporation operating in Aotearoa/New Zealand" has been awarded to the international IAG/State Insurance conglomerate, the organisers have announced.
The global private prisons operator Serco won second "prize" and third was Bunnings, said the watchdog Campaign Against Foreign Control of Aotearoa/New Zealand (CAFCA).
The winners were announced at an award "ceremony" in Palmerston North at the weekend.
CAFCA noted that IAG/State Insurance had been a finalist for the fourth consecutive year, "which will be no surprise to anybody who has lived in Christchurch since 2010".
CAFCA said this time the insurance corporation had been nominated for two major reasons:
"To quote the nominator: 'Economic dominance (specifically insurance market dominance). I draw your attention to the detail hidden in this Press article (19/2/15) which reveals that IAG discloses "a significant portion" of its Canterbury quake costs in "the lower tax jurisdiction of Singapore" and thus paid "an unusually low tax rate of 10 percent in the first half of 2015".'
"Note also that IAG's chief executive officer (CEO) was the highest paid CEO in NZ in the 2014/15 financial year, on $4.59 million. There's money to be made from other people's misery."
"And impact on people. Five years after the Christchurch earthquakes started the insurance transnationals (of which IAG/State is by far the biggest) are still making life hell for thousands of Christchurch people. IAG/State is far from alone in this but it is the biggest and some of its practices are the worst."
'Too hard cases'
In 2015, noted the adjudication, State had pressurised its "too hard cases" in Christchurch to accept a cash settlement and become responsible for their own repairs or rebuilds.
"This means State wants to walk away from its contractual obligations to those customers. There are still State customers living in caravans and garages," said CAFCA.
"As for [the NZ] government response," said the adjudication report, "the contrast with Australia is stark. In the wake of the 2011 Queensland floods, a Parliamentary Inquiry into the insurance industry's performance found that the industry's voluntary "code of practice" was widely ignored."
Second-placed Serco was a "new entrant but a thoroughly worthy one".
The report said: "One of its nominators wrote: 'Serco has a global reputation for dishonesty, corruption and poor human rights. That tendency has been very clearly demonstrated in their time in New Zealand. Serco's Fight Club mentality is a real response to a culture created from the top'."
A "close" third-placed Bunnings also made its first appearance in the Roger Award.
"The grounds for its nomination were "displaying contempt for its workers and their rights".
"This year (2015) it has demonstrated its' contempt for workers by seeking the casualisation of workers' hours. Under Bunning's proposed hours of work clause, the company is seeking the power to change workers' rosters every four weeks, subject to a two-week notice period."
Other companies
Three other shortlisted companies in the "worst transnational" competition were: information technology company Apple, TV3 owner MediaWorks and banking group Westpac.
Award judges this year were lawyer and academic Dr David Small, Auckland writer Dean Parker, unionist and Migrante founder Dennis Marga, Auckland Action Against Poverty activist and former Green MP Sue Bradford, and feminist social and political commentator Deborah Russell.
Judging criteria, says CAFCA, are by assessing the transnational (a corporation with 25 percent or more foreign ownership) that has the most negative impact in each or all of the following categories in Aotearoa/New Zealand: economic dominance – monopoly, profiteering, tax dodging, cultural imperialism; people – unemployment, impact on tangata whenua, impact on women, impact on children, abuse of workers/conditions, health and safety of workers and the public; environment – environmental damage, abuse of animals; and political interference – interference in democratic processes, running an ideological crusade.
Radio New Zealand reported that IAG said it was disappointed to have been named New Zealand's worst transnational corporation.
IAG's head of corporate affairs, Craig Dowling, said the award showed a tragic lack of understanding of earthquake issues, and the insurance sector's role in helping tens of thousands of families.