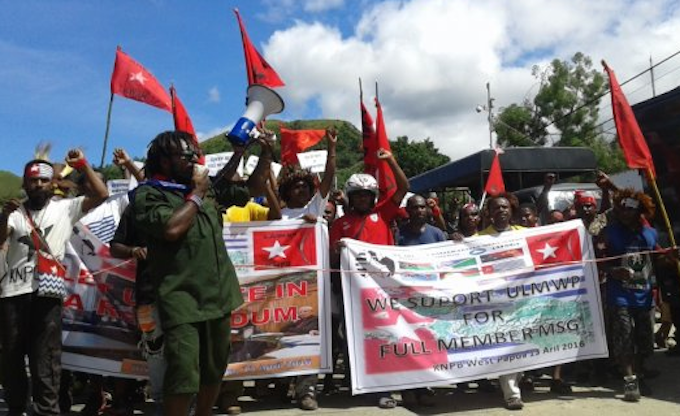 By Arnold Belau in Jayapura
Indonesian security forces have arrested 15 West Papua National Committee (KNPB) activists and vandalised the KNPB secretariat in Kaimana district, West Papua, the KNPB reports.
The incident began when Kaimana police broke up a meeting being held at the Kaimana KNPB secretariat to prepare for an action the next day – on April 13.
The meeting was broken up at 12.15pm when 50 or so Regional People's Parliament (PRD) and KNPB members had gathered for preparations to support the United Liberation Movement for West Papua (ULMWP) becoming a full member of the Melanesian Spearhead Group (MSG).
Then at 4pm the police returned to the PRD offices and the KNPB secretariat located in Bantemi, in front of the Kaimana regent's office.
The police arrived in six Dalmas troop carriers and two patrol cars, entered the PRD office and KNPB secretariat grounds and then conducted a search.
The police damaged facilities when they entered the office and arrested the 15 activists.
Those arrested were named as: Yohanes Furay, 24; Lilian Tapnesa, Ania Kurita, Simon Egana, Melianus Siwari, Aser Kubewa, Agus Surbay, Elon Aribau, Stevanus Esuru, Yususf Surubay, Sepi Surubay, Melianus Surubay, Alfian Tanggafora, Melianus Siwari and Abd Fata Watora.
"After arresting the 15 KNPB and PRD Kaimana members, the police also confiscated articles belonging to the KNPB.," said Suhun.
"The items seized included nine mobile phones, two printers, five KNPB flags, four motorcycles, two kitchen knives, a lawnmower and two traditional drums. Not only that, the police also vandalised the KNPB secretariat, damaging work spaces, trashing rooms and damaging the door to the KNPB and PRD Kaimana secretariat."
Joint TNI, police raid
KNPB national general secretary Victor F. Yeimo told Suara Papua that the arrests were carried out by a joint unit of TNI (Indonesian military) and national police.
"Fifteen activists and people were arrested at taken to the Kaimana district police station. Meanwhile the PRD offices were vandalised by the military," he said.
"Their small children cried and suffered trauma. We hope that the world is watching how Indonesia confronts our civil and political aspirations which we wish to convey peacefully."
According to data gathered by Suara Papua, on April 5 police arrested 15 KNPB Timika activists. Thirteen of these were released on the condition that they were required to report to police for an unspecified period.
Timika KNPB chairperson Steven Itlay meanwhile was declared a suspect on "subversion (maker)" charges and Yus Wenda was also declared a suspect.
On April 12, police again arrested five KNPB activists when they were handing out leaflets in Dekai city, Yahukimo. Also in Kaimana, police arrested 15 activists from the KNPB and the PRD.
On April 13 in Merauke, it was reported that security personnel also arrested a number of KNPB and PRD activists in the Anim Ha area.