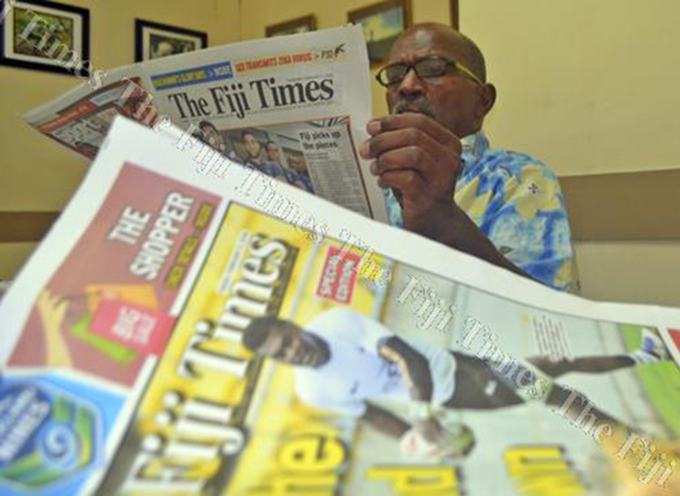 By Talebula Kate in Suva
The Fiji Times is challenging the selection of the Fiji Sun as the government's exclusive carrier of newspaper advertisements for the 2016 year.
The first round of Fiji Times Ltd's legal challenge over the government's print advertising contract will be heard on May 13 after an intense timetable hearing in the High Court in Suva on April 1.
The Times claims that the solicitor-general did not follow the government's Procurement Regulations in awarding its contract to the Fiji Sun.
It has also demanded that the government clarify whether the Ministry of Communications also controlled the print advertising decisions of statutory bodies and government companies.
Fiji Times lawyer Jon Apted, of the law firm Munro Leys, asked Justice Deepthi Amaratunga for an expedited hearing of the judicial review case.
An expedited hearing occurs when the application for leave to issue judicial review proceedings is heard together with the substantive case.
Avoiding delays
He said this approach avoided delays in resolving issues over the legality of government decisions.
Appearing for the government was lawyer Robyn-Ann Mani, who opposed the application for an expedited hearing.
She said the government had followed all proper processes in awarding the contract.
The judge decided against an expedited hearing but ordered a short timetable for the parties to exchange evidence.
Apted told the court that the government was claiming that its advertising decisions involved purchases of less than $50,000 in value.
This meant that the government claimed it was entitled to follow a different procurement process from that claimed by the Fiji Times.
Disclose evidence
In that case, he said, the government and the Fiji Sun should disclose in their evidence all orders and invoices for government advertising in the Fiji Sun.
Emmanuel Narayan, of the law firm Patel Sharma, appeared for the Fiji Sun.
The government and the Fiji Sun have 14-days each to file their affidavit evidence opposing leave.
The Fiji Times will then have a further 14-days to file its affidavits in reply.