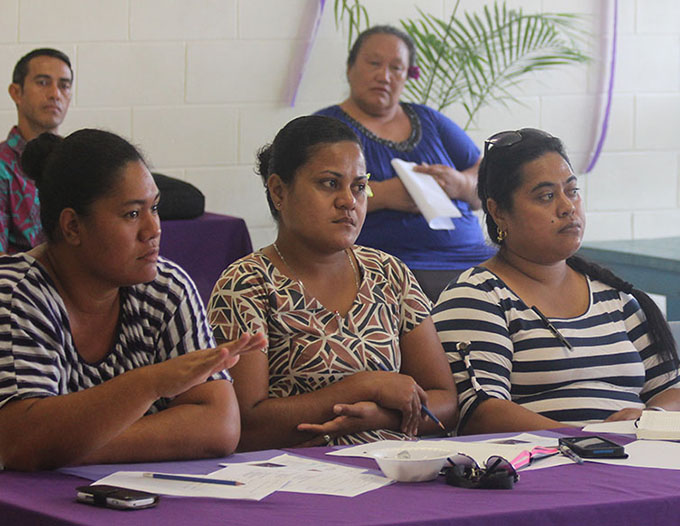 Samoa's Rugby Union is encouraging more of its country's women to participate in rugby. Sport administrators and gender equality advocates are seeing greater participation in the sport as a step toward women's equality and bettering the overall gender balance in Samoa. Anuja Nadkarni reports for Asia-Pacific Journalism.
The Pacific nation's leading rugby organisation, Samoa's Rugby Union, has hosted its first Samoa Women's Rugby Conference and has announced it will be making this an annual event.
The conference was held earlier this month to commemorate International Women's Day on March 8 in the capital Apia. It highlighted the importance of supporting and encouraging the country's women in rugby.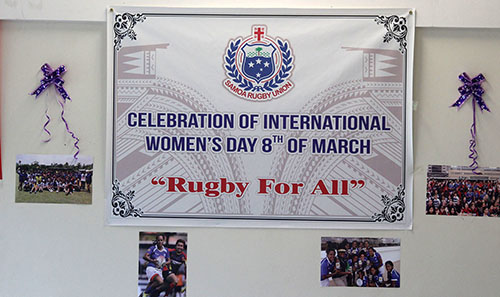 The SRU's women's development officer Toluiva Keneti says the event's main focus was to address the issue of gender imbalance prevalent in the sport.
"We are looking at using rugby as a tool to break barriers and stereotyping in the community, especially for women playing rugby," she said.
Senior programme officer for the Ministry of Women Community and Social Development Robert Wong Sin says there are numerous cultural barriers that contribute to the impediment of women's participation in rugby but he believes things are changing.
"The idea that 'rugby's a man's sport' or those stereotypes that women are too fragile… those barriers are slowly starting to break down.
"Families are embracing the idea of having their girls participate in more physical sports," he says.
Room for improvement
Wong Sin says although things are getting better, "there's still a lot of room for improvement and definitely lots more room for participation".
The SRU Women's Rugby Conference took place over the course of two days and brought in 15 female secondary school teachers to partake in workshops to become coaches, referees and sports administrators in their schools.
According to SRU there are currently just over 500 registered female rugby players in Samoa but Keneti says the union lacks female coaches and referees and believes conferences like these will increase female contribution to the sport.
Samoan National Rugby League (NRL) game development manager Gabrielle Apelu is the country's last remaining pioneer of Samoan women's rugby and says she understands the challenges of sportswomen best because of her background in rugby but believes Samoa is given a bad rap from New Zealand on issues of gender equality, especially in sport.
"Most Western philosophies that categorise women and barriers to sport never take into consideration cultural values and standards and quantify results in Western terms which are very often misleading and badly interpreted.
"In this day and age there is no stigma. What changes are women's priorities," Apelu says.
Chairwoman of the Samoa Women in Sports organisation Nynette Sass says as Samoan women grow up their domestic responsibilities influence their decisions and their focus shifts to their family.
Sports active when young
"Girls are usually active in sports when young, but progress to refrain from sports as they get up to the university level to focus more on studies. By the time they are in the workforce, they're required to work and prioritise their families and all other obligations ahead of themselves, hence there is no time to do what is deemed at times as frivolous activities."
United Nations Samoa representative Mele Maualaivao says financial challenges are also a contributing factor to sports lacking female involvement.
"If women's sports were able to be the great income earner that they are for men, many more young women would be encouraged to play professionally," Maualaivao says.
Nynette Sass says encouraging women to play rugby also has health benefits for the nation.
"Samoa is waking up to the realisation of the bad effects of a sedentary lifestyle and unhealthy eating of processed food with increasing numbers of people falling prey to Non Communicable Diseases (NCD). Lately the message has really hit home with the increase in cancer deaths."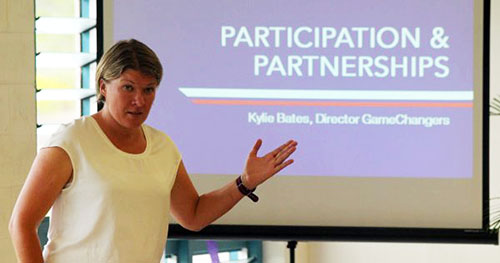 According to the World Health Organisation half of all adults in Samoa are at high risk of developing NCDs such as cancer, diabetes and obesity. A report by the Samoan government last year showed that cases of high blood pressure and obesity have almost doubled in the past 10 years.
Domestic violence
Keneti, Maualaivao and Wong Sin are taking their gender balance message beyond rugby and sport. They are also encouraging women to take a stand against domestic violence through their initiatives.
A study carried out by the WHO last year found that from the 1640 women aged between 15 and 49 years surveyed 65 per cent of respondents reported violence that was either physical, emotional or sexual.
According to Wong Sin, initiatives through sport are the most efficient and effective way to strive toward addressing issues like gender equality.
"In sport there should be no discrimination. Sport encourages team building and character development and develops leadership. So we feel having this forum sustained over the next few years will encourage women to take essential positions not only on the field but also in the background and contributing to sports development overall."
Keneti says initiatives like the SRU conference are educating women to stand up to violence and encouraging women to play alongside men.
This, she says, nurtures a sense of equality, which can build confidence to face any environment and to "never go silent".
"This is not just about rugby itself, it's not about a rugby ball, not about how famous rugby can become in Samoa: it is about educating women that it is a game for all," she says.
Maualaivao believes "it is an exciting time to be a woman in Samoa," and says she is optimistic about bringing change in attitudes toward women's issues in Samoa.
"Any time a woman is asked to think of herself as a woman first, it can bring enlightenment to her situation and to her understanding of the challenges she may face.
"Empowerment of women is key to all other aspects of gender equality being addressed."
Anuja Nadkarni is a journalism graduate from AUT and is completing her Honours degree in Communication Studies. She is currently on the Asia-Pacific Journalism course.