By Verleshwar Singh and Peni Shute of Newswire Fiji
Fiji's Minister for National Disaster Management, Colonel Inia Seruiratu, has lashed out at political parties that are trying to politicise the issue of relief assistance.
At a media briefing yesterday, Seruiratu said:
It's quite disappointing that the issue of distribution of rations or food or the other relief assistance has been politiciSed and this is not the time to politiciSe issues. We are aware that political parties are saying that certain ethnic groups are being marginaliSed or ignored, that is not so. And I wish to assure all Fijians that we'll provide for them when we have the opportunity to come to you.
Meanwhile, the HMAS Canberra yesterday left the Port of Brisbane for Fiji to assist in the humanitarian assistance mission, transporting disaster relief supplies, equipment and personnel, including engineers and medical professionals.
The crew is expected to be in Fiji for at least a month.
Colonel Seruiratu said the government was expecting HMAS Canberra to reach Fiji by next Tuesday.
"We also received one of the aeroplanes from the French government in New Caledonia and one of the Casa planes is here with us. Today we have deployed the Casa aircraft to Vanua Levu, particularly to address the needs between Savusavu and Taveuni and there is future tasking for the same plane again in that area."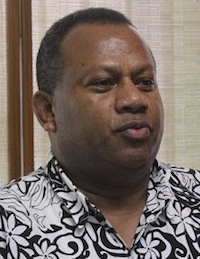 Colonel Seruiratu said another plane had arrived yesterday and it would transport a water treatment plant to the people of Taveuni.
"By today we will be also receiving the second Casa plane and, of course, the priority for that plane will be in the Northern Division as well. Tomorrow the first task [that] will be allocated to that plane is to take a water treatment plant to assist in the water situation that the people in Taveuni are going through."
The French military aircraft arrived in Fiji for humanitarian support with three tonnes of aid from the French Red Cross.
It was in Taveuni today for the first of many relief supply drops.
Newswire Fiji also reported that Colonel Seruiratu confirmed that 62,461 people were currently in evacuation centres around the country and the death toll remained at 42.