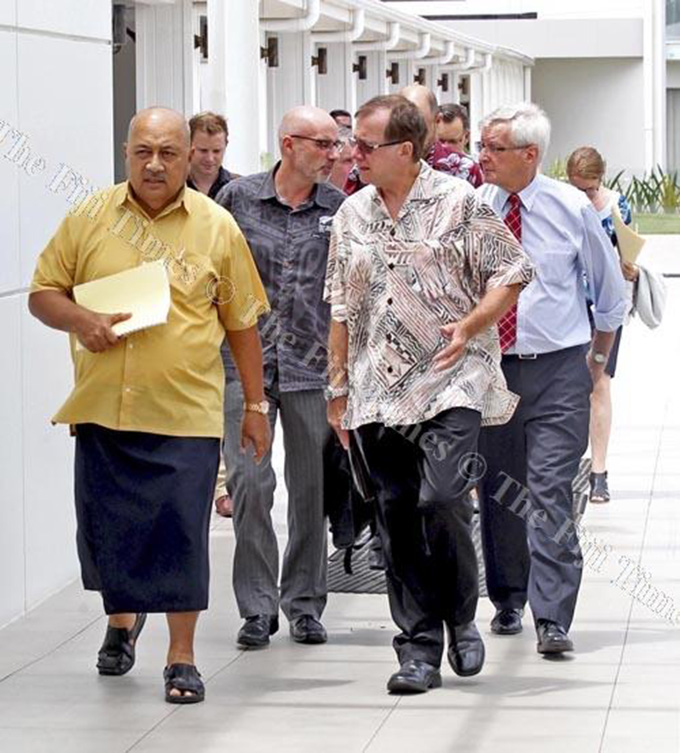 By Tevita Vuibau in Suva
Fiji may just change its mind and agree to the Pacific Agreement on Closer Economic Relations (PACER) Plus — contrary to what has been publicly stated.
New Zealand's Foreign Affairs Minister Murray McCully is in the country and he has been working with Fiji officials to ensure issues Fiji faces with the regional PACER Plus free trade agreement were ironed out before the next intercessional meeting in Brisbane.
Following meetings with Fiji's Trade Minister Faiyaz Koya yesterday, McCully said New Zealand was clearer now about what Fiji needed to ensure a successful agreement.
Koya has in the past said the agreement between Pacific Island Forum Countries and New Zealand and Australia does not provide binding commitments on labour mobility or development co-operation and that Fiji may consider pulling out.
Yesterday, McCully acknowledged that labour mobility was one of the most tangible areas in which regional integration brought benefits, saying the work they are doing with the Regional Seasonal Employers scheme was showing results.
"That is one of the reasons I am so confident the sort of things we are doing with PACER Plus can be made to work for everyone," McCully said.
"The things we are doing in the labour market mobility area are clearly bearing results and I am pleased to see between Australia and Fiji there has been some progress made and agreements signed that just underscores this as an area of future co-operation."
Joined talks late
McCully added Fiji had joined negotiations late and some areas of the agreement required further work to meet Fiji's needs.
"It was good to be able to meet minister Koya to discuss that and to encourage our officials before the next formal regional meeting to find some solutions there," he said. "That was a very good meeting and left us with a much clearer understanding of what Fiji needs to achieve and how we might go about achieving it."
Trade and Industry Permanent Secretary Shaheen Ali said both ministers were keen and eager to see PACER Plus come into fruition and were focused on development.
said both ministers acknowledged that further informal bilateral meetings were needed before the next intercessional meeting.
"Both the ministers also agreed Fiji and New Zealand and Australia have to sit down and see how this development, as far as Fiji is concerned, can be sort of realigned to Fiji's position."
Ali also said Fiji needed flexibility in having its own policy space in the areas of regulations in industry, in the areas of investment and in the areas of taxation and exchange rate control.
PACER Plus is an agreement between Pacific Islands Forum member countries and Australia and New Zealand to help forum members benefit from enhanced regional trade and economic integration.
Should it come to fruition, the regional trade and economic agreement will provide long-term opportunities to create jobs, enhance private sector growth, raise standards of living, and boost economic growth in Forum Island countries.