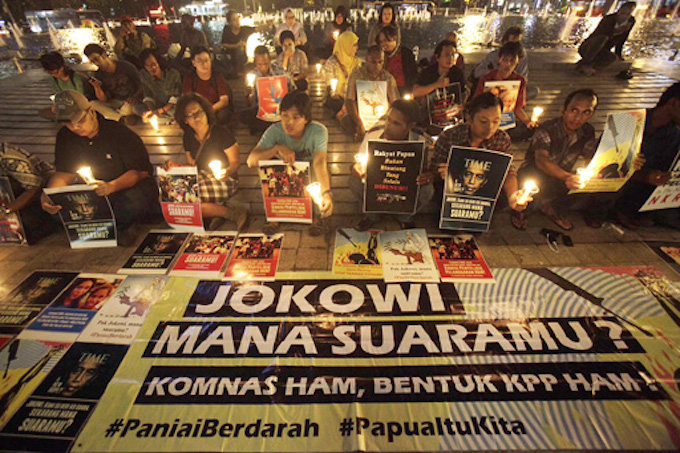 Report by Pacific Media Watch
By Ayomi Amindoni and Victor Mambor in Jayapura
President Joko "Jokowi" Widodo of Indonesia has expressed a commitment to resolve a number of past human rights violations by the end of this year.
In a dinner with journalists on Friday night, the president said he had ordered the coordinating politics, legal and security affairs minister, the attorney-general, the National Police chief and the head of the National Intelligence Agency (BIN) to seek comprehensive resolutions to unresolved cases of human rights violations.
The president himself did not mention which human rights violations in particular would be addressed.
However, in Wamena, Papua, Tabloid Jubi reported President Joko Widodo's visit to Papua in late December 2015 failed to address the issue of human rights violations, according to rights activist and religious leader Pastor Jhon Djonga.
Djonga, the religious leader in the Papua Central Highlands, said the president's visit on December 30 failed to live up to his promise during his previous visit for campaigning in Papua to tackle rights issues.
"He talked about the development and infrastructure issues as promised and it was discussed during his visit in Wamena and other locations. I highly appreciate that he was very eager to build and develop Papua, but a little disappointed because he didn't address the human right violations that occurred in Papua," Father Djonga told reporters.
He said Widodo did not address many related issues of human rights violation during his visit to Papua, such as the unstable prices of goods that people experienced in the Central Highland, a number of mortality among people including children because of disease, the national programme that is not suitable for Papuans, as well as the business opportunity that is not taking sides to Papuans.
Arbitrary violence
"Arbitrarily violence by security forces, Papuans arrested and accused as separatist, democratic space shut down, intimidation towards journalists, Tolikara case that only resulted suspects from citizens while the shooting perpetrators never been investigated, Paniai case that was drowned and many cases could not be answered by president," he said.
Therefore he and other human rights activists urged the President Widodo to enforce the relevant minister to work hard to resolve the existing human rights cases, and the government to guarantee no longer human rights violation, to resolve the human rights violation cases impartially, to guarantee the freedom of press to make coverage, to guarantee people to express their voice, to investigate the cases of human rights violation thoroughly and to ensure all law enforcement and security operations could be transparent and accountable in its implementation.
"Hopefully people's aspirations on human rights issues could be answered by Mr President because if not him, to whom people could talk about this injustice?" he asked.
Meanwhile, while in Wamena, the President Widodo observed road construction in Kenyam Village, Nduga Regency, one of the most isolated regions in Papua.
Besides being isolated, the road connecting Nduga and Wamena is located in the red zone or categorised as high-risk security area. The road construction is expected to improve this region.
Road access
"Therefore, the road access is a must. The distribution of goods should be done and the prices must be cheaper," said Jokowi as cited from the release issued by Presidential Communication Team on Thursday, 31 December 2015.
Widodo is targeting the road for completion next year.
The conflict resolution in the isolated area is not always done through security approach, but regional development could be alternative solution, he said.
"All roads in Papua should be connected in 2018," he added.
In addition to road facility in Nduga Regency, the government would also build a large seaport in Mumugu.
The construction of seaport is expected to ensure the distribution of logistics and goods in that area to be better.