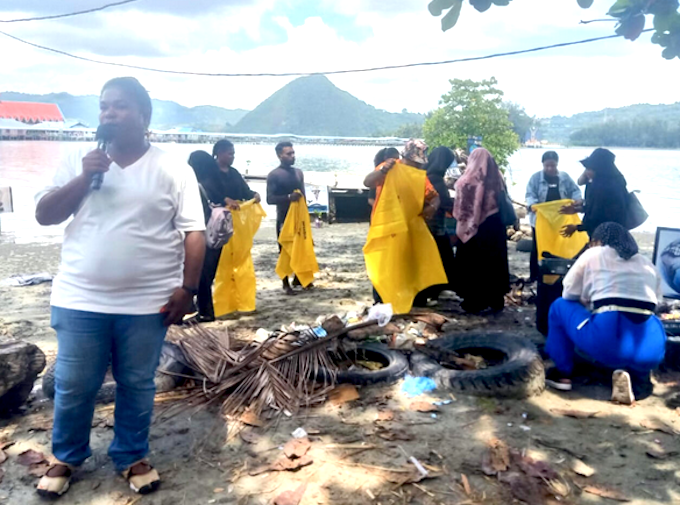 Jubi News in Jayapura
The Indonesia Art Movement has collaborated with the Monj Hen Wani Community and environmental advocates in Papua to organise the "Arumbay Tonotwiyat" — the Women's Forest People's Party.
The event took place beneath the lush canopy of Enggros village's mangrove forest Abepura District, Jayapura City last weekend.
Arumbay Tonotwiyat was a multifaceted celebration that blended art, culture and environmental conservation.
This gathering was a tribute to nature and the preservation of cultural heritage.
It was also a commitment to fostering harmony between humanity and the natural world.
Rumah Bakau Jayapura, Kampung Dongeng Jayapura, Forum Indonesia Muda Jayapura, Sangga Uniyap, and representatives from Cenderawasih University and ISBI Tanah Papua, and Papua Natural Resources Conservation Agency (BKSDA) supported the event.
The "forest party" engaged a wide range of participants, including children, teenagers, and adults.
Beach clean-up
The event started with a beach clean-up initiative at Cibery Beach, organised by Petronela.
This cleanup effort was a "demonstration of environmental love", said the organisers.
It acknowledged the persistent issue of marine debris washing ashore during the rainy season.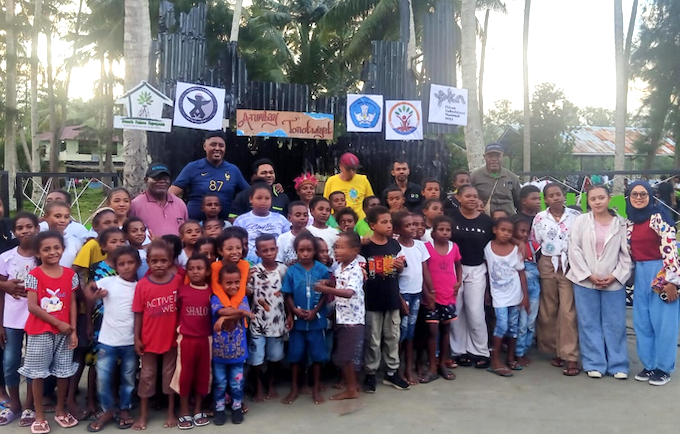 Following the cleanup, participants were treated to a tour of Youtefa Bay, where they witnessed a performance by children from Tobati-Enggros village.
This performance depicted the story of a mangrove forest tainted by garbage and waste originating from Nafri Village, Hamadi Beach, and the Acai River.
Subsequently, the participants were guided to the Women's Forest in Enggros, an area accessible only to women.
Here, women sought food sources to meet their household needs while also sharing their domestic concerns.
Women's Forest 'off-limits'
The Women's Forest is off-limits to men and any breach of this custom incurs penalties, typically in the form of jewelry or other items.
Mama Ani — "Mother Ani" — explained that men were not permitted to enter the forest while women were foraging for food, as women in the forest swam naked.
Within the mangrove forest, women typically gathered clams, crabs, shrimps, and fish as sources of sustenance.
However, men can enter the forest in the absence of women, usually in search of dried mangrove wood for firewood.
Orgenes Meraudje, the former head of Enggros Village and a prominent community leader, said women also visited the Women's Forest to share their domestic experiences.
However, these stories remained within the forest, not to be brought back home.
For the women of Enggros-Tobati beach, the forest holds sacred significance, and they foraged unclothed for their household necessities.
Protecting Women's Forest
Yehuda Hamokwarong, a lecturer at Cenderawasih University who attended the event, stressed the importance of protecting the Women's Forest.
"The forest served as an educational hub, imparting knowledge and survival skills to Enggros-Tobati women, encompassing practical skills, ethics, and morals," she said.
"The Women's Forest represented not only the lungs of the world but also a profound emblem of feminine identity."
In addition to the Women's Forest, there is a designated area called "para-para", a sort of hall exclusive for men, and women were prohibited from entering.
Any woman entering this area would face customary fines.
Republished with permission.