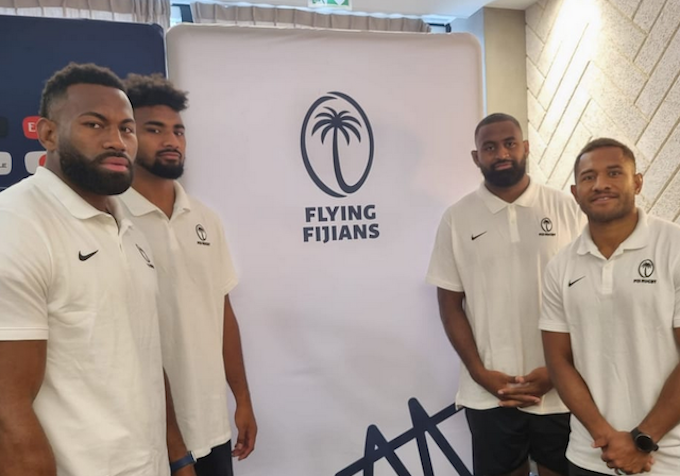 By Iliesa Tora, RNZ Pacific sports reporter in Bordeaux
Flyhalf Teti Tela says he is under no pressure as he prepares to face Wales in the Flying Fijians first pool match at the Rugby World Cup at the Stade de Bordeaux in France tomorrow night (Monday morning Fiji time).
The World Cup kicked off at the Stade de France in Paris last night with France defeating the All Blacks 27-13 in New Zealand's first ever loss in 31 cup pool matches.
Named at the pivotal flyhalf spot, following the last minute injury to Caleb Muntz, the Fijian Drua playmaker Tela says he and Muntz had been working well together during the campaign.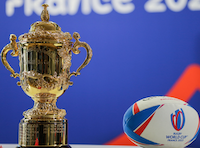 He said it was unlucky that Muntz had been injured but that meant he had to play his A game, with head coach Simon Raiwalui showing faith in him when he announced his team at the Reinassance Hotel in Bordeaux yesterday.
"We've been pushing each other throughout so there was always hard work done and definitely no comfort zone for either of us throughout the campaign," Tela said at a media conference following the team announcement.
Raiwalui has named his maiden Rugby World Cup 23-member squad for the opening match.
Captain Waisea Nayacalevu partners Semi Radradra in midfield and will lead the side.
'Hard selection'
"We have a good team. We have very good preparation and we've had the confidence in the whole squad right from the beginning and we have worked that way so everyone has had their chance," Raiwalui said.
"It has been a very hard selection."
Veteran Levani Botia, who has been a revelation at number 7 after he opted to move to the forwards from his usual outside centre role, will start off the bench, his place going to Lekima Tagitagivalu, who has played well during the campaign.
Josua "The Bus" Tuisova will also run off the bench and will be used to strengthen the backline in the second spell.
Fourteen players will celebrate their first ever Rugby World Cup appearance while three players will mark their third campaign with the Flying Fijians at the mecca of the 15s tournament.
The front row was packed with experience with Eroni Mawi and Luke Tagi on the props while Sam Matavesi at hooker. The impressive pair of Isoa Nasilasila and Te Ahiwaru Cirikidaveta will pair up in the locks while Albert Tuisue and Lekima Tagitagivalu partner up on the flanks.
Viliame Mata was at number eight.
Halves combination
Frank Lomani and Teti Tela will share the halves combination while Vinaya Habosi and Selesitino Ravutaumada will provide speed on the wings. Waisea Nayacalevu and Semi Radradra will control the play in the midfield.
Ilaisa Droasese was at fullback. Raiwalui said they expect France to come at them hard and the team remains humbled.
"We go into this game, obviously humble. We've worked hard throughout the eight weeks and every weekend and our focus has always been one week at a time, what's the next challenge, what have we got coming up this weekend," he said.
"Totally focused on this game, nothing past this game. We understand Wales has a very good team, have a lot of experience and are well coached.
"So we understand the challenge and we are really looking forward to it."
Captain Nayacalevu said they were excited and ready for the challenge, adding they will continue to depend on the support from fans.
"The boys are ready and can't wait to play on Sunday," he said.
"We just ask for your continued support for the team and we will do our best."
The teams meet at 9pm tomorrow in France, which will be around 7am in Fiji and New Zealand on Sunday.
The Flying Fijians team to face Wales: 1. Eroni Mawi, 2. Sam Matavesi, 3. Luke Tagi, 4. Isoa Nasilasila, 5. Te Ahiwaru Cirikidaveta, 6. Albert Tuisue, 7. Lekima Tagitagivalu, 8. Viliame Mata, 9. Frank Lomani, 10. Teti Tela, 11. Vinaya Habosi, 12. Semi Radradra, 13. Waisea Nayacalevu, 14. Selesitino Ravutaumada, 15. Ilaisa Droasese – Reserves:16. Tevita Ikanivere, 17. Peni Ravai, 18.Mesake Doge, 19. Temo Mayanavanua, 20. Levani Botia, 21. Simione Kuruvoli, 22. Josua Tuisova, 23. Sireli Maqala
This article is republished under a community partnership agreement with RNZ.