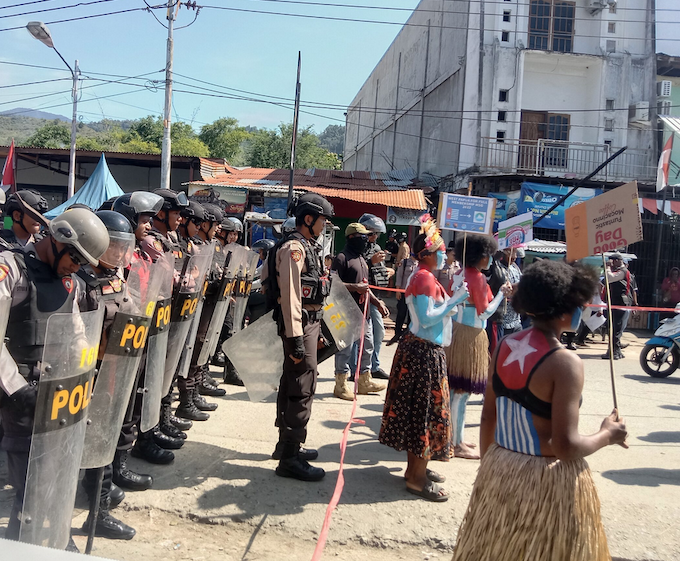 SPECIAL REPORT: By Yamin Kogoya
The United Liberation Movement for West Papua (ULMWP) is like a big house or boat, says Reverend Dr Ambirek G. Socratez Yoman, owned by the people and the nation of West Papua.
Upon this big boat rests prayers, hopes, longings, struggles, dreams, and ideals with a profound sense of justice, peace, and dignity.
According to Reverend Dr Yoman, the ULMWP is a symbol of unity among the Papuan people. It is a representation of their collective desires and relentless pursuit of justice.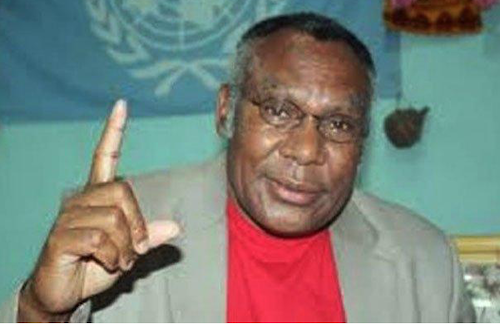 Therefore, West Papuans living in the Land of West Papua, including those living abroad, all pray, hope, and support ULMWP. It is the responsibility of the nation of West Papua and its people to safeguard, maintain, care for, and protect ULMWP as their common home.
Because ULMWP provides a collective shelter for many tears, blood droplets, bones, and the suffering of West Papua.
Reverend Dr Yoman says in his message to me that I have translated that the ULMWP carries the spirits of our ancestors, fallen heroes, and comrades. The ULMWP is the home of their spirits, and he wrote some of their names as follows:
Johan Ariks
Lodewijk Mandacan
Barens Mandacan
Ferry Awom
Permenas Awom
Aser Demotekay
Bernandus Tanggahma
Seth Jafet Rumkorem
Jacob Prai
Herman Womsiwor
Markus Kaisiepo
Eliezer Bonay
Nicolaas Jouwe
F. Torrey,
Nicolass Tanggahma
Dick Kereway
Melky Solossa
Samuel Asmuruf
Mapia Mote
James Nyaro
Lambert Wakur
S.B. Hindom,
Louis Wajoi
Tadius Yogi
Martin Tabu
Arnold Clemens Ap
Eduard Mofu
Willem Onde
Moses Weror
Clemens Runaweri
Andy Ayamiseba
John Octo Ondowame
Thomas Wapay Wanggai
Wim Zonggonauw
Yawan Wayeni
Kelly Kwalik
Justin Morip
Beatrix Watofa
Agus Alue Alua
Frans Wospakrik
Theodorus Hiyo Eluay
Aristotle Masoka
Tom Beanal
Neles Tebay
Mako Tabuni
Leoni Tanggahma
Samuel Filep Karma
Prisila Jakadewa
Babarina Ikari
Vonny Jakadewa
Mery Yarona and Reny Jakadewa (the courageous female spirits who raised the Morning Star flag at the Governor's Office on August 4, 1980).
Also, the spirit of Josephin Gewab/Rumawak, the tailor who created the Morning Star flag.
In honour of these fallen Papuan heroes and leaders, Reverend Yoman says:
"It is you, the young generation, who carry forward the baton left by the names and spirits of these fighters, as well as the hundreds and thousands of others who have not been named.

"If there is someone who fights and opposes the political platform of the ULMWP, that individual is questionable and is damaging the big house and the big boat, which contains the tears, blood, bones, and suffering of the People and Nation of Papua as well as the spirits of our ancestors and leaders.

"The eyes and faces of the LORD, the spirits of our ancestors, and the spirits of our leaders who have passed on always guard, protect, and nurture the honest, humble, and respectful members of the ULMWP."
By this message, he urges the ULMWP to never forget these names and stand bravely with courage on their shoulders.
Indonesian delegation walks out of MSG leaders summit before West Papuan leader Benny Wenda's speech. pic.twitter.com/qW0YMxnrVk

— Ben Bohane (@ben_bohane) August 23, 2023
Reverend Yoman's letter: a brief comment
Indigenous people view life as a system of interconnected relationships between beings, spirits, deities, humans, animals, plants, and the celestial heavens.
Their holistic cosmology is held together by this interconnectedness — a sacred passageway to multidimensional realities. Although Indigenous cosmologies differ, most, if not all, subscribe to the tenet of interconnectedness.
Having a strong connection to one's ancestors' roots is an integral part of being Indigenous.
During times of need, rituals, and grief, ancestral and fallen heroes are mentioned and invoked. A specific ancestor's name may be mentioned in response to a specific situation, such as grief, conflict, sacred ceremonies, or rituals.
This helps to connect modern generations to the ancestral spirits, providing a source of strength and guidance while honouring the legacy of those who have gone before.
Those who adhere to original cultural values understand why Reverend Dr Yoman mentioned some of these Papuans.
In the chronicle of Papuans' liberation story, these names are mentioned.
There were some who suffered martyrdom, some who became traitors, who died of old age, and others who died from disease. However, they all have stories connected to West Papua's Liberation.
Mentioning these names is intended to invoke a specific energy within the consciousness of West Papua's independence leaders. Inviting the new generation of fighters to take up the cause of their fallen comrades.
It is important to encourage Papuans to see the greater picture of a nation's liberation struggle — which spans generations. Calling on them to revive their minds, spirits, and bodies through the spirit of fallen Papuans and the spirit of Divine during times of turmoil.
Who is Rev Dr Yoman and why did he mention these names?
Most people are familiar with Reverend Dr Yoman. He is everywhere — on television, on the news, known in churches, involved in human rights activism, mentioned in public speeches, appears in seminars, and lectures and so on.
He is well known, or at least heard of, by the Papuan and Indonesian communities, as well as the broader community.
Reverend Dr Socratez Sofyan Yoman is a public figure, leader, academic, church leader, prolific writer, and media commentator. He is a descendant of the Lani people of Papua.
He is one of the seeds of the civilisation project launched by Christian missionaries in the Highlands between the 1930s and 1960s. His life has been shaped by four significant events in his homeland — the teachings of his elders, the arrival of Christianity, Indonesian invasions, and the resistance of the Papuans.
He rose to become an exceptionally accomplished thinker, speaker, writer, and critic of injustice, oppression, and upholds humanity's values as taught by the Judeo-Christian worldview within these collusions of worlds.
Growing up among Lani village elders taught him many sacred teachings of the original ways — centred around Wone's teachings. This is one of the most important aspects of his story.
Wone is the cornerstone of life for the Lani people. Wone is the principle of life and the foundation for analysing, interpreting, evaluating, debating, understanding, and exchanging life.
As with many other Lani, Papuan, Melanesian, and Indigenous leaders, Wone is the reason for his birth, survival, and leadership. He has thus a deep sense of duty and responsibility to serve and fight for his people, as well as other marginalised and oppressed members of society.
Reverend Dr Yoman stands firmly in his beliefs in the face of grief, tragedies, and death in his ancestral homeland. His commitment is unwavering, as he continually strives to stand up for and protect the rights of those who are most vulnerable and in need of a voice.
Wone has inspired him to lead a life of purpose and integrity, making him a pillar of strength and an example to others. In a dying forest, he becomes the voice of the falling leaves.
Among his greatest contributions to West Papua, Indonesia, and the world, will be his writings. Generations to come will remember his research and writings regarding history and the fate of his people.
West Papua will be high on the agenda at the Melanesian Spearhead Group Leaders' Summit in Vanuatu this week.
West Papua's United Liberation Movement for West Papua (ULMWP) is also present in Vanuatu. Other factions have arrived and are on their way to witness MSG's decision on West Papua's fate as well as their own leaders' summit.
A feeling of anxiety pervades Reverend Dr Yoman as he prays — prompting him to write this letter as he recognises the many challenges ULMWP faces and warns them that they cannot afford even the slightest misstep.
This is the time inspiring Papuans and the ULWMP leadership must remember their fallen comrades, heroes and ancestors.
Yamin Kogoya is a West Papuan academic who has a Master of Applied Anthropology and Participatory Development from the Australian National University and who contributes to Asia Pacific Report. From the Lani tribe in the Papuan Highlands, he is currently living in Brisbane, Queensland, Australia.