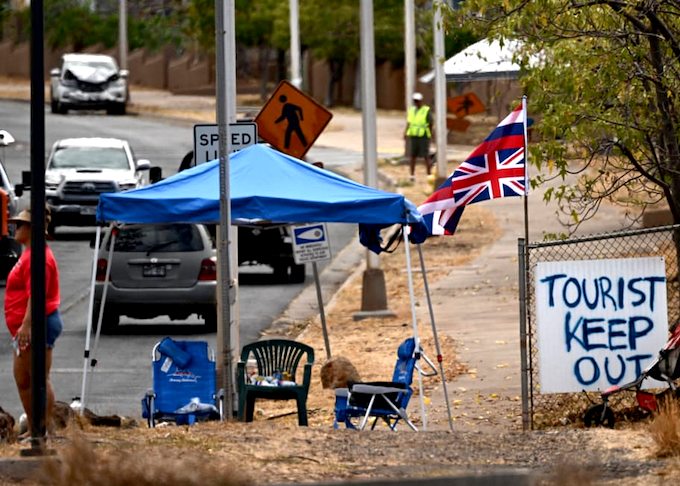 The board chair of the Office of Hawai'ian Affairs says the Maui wildfires were caused in part by climate change and colonisation.
Carmen Lindsey said as kānaka (Native Hawai'ians), no words could describe the devastation of the losses in Lāhainā, the former capital of the Hawai'ian Kingdom, on the island of Maui.
"The fires of today are in part due to the climate crisis, a history of colonialism in our islands, and the loss of our right to steward our ʻāina and wai," she said.
"Today we have watched our precious cultural assets, our physical connection to our ancestors, our places of remembering — all go up in smoke.
"The same Western forces that tried to erase us as a people now threaten our survival with their destructive practices."
She said the Office of Hawai'ian Affairs was ready to help with community needs.
The Wiwoʻole #MauiStrong benefit concert on Saturday will raise essential disaster relief funds to support and sustain the victims of the wildfires.
'Born out of activism'
The Office of Hawai'ian Affairs is a semi-autonomous state agency responsible for improving the wellbeing of native Hawai'ians, for example by annually providing Native Hawai'ian students $500,000 in scholarship money.
It says it was "born out of activism in the 1970s to right past wrongs suffered by Native Hawai'ians for over 100 years".
According to the 2019 US Census Bureau estimate, about 355,000 Native Hawai'ians or Pacific Islanders reside in Hawai'i, out of a total population of about 1.4 million.
At least 110 people are confirmed dead, while many others remain missing.
But Hawai'i Governor Josh Green told CNN the number of residents still unaccounted for was "probably still over 1000".
In partnership with Hawai'i Volcanoes National Park, the National Park of American Samoa trains staff and local villagers in the skills required to fight fires at home and within other areas of the United States.
The fire crew is made up of National Park Service employees, and employees of the American Samoa government and local businesses.
This article is republished under a community partnership agreement with RNZ.