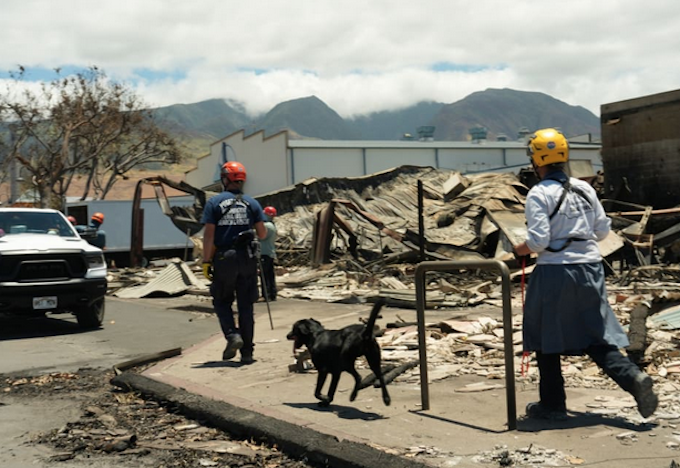 By Finau Fonua, RNZ Pacific journalist
As recovery and humanitarian efforts ramp up in Hawai'i's Maui to help evacuees from the town of Lāhainā, there is frustration among many about the response and the failure of emergency sirens to sound off during the disaster.
The most recent update for Hawai'i's Governor's Office has the death toll at 110.
"The sirens never went off which is why a lot of people died because if people had heard the sirens, they would of course have run," said Allin Dudoit, an assistant for the New Life Church in Kahului, which has been assisting survivors with basic supplies, accommodation and counselling.
"When they saw the smoke outside, they didn't think they were in danger because they didn't hear the sirens," he added.
"I had a nephew who made it out alive with his sisters, they got burnt a little but they made it out."
Dudoit told RNZ Pacific that many survivors were still in their homes when the fires struck and that fallen telephone poles prevented cars from getting out.
"People have been telling me they only had seconds to get away, that they didn't even have time to run down the hallway to grab a family member — that's how bad it was.
Telephone pole gridlock
"So many telephone posts were down that it caused a gridlock . . . they thought they were getting away, but the fires just came in and swept through the traffic.
"My wife's uncle didn't make it, he was in a truck."
More than 1000 responders — mostly from the US Federal Emergency Management Agency (FEMA) — are in Maui assisting survivors and recovering bodies from Lāhainā.
In the wake of the disaster, Hawai'i's Governor Josh Green had announced aid, including employment insurance, financial support and housing.
"We have over 500 hotel rooms already up and going," said Green.
"If you're displaced from your job, you need to talk to the Department of Labour . . . please do that so you can get benefits and resources right away.
"We have an AirB&B programme that will have a thousand available rooms for people to go to.
Stable housing
"We want everyone to be able to leave the shelters and go into stable housing which is going to take a long time."
A housing crisis already exists in Hawai'i. Just last month, Green issued an emergency proclamation to expedite the construction of 50,000 new housing units by 2025.
Some helped, others move
"Some people are getting lots of help while others are going to have to move away from Maui from lack of help." 
Among the most active groups helping Lāhainā evacuees have been Maui's many churches whose congregations have been raising donations and taking in evacuees.
Baptist Church Pastor Matt Brunt said many people were still reported missing and there was a sense of despair among those who had not heard from missing relatives.
"They're pretty certain that people they haven't been able to find yet are most likely going to be a part of the count of people who have died," said Brunt.
"It seems like people have the immediate supplies they need, but housing is definitely is the biggest need now — to get people out of these shelters and find them a place to live.
"There's a mixed response of how people feel about the response time of the government, but we also see just how many individuals are stepping out and meeting the needs of these people."
This article is republished under a community partnership agreement with RNZ.