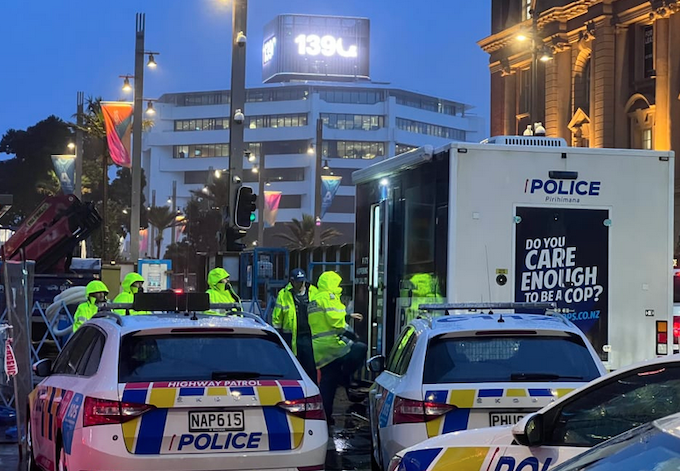 A scene examination is continuing at a construction site in central Auckland after a fatal shooting there shocked the city yesterday morning.
The gunman, 24-year-old Matu Tangi Matua Reid, was on home detention but allowed to work at the construction site.
He died at the scene in a shoot-out with police after killing two civilians with a pump-action shotgun. Six others were wounded, including two police officers.
The horror unfolded on the opening day of the FIFA Women's Football World Cup in Auckland and a minute's silence for the shooting victims was held at the first game at Eden Park last night when New Zealand defeated Norway 1-0.
Police officers in high-vis vests have today re-entered the high-rise building on the corner of Queen and Quay streets and at least seven police cars are at the cordoned off site.
A man working on the repairs at nearby Queen's Wharf told RNZ the rules had been tightened at their site and people entering were being checked.
A commuter said there appeared to be extra security at Britomart Station transit hub this morning but he felt safe.
"It was every emotion yesterday," he said, but he thought the city had coped well in the aftermath of the 'shock and horror' of the morning's events."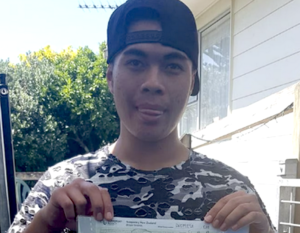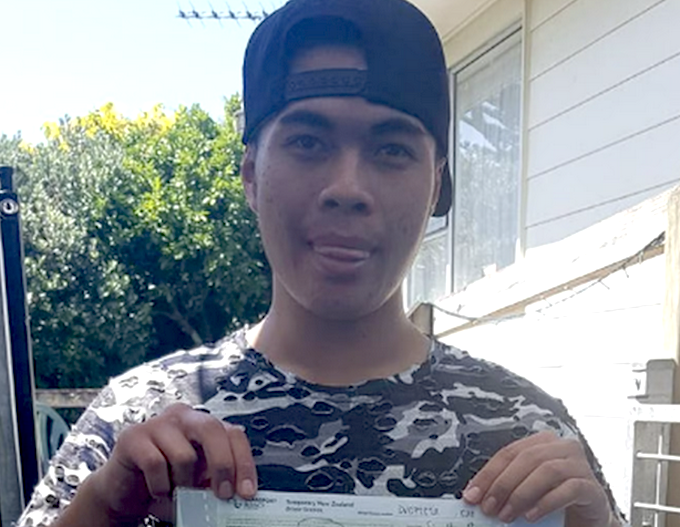 Brown said he supported Ngāti Whātua Ōrākei's decision to call for a rahui in the CBD area, and the FIFA fan zone on Quay Street had been closed.
Ngāti Whātua has said this morning that no rahui is in place.
"[The] fan zone was right hard up against the dreadful event and it just didn't seem to be right to be having a night of celebration right next door to something that had been so horrible," he said.
"Ngāti Whātua called for, and I supported, a rahui on the area down there so we shut the fan zone and people, with a sad tinge, did go to the game at Eden Park, but with respect.
"They had the one minute's silence, which was part of our culture and the correct thing to do, and then there was a wonderful game afterwards so, I think … the city took it well."
'Good end to dreadful day'
Brown said he had spoken to Prime Minister Chris Hipkins after last night's match between New Zealand and Norway and they had agreed it was "a very good end to a dreadful day".
He said FIFA officials had been "very sympathetic" about the shooting.
"They were very understanding, they were very concerned about the impact on the tournament, but also deeply respectful of the losses of — almost innocence — of the people here in Auckland CBD, plus of course the dreadful loss of life from this shocking experience."
While he had been one of the people raising concerns about ongoing crime issues such as ram raids in Auckland, Brown said he was not thinking about anything on the scale of what occurred yesterday.
"It's something out of the ordinary and I think this is one random person … and we shouldn't possibly extrapolate that across the district, but crime on the streets with the ram raids is something which has got to be dealt with."
Brown had praise for both the police and members of the public regarding how they responded to the unfolding crisis on Thursday morning.
"The police were wonderful, they responded bravely and promptly," he said.
"People behaved very well considering what an appalling thing had happened."
Violence like this has no place in city, says Swarbrick
There would be a time for political debate and discussions about how to prevent incidents like yesterday's shooting, Auckland Central MP Chlöe Swarbrick told Morning Report, but that time was not right now.
"I very, very strongly want the message to be here that this violence has absolutely no place in our city or in our country, and we utterly reject it," she said.
Swarbrick said her thoughts were with the whānau and friends of those who had died as well as those who had been injured, emergency service staff, and the workers who had experienced the traumatic event.
She said questions had been put to police officials at a briefing she attended yesterday, including about how the shooter had obtained a gun without a licence and while he was on home detention.
Swarbrick expected those questions would be answered "in due course" but said it was important the facts were "crystal clear" first.
"I don't think that anyone benefits from politicians speculating in a vacuum of facts."
The briefing had made it "very clear that this was a tragic but isolated incident connected to the workplace and that there is no outstanding associated risk", she said.
Asked whether she believed a broader inquiry was needed to look into the use of home detention, Swarbrick said a number of reports commissioned by successive governments had identified evidence-based policies to address what was a complex issue, but that evidence was often "politically unpalatable".
The rhetoric and debate around law and order was often reduced to "soundbyte-solutions", she said, "things that politicians know will not work and oftentimes are contrary to evidence".
She said New Zealanders deserved evidence-based interventions when it came to tackling crime.
"It is really clear what we have to resource in terms of evidence-based policy but it is the crunchy and the hard stuff which looks meaningfully at prevention, it's not this knee-jerk 'tough-on-crime' nonsense."
This article is republished under a community partnership agreement with RNZ.